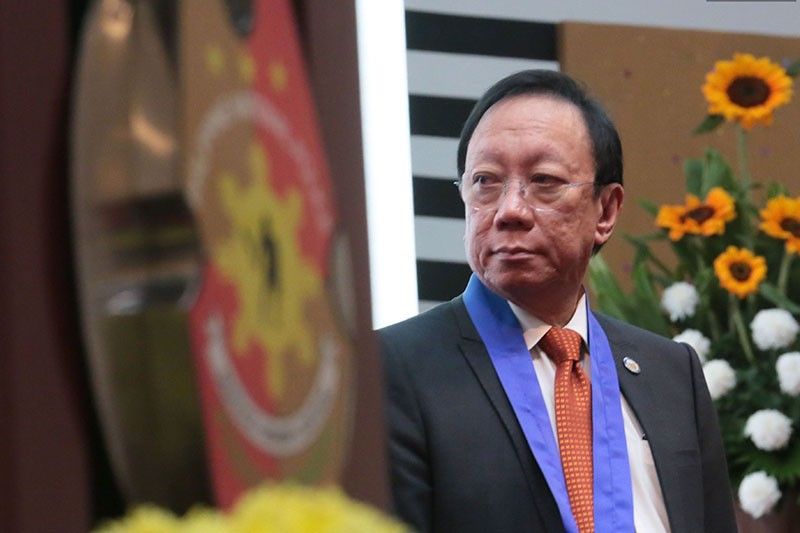 Solicitor General Jose Calida served as the guest of honor in the 67th founding anniversary of Criminal Investigation and Detection Group at the Camp Crame in Quezon City on February 10, 2020.
The STAR/Michael Varcas
SC orders ABS-CBN to comment on Calida plea for gag order
MANILA, Philippines (Updated 4:34 p.m.) — ABS-CBN will have to comment on Solicitor General Jose Calida's plea for the Supreme Court to issue a gag order against parties involved in his quo warranto petition against the network's franchise.
The SC, in an en banc session Tuesday, gave ABS-CBN Corp. and ABS-CBN Convergence Inc. five days within receipt of notice, to comment on Calida's Very Urgent Motion for the Issuance of Gag Order filed on Tuesday morning.
"In accordance with due process of the law, the SC has ordered the respondents ABS-CBN Corp. and ABS-CBN Convergence to file their respective comments on the motion filed by the [OSG] within a non-extendible period of five days from receipt of notice," SC spokesperson Brian Hosaka said.
The OSG, in a statement on their motion, said that its plea for the gag order includes the prohibition on the release of statements discussing the quo warranto plea of "parties and persons acting on their behalf."
Calida, in the motion, accused the network of engaging in "propaganda in clear attempt to elicit public sympathy, sway public opinion, and, ultimately to influence the resolution of the case" after it issued a statement on the filing.
Explainers, reports by ABS-CBN journalists covered
Among the "instances when ABS-CBN violated the sub judice rule", the OSG said, is a video explainer of broadcaster and reporter Christian Esguerra entitled "Quo warranto petition laban sa ABS-CBN, ano ang ibig sabihin?"
The video published February 14 explained the allegations contained in Calida's petition and ABS-CBN Corp.'s replies. It also reported on the developments on ABS-CBN's franchise renewal, which is pending in Congress.
The OSG also cited two more videos that aired on the network's primetime newscast that reported on the developments of the case.
Senate hearing
Hosaka also said that the proceedings on the gag order motion will not affect the scheduled Senate legislative hearing on the network's franchise.
"I don't think that will matter because, first of all, the senators are not parties of the case," Hosaka added. 
A Senate inquiry into the renewal of ABS-CBN's franchise, as well as the allegations cited by Calida in his quo warranto plea, is set on February 27.
The Senate committee however may ask ABS-CBN executives to serve as resource persons for the hearing.
Hosaka refused to comment on whether officials from the network would be covered by the gag order, if granted. "Let us wait for the order," he said.
The Senate hearing will be conducted ahead of the transmission of the counterpart bill from the House of Representatives.