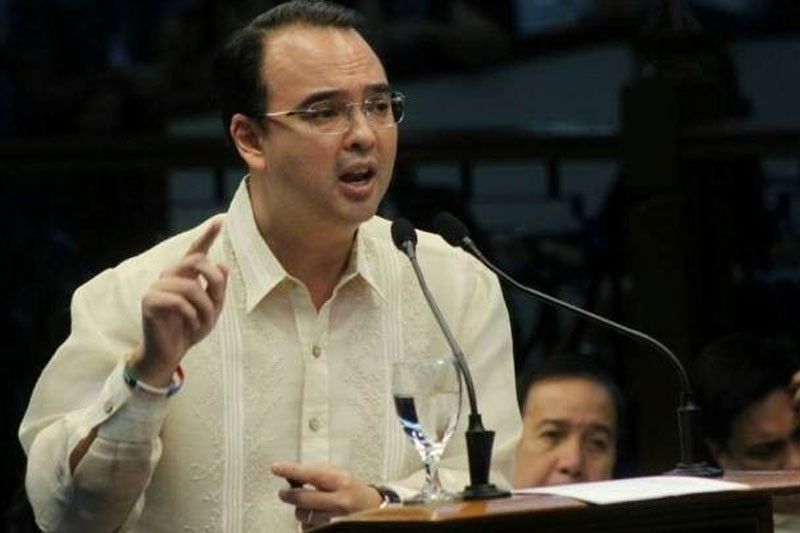 Cayetano said the House plenary session would be held at the Batangas City Convention Center.
Senate PRIB/Released, file
Only 'lean' House team to hold session in Batangas
MANILA, Philippines — The House opposition bloc defended Speaker Alan Peter Cayetano's decision to hold sessions in Batangas City today, saying only a "lean team" will be present to hear the concerns of Taal Volcano victims.
"It will be a very lean team. We have been instructed by the Speaker to be self-sustaining. We will be there to hear first-hand the problems of the victims and for us to be able to understand their situation," House Deputy Minority Leader Janette Garin said yesterday.
"There was a clarification. And we were told that it would not be like the sessions we have here (in the Batasang Pambansa complex). It will just be a group of select congressmen. We have to find ways on how to move forward," Garin, a medical doctor amd former health secretary, said.
"It's a platform that the Speaker proposed so that we, as legislators and as representatives of our districts, would know what these victims need," she added, noting the contrary position taken by Sen. Francis Pangilinan is a "natural concern."
Cayetano said the House plenary session would be held at the Batangas City Convention Center.
"It is time for us to act. But it is also time for us to listen," Cayetano said, adding that House members will also be taking up the plan to rehabilitate Taal and the towns devastated by the volcano.
"We want to come up with strategic plan that will assign one department to be fully accountable. We have to learn from our mistakes," Cayetano said, noting the country needs to do better in rehabilitating calamity-stricken provinces although its disaster response system has improved over the past years.
Meanwhile, Albay Rep. Joey Salceda has filed a bill that would establish the Taal Commission, which will lead rehabilitation efforts in areas devastated by the volcano.
Salceda, chair of the House committee on ways and means, authored House Bill 5977 titled Taal Eruption Recovery, Rehabilitation and Adaptation or the Terra Act of 2020.
The proposal seeks to pave the way for the recovery of towns damaged by the volcanic activity.
Salceda said the Taal Commission would act as a primary agency that would handle relief, resettlement, rehabilitation and livelihood services in volcano-devastated communities.
This developed as Salceda defended the House's decision to slash P4 billion from the Senate-approved P20-billion allocation for disasters and calamities for this year, as there is a remaining amount for the same allocation from the 2019 budget.
Salceda said around P11 billion in calamity funds remain unused in the 2019 budget. The amount, he said, could be used by the government on top of the P16 billion that the bicameral conference committee and President Duterte had approved.