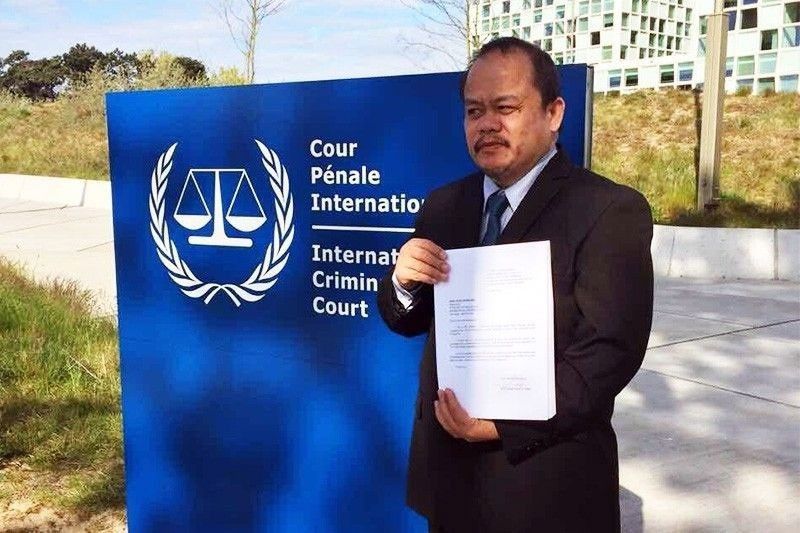 Sabio said that he is set to send an email to Prosecutor Fatou Bensouda, of the ICC Office of the Prosecutor, wherein he would express his interest to withdraw the 77-page communication titled "The Situation of Mass Murder in the Philippines, Rodrigo Duterte: The Mass Murderer."
Office of Sen. Trillanes. handout, file
Lawyer to withdraw ICC complaint vs Duterte
MANILA, Philippines — Lawyer Jude Sabio yesterday said he is set to withdraw before the International Criminal Court (ICC) the communication against President Duterte, whom he accused of committing crimes against humanity as a result of his war on drugs campaign.
Sabio said that he is set to send an email to Prosecutor Fatou Bensouda, of the ICC Office of the Prosecutor, wherein he would express his interest to withdraw the 77-page communication titled "The Situation of Mass Murder in the Philippines, Rodrigo Duterte: The Mass Murderer."
He would also ask the ICC to set aside the legal matter with regard to the allegations of the war on drugs in the Philippines, saying that these were merely "part of the political propaganda" of Sen. Leila de Lima, former senator Antonio Trillanes IV and some members the Liberal Party (LP), who are critics of Duterte.
In a text message, Sabio said, "I will send by email later my letter-withdrawal that I executed today (Tuesday) addressed to Prosecutor Bensouda regarding my intention to withdraw my earlier ICC communication. I am set to submit it personally with the ICC anytime soon."
In his 28-page affidavit, Sabio mentioned that he reportedly did not receive the financial support in representing Edgar Matobato, a self-confessed assassin whose deposition was part of the ICC case.
Sabio said, "Madame Prosecutor, in light of all these and under the circumstances obtaining, I am left with no choice but to formally withdraw from your office the communication that I filed way back on 24 April 2017. I fervently request that it be expunged or erased from the record, and that it should not be used in any way in the ongoing preliminary examination."
"I also fervently request that the legal matter pending with your office in relation to the war on drugs in the Philippines should be set aside and thrashed (sic) for being just a part of the political propaganda of Senator Trillanes, Senator De Lima and their LP-led opposition which I do not wish to be part," he added.
Sabio was accompanied by lawyer Larry Gadon when he had his affidavit notarized in Quezon City.
Gadon said, "Attorney Jude Sabio who filed a complaint and information before the International Criminal Court against President Duterte has executed, signed and sworn an affidavit and statement withdrawing the ICC case, saying that he did not approve of what Trillanes and other LP personalities have resorted to aimed at besmirching the honor of the President."
Trillanes was not bothered by Sabio's move and said the "withdrawal" would not have any effect in the ongoing ICC probe against Duterte because the court has its own processes.
He said what matters is the testimonies given by Matobato and retired policeman and self-confessed Davao death squad member Arturo Lascañas, that Sabio simply "facilitated" in writing for submission to the ICC. – With Paolo Romero