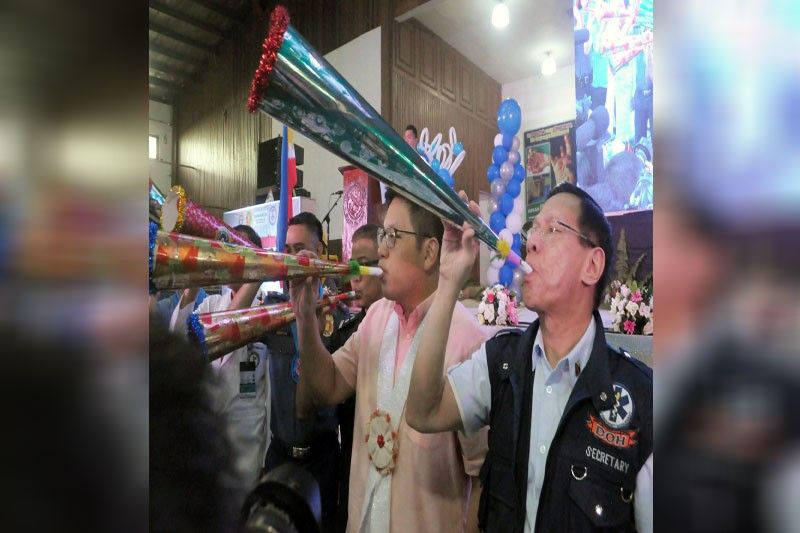 Health Secretary Francisco Duque III blows a party horn during the launch of the 2019 Iwas Paputok campaign in Dagupan City yesterday.
DOH chief calls for ban on firecracker use
DAGUPAN CITY, Philippines — The Department of Health (DOH) yesterday urged legislators to pass a law that will totally ban the use of firecrackers as the agency launched this year's "Iwas Paputok" campaign here.
Health Secretary Francisco Duque III said there should be no distinction when it comes to firecrackers, adding "all these products – whether legal or illegal – can cause injuries."
"It is incumbent on lawmakers to pass laws that will prohibit the use of firecrackers because these put people's lives at risks, especially the children," Duque said.
He reminded the public, especially young children, to celebrate New Year's Eve without using firecrackers as the DOH aims for zero firecracker-related injuries this year.
"We advise parents to keep a watchful eye on your children this season," Duque said.
While he favors a total ban on firecrackers, Duque said other aspects must be considered, including the livelihood of workers in the firecracker industry.
"This is not a one-dimensional issue because there is an economic factor. If I have power to ban it, I will do it, but it's not as simple as that," he explained.
Duque said an alternative source of income should be provided to those who would be affected by the firecracker ban.
The health chief said children accounted for the most number of firecracker-related injuries in previous New Year revelries.
The DOH reported 338 firecracker-related injuries nationwide from Dec. 21, 2018 to Jan. 5, 2019. There were two cases of fireworks ingestion during the period. Of the number, 80 victims or 24 percent belonged to the 5-9 years age group.
The figure was 34 percent lower than the 550 cases in the same period in 2017.
Duque said this downward trend was a good sign, but noted that the DOH would keep reminding the public about the dangers of fireworks use to avoid firecracker injuries this year.
He said DOH hospitals across the country would put up signs showing the harmful effects of firecracker use to further discourage young people from using these products.
A majority of the cases were recorded in the National Capital Region with 123, followed by Ilocos region with 52 and Western Visayas with 51.
Dagupan recorded 17 cases of firecracker-related injuries, which added to the 160 total injuries recorded in Ilocos.
Injuries were caused by legal and illegal fireworks, with kwitis accounting for 22 percent of the cases, luces at 12 percent, piccolo and boga at six percent each and triangle at five percent.
Duque urged the public to use safer alternatives to firecrackers such as community fireworks display, street parties, musical concerts and horns.
In October last year, President Duterte ordered the Philippine National Police to crack down on the illegal sale and manufacturing of firecrackers and pyrotechnic devices.
He issued Executive Order 28 in 2017 restricting the use of firecrackers only to community fireworks displays authorized by local governments. – With Eva Visperas, Cesar Ramirez