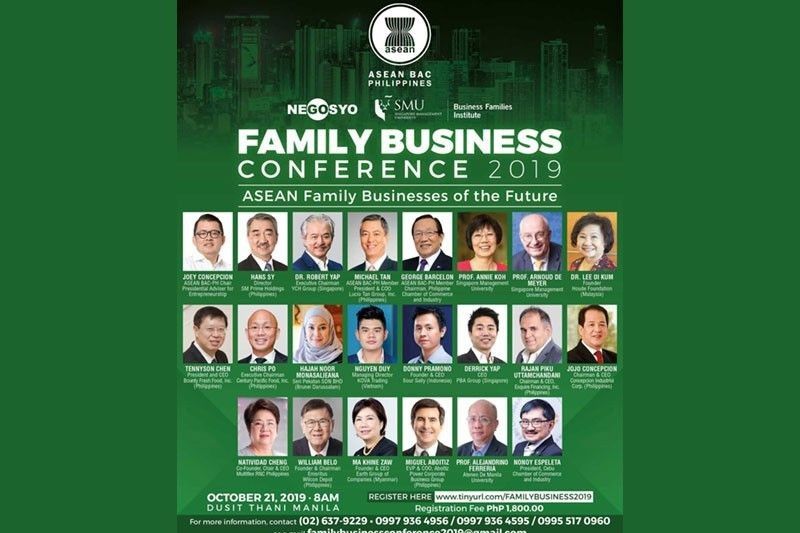 The country's first-ever Family Business Conference 2019 is happening on Oct. 21 at Dusit Thani Hotel, Makati City.
File
Philippines hosts first ASEAN-family business confab
(The Philippine Star) - October 18, 2019 - 12:00am
MANILA, Philippines – The ASEAN-Business Advisory Council Philippines (ASEAN-BAC Ph) is teaming up with Go Negosyo and knowledge partner Singapore Management University (SMU) to bring the first-ever ASEAN Family Business Conference in the country on Oct. 21 at Dusit Thani Hotel, Makati City.
Led by Joey Concepcion, ASEAN BAC Ph chair, Presidential Adviser for Entrepreneurship and Go Negosyo founder, the conference will gather key family business figures from across the ASEAN to help equip local family enterprises with the best practices toward more effective succession, transformation and sustainability needed in the business.
With the theme, "ASEAN Family Businesses of the Future," the event will also serve as an avenue to recognize the vast contributions of the sector to the global economy while the keys for a future-enduring family enterprise are emphasized.
"Every business family has to overcome the challenge of generational transition. While economic growth of the region is on the rise, succession, sustainability, innovation and entrepreneurship remain the biggest concerns. Business families need systematic succession plans to ensure a smooth transition to the next generation.
The next generation of leaders, who are the most well placed to embrace technological advancements, carry the task of leading their firms into transformations. Sustaining and professionalizing the operations of the family business are also keys to ensuring longevity.
For Asian family firms, professionalization is a necessary step to make sure that family relations stay harmonious and that the business is built on a strong foundation that can support future growth," Concepcion said.
Go Negosyo mentors are also attending the conference to exchange key insights with members of the family business sector toward development of strategies that will provide the right tools for micro, small and medium enterprises to accelerate their business.
Go Negosyo mentors are working closely with the Department of Trade and Industry and Department of Agriculture under the different mentorship programs of the foundation.
After the pilot conference in Manila, Go Negosyo and the ASEAN BAC Ph are also looking to carry out and adopt the project in each of the countries in the region under the ASEAN Mentorship for Entrepreneurs Network (AMEN) program.