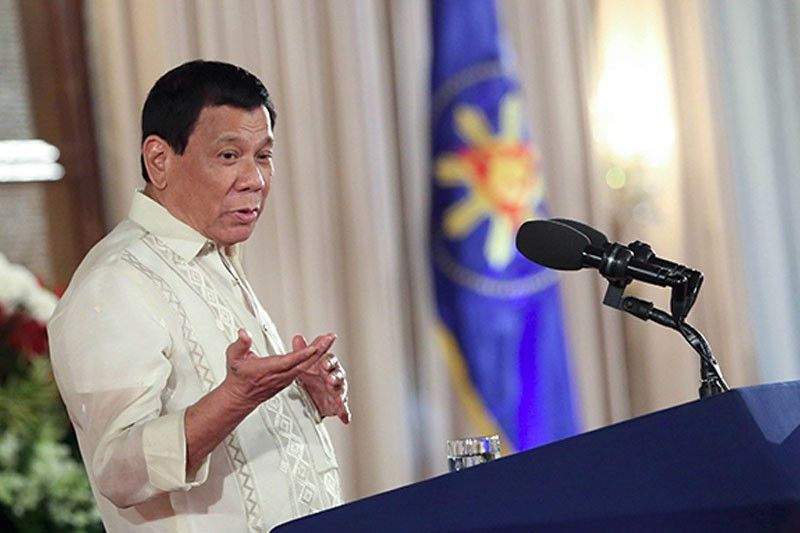 President Rodrigo Duterte has been suffering from a nerve disorder way back when he was still a prosecutor.
Richard Madelo/Presidential Photo, File
Duterte's droopy eye not life threatening — Palace
MANILA, Philippines — President Duterte is "perfectly healthy" despite his revelation that he has a condition called myasthenia gravis, a chronic auto-immune neuromuscular disorder that affects the muscles in his eyes, according to presidential spokesman Salvador Panelo.
"It's not life threatening, it depends on the degree. Saka nag-mumura pa siya e (he's still cursing)," Panelo said of the President's eye disorder during an interview with the "The Chiefs" on Cignal TV's One News on Monday night. "Ang tao naman sanay na sa kanya, kayo lang naman hindi nasasanay sa kanya (People are used to him; only the media aren't)."
If Duterte's cussing can be considered as a sign of his health, Panelo said, "it means he is very healthy."
Duterte has been suffering from a nerve disorder way back when he was still a prosecutor.
The President's admission during his recent meeting with the Filipino community in Moscow caused a stir about his health condition anew.
"It is a nerve malfunction," Panelo said, explaining to the Filipino crowd in Moscow why the President's one eye appears smaller than the other.
Duterte, 74, had admitted that he has problems with his spine and that he frequently suffers from migraine.
The President also suffers from Barrett's esophagus, which affects his throat; and Buerger's disease caused by heavy smoking in his younger years.
Duterte underwent colonoscopy in October last year.
Under the Constitution, the public must be informed of the state of the President's health in case he has a serious illness.
Panelo denied persistent rumors that Duterte has been undergoing dialysis or cancer treatment, which causes his face to darken.
"Botched skin yun. Kasi pag inayos mo ata yung skin mo tapos nainitan ka, naku may problema ka. Yun ata ang nangyayari sa kanya (When you undergo skin treatments and you go under the sun, you get problems. That's probably what happened to him)," he said.
When pressed if the President is undergoing dialysis or chemotherapy, Panelo said, "Hindi, malabo yun."
No Maranao roots?
Meanwhile, Panelo said he would consult with the President regarding the veracity of the claim in a book by political analyst Earl Parreño that Duterte has no Maranao roots.
"That's what the President has been saying all along. I don't think the President will say anything not true as regards that matter," Panelo said.
The Palace official issued the statement after "The Chiefs" quoted Parreño as saying he checked with Duterte's relatives in Leyte, who denied the Chief Executive's claim that he has Maranao roots.
Duterte claims that his mother has Maranao roots while his father was of Chinese descent.