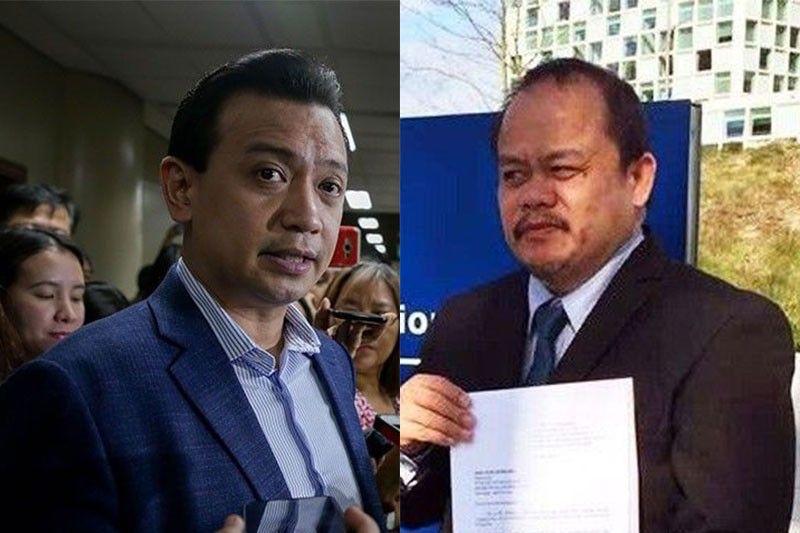 Sen. Antonio Trillanes IV (left) denied the claim of lawyer Jude Sabio (right) that he is directly involved with alias "Bikoy" of the "Ang Totoong Narcolist" videos.
The STAR/Geremy Pintolo, file | Trillanes Office, file
Trillanes denies lawyer Jude Sabio's allegations of his ties with Bikoy
MANILA, Philippines — Former senator Antonio Trillanes IV, a staunch administration critic, stressed that he is not directly involved with the supposed producer of "Ang Totoong Narcolist" videos against President Rodrigo Duterte.
Lawyer Jude Sabio, the senator's former collaborator, earlier claimed that Trillanes tried to recruit him in April this year to be the legal counsel of Peter Joemel Advincula or "Bikoy" who is facing sedition charges.
Sabio, in an interview with ABS-CBN News, admitted that he does not have personal knowledge of Trillanes' supposed involvement in the alleged ouster plot against Duterte. He did admit, however, that he had a falling out with the senator.
"My impression at that time, because he was recruiting me as a lawyer, it only means that he has a deep involvement with Bikoy," Sabio told ABS-CBN News over the weekend.
In an open letter addressed to Sabio released Monday, Trillanes pointed out that Sabio's claim of the former senator's involvement with Bikoy was only based on speculation.
"Assuming for the sake of discussion that your recollection of what happened was true, in your interview you said I told you Bikoy had 'other handlers' and they were looking for a lawyer. Does that not make clear that I'm not directly involved with him?" Trillanes said.
An Open Letter to Atty. Jude Sabio pic.twitter.com/DU3MGvocLr

— Sonny Trillanes IV (@TrillanesSonny) September 8, 2019
The former senator also clarified that he does not owe Sabio P700,000 for services rendered to self-confessed Davao death squad member Edgar Matobato, who had linked Duterte to extrajudicial killings in Davao in 2016.
Trillanes said the services of Sabio to Matobato was pro bono as the latter could not afford the legal fees. The former senator, however, confirmed that he was giving P50,000 to P100,000 to Sabio monthly from late 2016 until June 2019.
This monthly fee was not a "retainer" as Trillanes was never a client of Sabio, the former senator said.
"I have a lawyer in the lead of Atty. Rey Robles that's why I don't need your legal services. In other words, I was giving you financial aid monthly because I understood your situation," Trillanes told Sabio.
On Sabio's statement that he was only given P30,000 as pocket money when he went to The Hague, Netherlands to file a communication against Duterte before the International Criminal Court, Trillanes said the lawyer's roundtrip ticket and hotel accommodation were already paid for.
Sabio's allowance amounted to about about €500 for a five-day stay in The Hague for meals and transportation. "Again, on other words, hindi ako nagkulang sayo," Trillanes said in his letter to Sabio.
Sabio had expressed his willingness to testify against Trillanes in the sedition complaint against opposition figures before the Department of Justice.
The Office of the Solicitor General had urged the prosecutors to subpoena Sabio over a newspaper column where he claimed that he was hired to lawyer for Advincula.