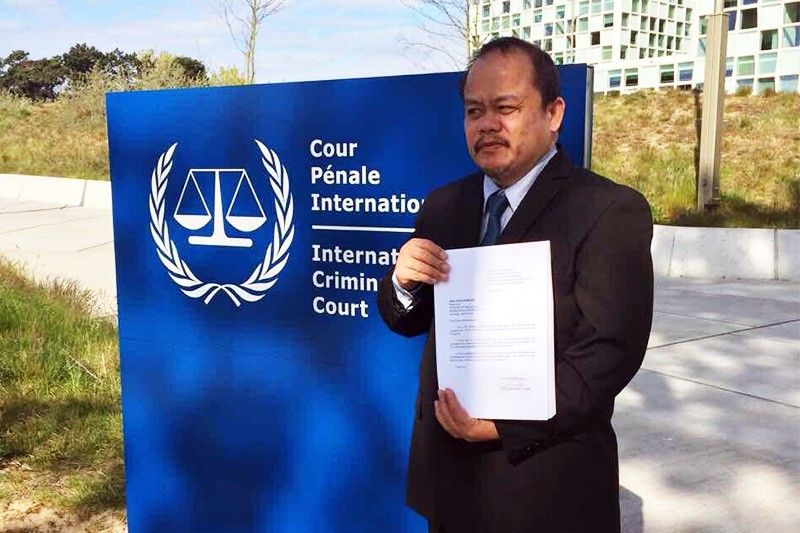 Lawyer Jude Sabio shows the stamped complaint he filed before the International Criminal Court in The Hague, Netherlands on Monday, April 24, 2017.
Trillanes office/Released
Criminal case vs Duterte filed before International Criminal Court
MANILA, Philippines (Second update 5:32 p.m.) — The lawyer of self-confessed hitman Edgar Matobato on Monday filed a complaint against President Rodrigo Duterte and 11 other government officials before the International Criminal Court (ICC).
Lawyer Jude Sabio accused Duterte of being a "mass murderer" and asked the international court to prosecute him over his involvement in the so-called Davao Death Squad.
"Your favourable action on this matter would not only serve the noble ends of international criminal justice but would also be the beginning of the end of this dark, obscene, murderous and evil era in the Philippines," Sabio told the court in his cover letter.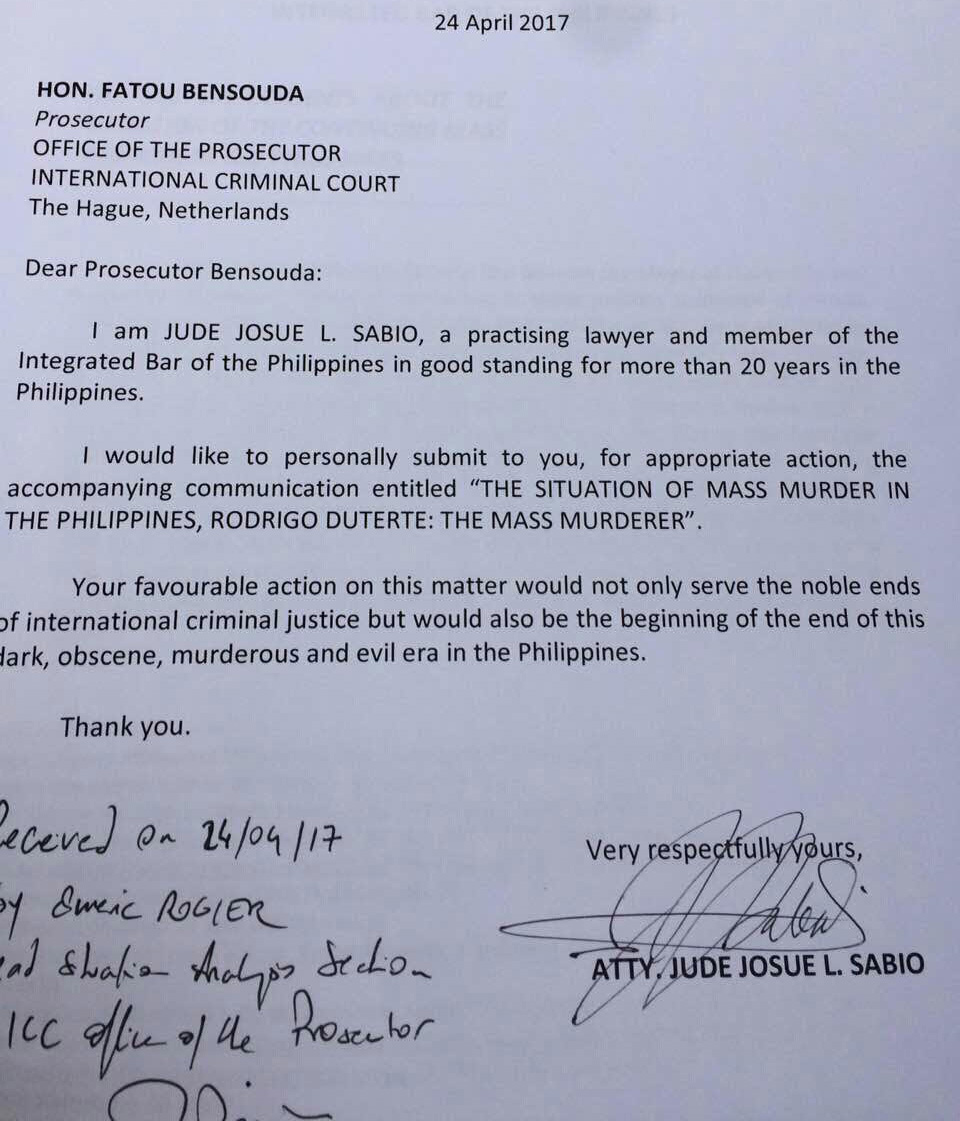 Cover page of the complaint filed before the International Criminal Court in The Hague.
In his accompanying communication titled "The Situation of Mass Murder in the Philippines; Rodrigo Duterte: The Mass Murderer," Sabio accused Duterte of "repeatedly, unchangingly and continuously" committing extrajudicial executions since 1988.
The lawyer claimed that Duterte has been waging mass murders constituting crime against humanity from his term as mayor of Davao City under his Davao Death Squad to the present after assuming the presidency through his bloody drug war.
Sabio asked the Office of the Prosecutor of the ICC to confirm the proper criminal charges for crimes against humanity against Duterte and his senior administration officials and to issue a warrant of arrest against them.
The lawyer is also seeking for an appropriate trial against Duterte and his senior administration officials which would lead to a conviction and sentence to a prison term or life imprisonment.
The following senior government officials are facing complaint:
Justice Secretary Vitaliano Aguirre
Philippine National Police Director General Vitaliano Aguirre
House Speaker Pantaleon Alvarez
Former Interior Secretary Ismael Sueno
Police Superintendent Edilberto Leonardo
Senior Police Officer 4 Sanson "Sonny" Buenaventura
Police Superintendent Royina Garma
National Bureau of Investigation Director Dante Gierran
Solicitor General Jose Calida
Sen. Richard Gordon
Sen. Alan Peter Cayetano
Sabio requested the prosecutor, Fatou Bensouda, of the international court to conduct an analysis of the situation of extrajudicial killings in the country and determine the criminal liability of Duterte and the 11 senior officials through a preliminary examination.
In his communication, Sabio cited the findings of international human rights watchdogs Human Rights Watch and Amnesty International.
Both international human rights groups found that operations of rogue officers or vigilantes responsible for mass killings of drug offenders directly involved the police, making the president liable for the killings.