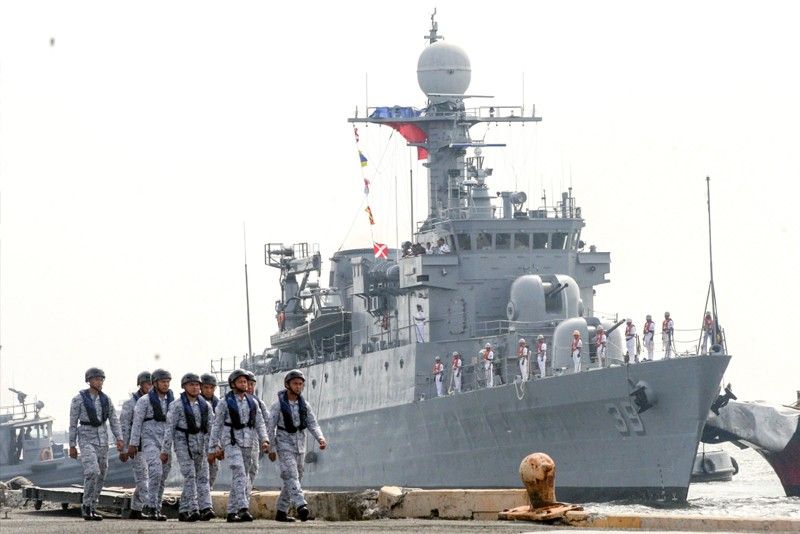 The anti-submarine Pohang-class corvette BRP Conrado Yap (PS- 39), the Philippine Na- vy's newest and most powerful ship, docks at Pier 13 in Manila during welcoming ceremonies yesterday.
KJ Rosales
Government vows 'unfriendly' response to ship intrusions
MANILA, Philippines — President Duterte warned yesterday that the Philippines will respond accordingly against foreign vessels passing through the country's territorial waters without permission.
Presidential spokesman Salvador Panelo said the President is giving due notice to all foreign vessels to seek clearance from proper Philippine authorities if they intend to pass by.
"To avoid misunderstanding in the future, the President is putting on notice that beginning today, all foreign vessels passing our territorial waters must notify and get clearance from the proper government authority well in advance of the actual passage," Panelo said.
"Either we get a compliance in a friendly manner or we enforce it in an unfriendly manner," he added.
When asked to clarify "unfriendly manner," Panelo replied: "If it will have to take that, we will do it."
Pressed if the Philippine government is looking at military action as an option, Panelo indicated it would be done if the situation calls for it. It will be up to the Armed Forces of the Philippines to assess the situation, he said.
"Not necessarily by military force, we will just stop them. We're saying that we will enforce it in an unfriendly manner, by that it means that we will ask them to move, to move out of the place. That's unfriendly," Panelo said.
"Because before we never said anything, we just allowed them and just make protests. But this time we will tell them please get out of our territory," he said.
Panelo said the President has been giving leeway to foreign vessels involved in incursions to the Philippine waters, especially to those considered as "friends."
Panelo has repeatedly said that Chinese incursions had become an irritant over the Philippines' friendship with China.
He also described such violation of Philippine sovereignty as an "unfriendly act from a country," with which Duterte cultivated open bilateral relations since he assumed office in 2016.
"But even between friends, there is a time to tell our friends not to do things not deemed to be an act of friendship," Panelo said.
Malacañang issued the warning as Duterte is set to visit China for the fifth time this month to discuss the arbitral ruling on the South China Sea row and the proposed joint exploration in the disputed waters with his Chinese counterpart Xi Jinping.
Panelo said the Philippines would invoke the mutual defense treaty with the United States only if there is armed aggression against it by a foreign country—among the provisions stipulated before either country can invoke the MDT.
In an earlier interview, Duterte, who has been criticized for supposedly being too soft on China, said he would bring up the 2016 arbitral ruling during his meeting with Xi.
The ruling by a Hague-based court voided China's expansive maritime claim in the South China Sea and upheld the Philippines' rights over its 200-nautical mile exclusive economic zone.
While China has insisted that it won't recognize the landmark ruling, officials said Duterte would remain firm in his stand on the dispute. ?Duterte and Xi are also expected to talk about a proposed joint exploration in the West Philippine Sea.
Duterte has said he was open to a 60-40 sharing scheme in favor of the Philippines. ?The President has also vowed to press China on the long-delayed code of conduct for claimants in the South China Sea row.
"I said that's why I'm going there. They are delaying it and it's causing so many incidents and one day it will – one mistake, a miscalculation there and it will be hard to undo," Duterte said in a chance interview this month.
The Association of Southeast Asian Nations and China signed the Declaration on the Conduct of Parties in the South China Sea in 2002 to maintain peace and stability in disputed areas. The parties have yet to approve a binding code of conduct.
Unfriendly manner
Defense Secretary Delfin Lorenzana has tasked the Philippine Navy (PN) to enforce Malacañang's "friendly or unfriendly" method of driving away foreign intruders.
Lorenzana, however, admitted he is trying to figure out how far the military can go in being "unfriendly."
"Am still trying to figure out what unfriendly manner we can but it's a very good development because we now have some authority to enforce our laws within our territorial waters," he said.
Since maritime intrusion is the main concern of the Navy, Lorenzana said he is leaving this issue to it to enforce the presidential order.
Duterte's order comes after Foreign Affairs Secretary Teodoro Locsin Jr. said on Monday that they are filing another diplomatic protest over the repeated passage of Chinese warships through Philippine waters.
The Philippines has filed a diplomatic protest over the intrusion of the vessels and Locsin vowed the government will not hesitate to file more if warranted.
Lt. Gen. Cirilito Sobejana, commander of the military's Western Mindanao Command, earlier said two Chinese warships were spotted in Sibutu Strait in July while three were monitored in August.
Lorenzana noted the uptick in naval activity of Chinese warships in Philippine waters. He claimed Chinese warships had passed through Sibutu Strait several times. Sibutu is a deep channel separating Borneo and the Sulu archipelago.
Lawmakers, for their part, may look into the reported intrusion of Chinese warships and survey vessels in the past weeks.
Sen. Aquilino Pimentel III, chairman of the committee on foreign relations; and Sen. Christopher Go in separate interviews expressed concern over reports of increasing Chinese naval activity in Philippine waters.
Pimentel said he has set a briefing with Locsin and other officials of the Department of Foreign Affairs (DFA).
"We will have also specifics, like what date, what time, what vessel, as well as the, how the DFA understand the international law involving the passage through territorial waters, international straits (of such vessels)," Pimentel said.
Go said the Senate may conduct an investigation on the matter, saying "what is ours is ours." – With Paolo Romero, Jaime Laude, Evelyn Macairan