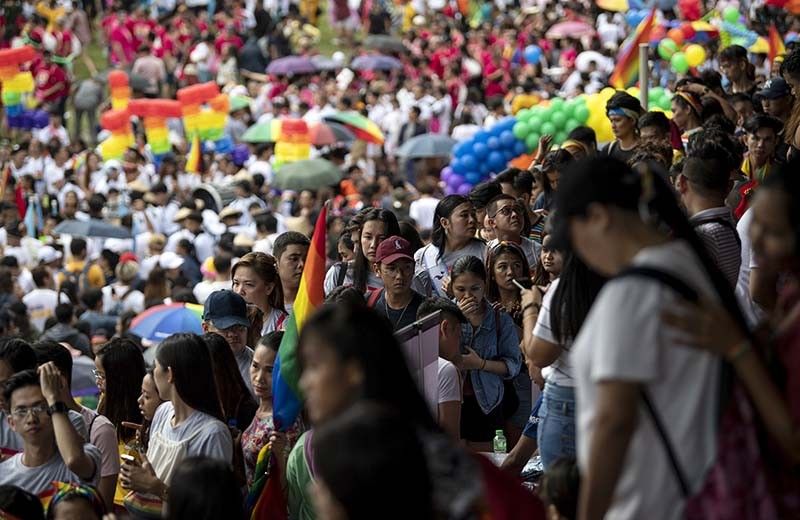 Philippine members and supporters of the LGBT community take part in a gay pride march calling for equal rights in Manila on June 29, 2019. Thousands joined Manila's Gay Pride march on June 29 wielding rainbow flags and umbrellas in a push for equality, just weeks after the nation's leader sparked outrage by declaring he'd been "cured" of homosexuality years ago.
Noel Celis/AFP
LIVE: Senate hearing on anti-discrimination bill
MANILA, Philippines — The Senate Committee on Women, Children, Family Relations and Gender Equality on Tuesday initiated a public hearing to discuss a bill penalizing discrimination on the basis of a person's sexual orientation or gender identity or expression (SOGIE)
Sen. Risa Hontiveros, Senate panel chair, said she seeks to shed light on the various questions on sexual orientations, sexual characteristics, gender identities, and expressions. She said that the LGBT (Lesbian, Gay, Bisexual, Transgender) community experience discrimination in their workplace, schools and in social services.
The panel is tackling separate bills filed by Hontiveros and by Sen. Imee Marcos.
The public hearing comes a week after transgender woman Gretchen Diez was blocked from using the women's restroom at a mall in Cubao, prompting discussions on renewed calls to pass the SOGIE (Sexual Orientation and Gender Identity and Expression) Equality Bill, also known as the Anti-Discrimination Bill.
Watch the Senate inquiry LIVE which started at 10 a.m. on Tuesday, Aug. 20, 2019.
— Rosette Adel