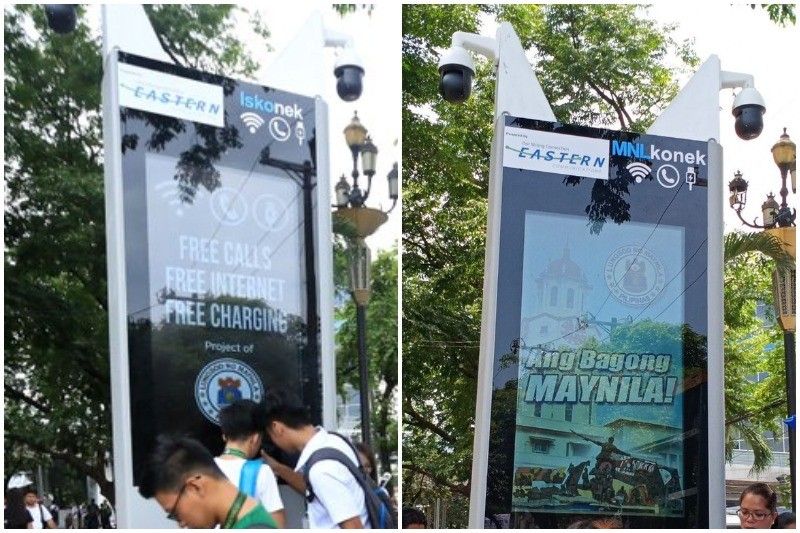 The recently-launched wifi and charging kiosk was previously called "ISKOnek." But after the project drew flak from social media users, it was renamed to "MNLKonek."
The STAR/Edd Gumban and Manila PIO
From 'ISKOnek' to 'MNLKonek': Manila gov't changes name of wifi kiosk
MANILA, Philippine — The Manila City government has renamed its free wifi and charging kiosk after the project drew criticisms for going against Mayor Isko Moreno's crackdown on "epal" politicians.
The wifi hotspot and charging station, which was unveiled on Wednesday, was initially called "ISKOnek"—a play on the city leader's name and the word "connect."
But on Friday, the name of the project was changed to "MNLKonek" after social media users pointed out that this contradicted Moreno's earlier view against placing names or faces of politicians on buildings and infrastructures.
Julius Leonen, the city's chief public information officer, explained it was the Eastern Communications—the project partner—who came up with "ISKOnek."
"ISKOnek is the choice of Eastern Communications on how to brand the wifi kiosk. After receiving suggestions from netizens, we called on the attention of the private company to change it," Leonen told reporters.
He added: "This is a manifestation that the Manila City government is willing to listen to the suggestions of our constituents, no matter how harsh their comments are on social media."
Last month, Moreno drew flak after a food truck that serves rice porridge was named "Kusina ni Isko." The food truck also featured photos of Moreno and Vice Mayor Honey Lacuña, the logo of the business name "Kusina ni Isko" and the official seal of the city of Manila.
During the first days of his leadership in the nation's capital, the actor-turned-politician ordered the removal of politicians' names—even his own—from schools to "distance public education from traditional politicking."