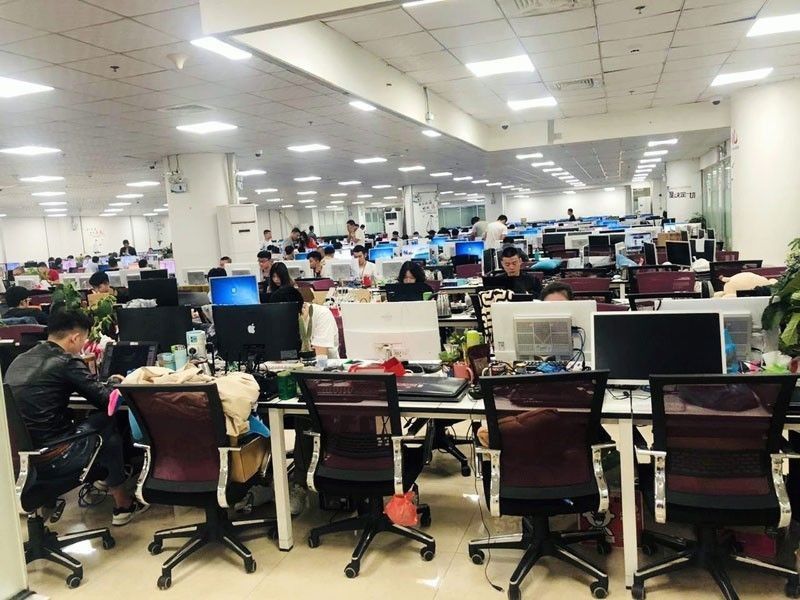 Vignettes of the office space inside an offshore gaming company in Metro Manila.
File
China alarmed over alleged abuse of Chinese workers in Philippines
MANILA, Philippines — The Chinese Embassy in Manila called on the Philippine government to punish gambling entities in the country for illegally employing Chinese workers.
The Chinese Embassy claimed that Chinese nationals working in Philippine offshore gaming operations (POGOs) and casinos have been subjected to "modern slavery."
"Their passports are taken away or confiscated by the Philippine employers. They are confined to live and work in certain designated places and some of them have been subjected to extortion, physical abuse and torture as well as other ill-treatments," the Chinese Embassy said in a statement.
According to the embassy, there have also been cases of kidnappings of Chinese nationals who gamble or work in gaming entities in the Philippines.
Beijing appealed to concerned Philippine agencies to take concrete measures to prevent crimes that hurt Chinese citizens.
"The Chinese side also urges relevant departments of the Philippine government to strengthen law enforcement cooperation with China to jointly combat gambling-related crimes such as money-laundering, illegal employment, kidnapping, extortion, torture, murder, etc. so as to effectively protect the legitimate rights and interests of Chinese citizens and to promote China-Philippine friendship and cooperation," the statement read.
The Chinese Embassy stressed that Beijing attaches great importance to the crackdown on cross-border gambling activities as Chinese nationals have been the target of Philippine casinos, POGOs and other gambling entities.
Chinese citizens flying to the Philippines have resulted in cross-border money laundering through underground banking, the embassy said.
According to the Chinese Embassy, hundreds of millions of Chinese Yuan allegedly flow illegally out of China into the Philippines.
This had also caused an increase in crimes and social problems in China.
"The Chinese Embassy solemnly warned that relevant Chinese companies or individuals in the Philippines immediately stop relevant illegal activities, otherwise they will be punished in accordance with Chinese law," the statement read.
Presidential spokesperson Salvador Panelo, meanwhile, urged the Chinese Embassy to file a formal complaint on the alleged abuses.
"What is important is we will not violate their rights," Panelo said.