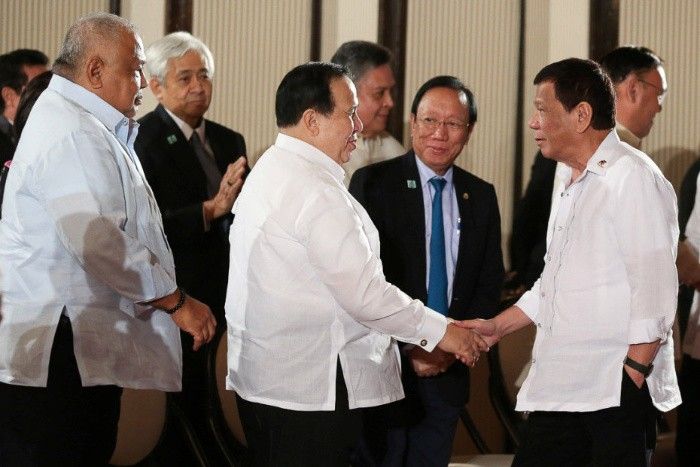 In this file photo, President Rodrigo Duterte greets Sen. Richard "Dick" Gordon prior to the oath-taking ceremony of newly appointed Chief Justice Teresita Leonardo-De Castro at the Malacañan Palace on Aug. 31, 2018. Also in the photo are Executive Secretary Salvador Medialdea and Solicitor General Jose Calida.
Presidential Photo/Simeon Celi Jr.
Duterte censures Gordon over 'generals' remark, pokes fun at his looks
(Philstar.com) - August 1, 2019 - 8:32pm
MANILA, Philippines (3rd update, 10:23 p.m.) — Sen. Richard Gordon vehemently defended President Rodrigo Duterte's controversial war on drugs at Senate inquiries a couple of years ago, but now he has found himself the subject of the chief executive's mockery.
At a speech at the anniversary celebration of the Bureau of Fire Protection in Pasay City, Duterte lashed out against Gordon, who has long been perceived among his collaborators in the upper house.
Apparently heeding calls against the militarization of government, Gordon previously publicly criticized the president's decision to appoint former military generals to key and senior posts in his government.
The remarks reached Duterte who called him a "smart ass," arguing that uniformed personnel become civilians once they retire.
"Don't be too presumptuous about your talent. Why do you criticize me? It's my prerogative. It's not prohibited by law," Duterte said.
He went on to poke fun at the physical appearance of the senator.
"At least I'm from the province. Your brain, Dick, is melting into your belly. You are a fart away from disaster. Understand your belly first," he said, referring to Gordon by his nickname "Dick."
"Your belly looks like a tadpole [Tiyan mo parang butete]," he added in Filipino.
He also ridiculed the lawmaker for having an American surname. "You fool [gago ka]. You're not really a Filipino, you're Caucasian [tisoy]. Take care of your stomach. It's ugly. You're just a fart away."
Duterte, who has never lost an election, also recalled Gordon's attempt to be elected to a higher post. The president, however, erred in saying that Gordon ran for vice president when he actually ran for president in 2010.
"You will really not become a vice president. If you want that title badly, create a private corporation," Duterte said.
For Duterte, former military men get the job done and do not disobey his orders.
"I am challenging him. Give me one specific instance that the military or the police or the [Department of Interior and Local Government] membership or group of entities, bureaus under it disobeyed a single order galing sa akin," the president said.
Where it all started: When Gordon disapproved of Duterte's move
Following the hiring of retired Lt. Gen. Emmanuel Salamat to the board of a state-run waterworks agency, Gordon criticized the frequent appointment of former generals.
"The only problem with the president, his bench is shallow. He comes from the province, he doesn't know people, so he relies on the military," Gordon told reporters earlier this week.
"It's a dangerous one because civilian authority must remain supreme over the military. It should be three years [after the officer has retired] before you appoint him, to make sure the ties are untangled—the ties that bind," he said.
In a previous Philstar.com report, an analyst observed that hiring military officials is characteristic of strongmen around the world who do it to consolidate power and to ensure that no "disenchanted soul" will rebel against them.