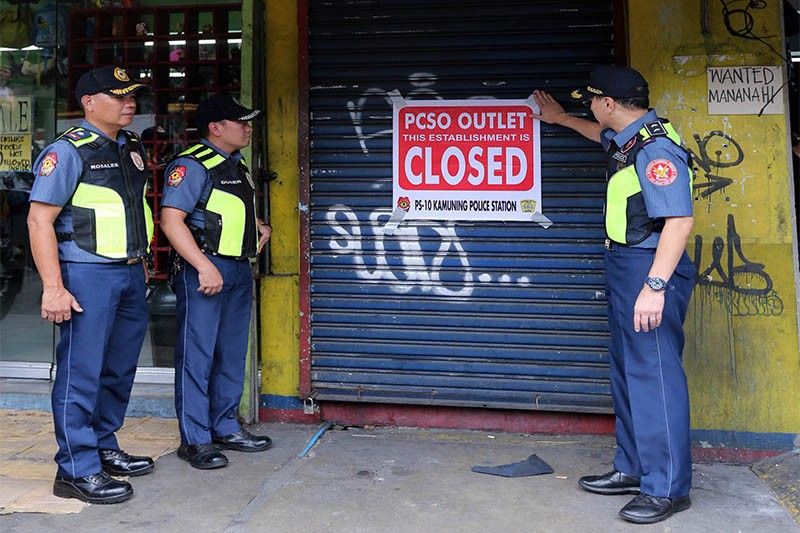 In this July 27, 2018 photo, members of the Philippine National Police lead the closure of a lotto outlet in Kamuning, Quezon City.
The STAR/Boy Santos
PCSO asks lotto, Keno winners to claim prizes amid suspension
MANILA, Philippines — The Philippine Charity Sweepstakes Office on Saturday called on the winning bettors of lotto and Keno to claim their prizes at its head office amid President Rodrigo Duterte's order to suspend all gaming activities of the agency.
"May we inform the public that prizes, regardless of amount, of all LOTTO AND KENO winning tickets, which are valid within one (1) year from the draw date can be claimed at the PCSO Head Office, Conservatory Building, Shaw Boulevard in Mandaluyong City from 8:15 a.m. to 4:30 p.m., Monday to Friday, starting July 29, 2019," the PCSO said in a public advisory published Saturday evening.
Duterte made the halt order on PCSO's gaming activities on Friday night citing that he is fed up with the "massive corruption" in the agency.
"The order is grounded on the preservation of the resources of the nation," Duterte said.
"I have today ordered the closure, the stoppage of all gaming schemes of whatever nature, however done, that got their franchises to do so from the PCSO," he said.
The PCSO said it would follow the order of Duterte and suspend operations all of its betting formats. However, it said that it would appeal for the resumption of the gaming activities to the Office of the President for the interest of the PCSO, its agents and beneficiaries.
"To our valued customers, please be advised that our PCSO games are suspended pursuant to the directive of President Rodrigo Roa Duterte. All players with advance play tickets are advised to keep their tickets until further notice," the PCSO said.
READ: PCSO to appeal suspension of gaming operations
A report from The STAR said there are 8,769 Lotto agents and 2,351 Keno operations nationwide as of January.
PCSO and the Philippine Amusement Gaming Corporation is expected to fund the Universal Health Care Act which Duterte signed into law last February.
READ: Duterte signs universal health care bill into law
The Department of Finance said it would need P195 billion to fund the Health Care Act.
PAGCOR, however, clarified that its licensees including casinos are not covered by Duterte's recent directive.