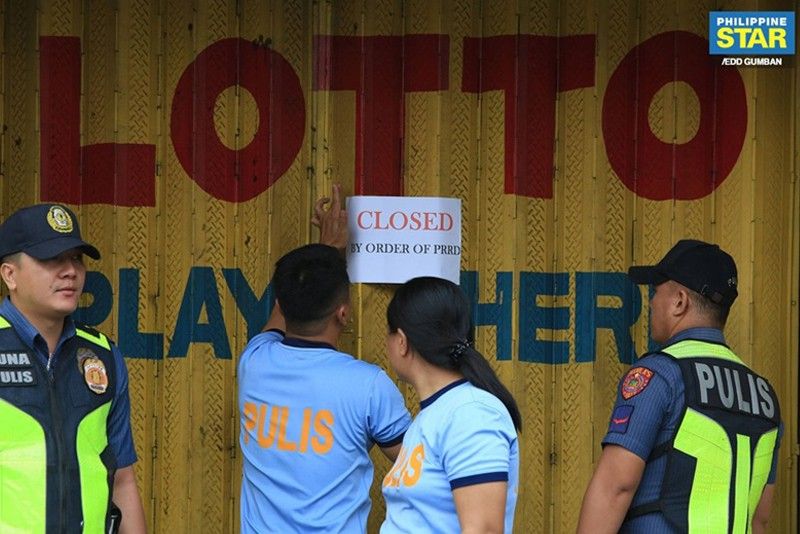 PCSO general manager Royina Garma, in a video message, said they would ask the President to reconsider his decision and allow the resumption of the state-run firm's gaming activities.
File
PCSO to appeal suspension of gaming operations
Janvic Mateo
(The Philippine Star) - July 28, 2019 - 12:00am
MANILA, Philippines — The Philippine Charity Sweepstakes Office (PCSO) is complying with the directive of President Duterte to suspend the agency's gaming activities, but is seeking a reconsideration of the order, which will displace thousands of workers and result in millions of pesos in foregone revenues.
PCSO general manager Royina Garma, in a video message, said they would ask the President to reconsider his decision and allow the resumption of the state-run firm's gaming activities.
As this developed, the Department of Finance (DOF) said yesterday it is assessing the impact of the ban on games operated and licensed by the PCSO, especially on the implementation of the Universal Health Care (UHC) law.
"Pursuant to the order of the President suspending PCSO's gaming activities, the PCSO board directs compliance to the said instruction until further notice," she said.
"Rest assured that PCSO shall appeal to the Office of the President for the resumption of the conduct of all games, to PCSO's mandate and for the interest of the PCSO, its agents and its beneficiaries," she added.
Garma, a former police official who just assumed the top PCSO post earlier this month, said all their games have been suspended until further notice.
She advised those who have advance play tickets to keep them pending further instructions.
Duterte on Friday night announced the suspension of all of PCSO's gaming activities due to supposed massive corruption.
Earlier this year, former PCSO general manager Alexander Balutan submitted his courtesy resignation after he was accused of corruption. He denied the allegation.
Garma, in her first press conference as PCSO chief earlier this month, vowed to generate more funds to enable the agency to do more charity work for people in need.
She said the President has not given her any specific marching orders, quoting him as telling her to "do what is right."
PCSO records showed that as of January this year, there were 8,769 Lotto agents and 2,351 Keno operators nationwide.
Most of PCSO Lotto agents are in Metro Manila at 2,251; followed by the Visayas at 1,952; Southern Tagalog and Bicol Regions with 1,747; Mindanao with 1,674; and Northern and Central Luzon with 1,145.
For Keno, Metro Manila has the most number of agents at 883, followed by Southern Tagalog and Bicol Regions with 681; Northern and Central Luzon with 366; the Visayas with 267; and Mindanao with 154.
Meanwhile, STL, which was implemented to address illegal numbers games such as jueteng, supposedly produced 314,596 jobs, including13,720 organic employees, 26,227 sales supervisors and 274,649 sales agents.
Last year, the PCSO generated some P64 billion in revenue, including P31.9 billion from Lotto and other digit games; P26.1 billion from STL; P4.4 billion from Keno; P1.1 billion from Instant Sweepstakes; and P4.8 million from Sweepstakes.
Created through a law in 1954, PCSO was designated to "be the principal government agency for raising and providing funds for health programs, medical assistance and services and charities of national character."
It was tasked to regulate gaming activities such as Sweepstakes and Lotto to raise those funds.
Based on the law, revenue shall be divided as follows: 55 percent as prize fund, 30 percent as charity fund and 15 percent for operating expenses and expenditures.
Both Duterte and Garma did not address how the government plans to address the impact of shutting down the PCSO's gaming operations on recipients of various forms of assistance, particularly medical support.
The Universal Health Care Act, signed by Duterte earlier this year, identified PCSO as among the sources of funds for the implementation of the program.
Impact on UHC
In text message to reporters, Finance Secretary Carlos Dominguez III said the DOF is reviewing the impact of the ban, particularly on the UHC program which will require P257 billion in 2020, the first year of its implementation.
"We are evaluating the immediate effects of the ban," Dominguez said. He said he was not sure if the ban is temporary.
Based on PCSO's 2018 Accomplishment Report, it generated P63.56 billion in revenues from all gaming products last year, of which 30 percent or P18.69 billion went to the Charity Fund. This was utilized for payments and grants under the government's health program.
Aside from the Charity Fund, other funding sources for the UHC program are the 50 percent share of the national government from the income of the Philippine Amusement and Gaming Corp. (Pagcor), incremental revenues from the additional sin tax collections and appropriations from the national budget.
Pagcor chairman and chief executive Andrea Domingo said casino and offshore gaming operations will continue to operate as the President's order only covers gaming operations under the PCSO.
For Rep. Alfredo Garbin Jr. of party-list group Ako Bicol, Duterte's order will result in more jueteng and illegal numbers games.
"I therefore appeal to the Philippine National Police to boost their anti-jueteng operations now because more jueteng money means more funds for crime lords, warlords, smugglers, drug lords and their protectors," he said.
He maintained lawmakers should be briefed on the impact of stopping PSCO lottery operations.
"We need to know the details because the PCSO is a significant government corporation. Its income in 2018, according to the Commission on Audit, was P63.1 billion, while operating expenses were P49.3 billion, profit before taxes at P13.8 billion and net income was P1.6 billion. PCSO's financial assistance, subsidy and contributions to various funds and causes was at P11.7 billion," he said.
Another congressman, Lord Allan Velasco of Marinduque, said an investigation into PCSO activities was needed so "we will have a better assessment of the situation."
For his part, former Eastern Samar congressman and now Gov. Ben Evardone said he fully supports the President's decision to stop PCSO's small town lottery project.
"I really believe that it was just a cover of illegal numbers game. When I was a congressman, I refused to receive a single centavo from PSCO supposedly as share of congressmen from STL operations in their districts. In Eastern Samar, PCSO awarded STL contract to a known illegal gaming operator in the region," he said.
Evardone, a former journalist, said he would employ jobless STL bet collectors "for our anti-dengue cleanup campaign since they are familiar with all corners of barangays."
Labor groups Federation of Free Workers (FFW) and Trade Union Congress of the Philippines (TUCP) said in separate statements they are against the suspension of all gaming operations of PCSO.
FFW president Sonny Matula noted the ban "will be harsh on innocent workers" who stand to lose their source of livelihood.
Matula added Duterte has enough power to investigate and prosecute erring officials of PCSO without sacrificing small workers.
He warned this may lead to proliferation of illegal number games while big time gambling operations such as casinos will be "business as usual."
TUCP spokesman Alan Tanjusay said Duterte should just "hasten the process that he had instituted to purge the agency of graft and corruption."
"The TUCP respects the President's decision to suspend the operations of PCSO and supports him in his campaign to rid the institution of corruption to make the organization's service truly benefit the indigents," he said. – With Mary Grace Padin, Sheila Crisostomo, Jess Diaz