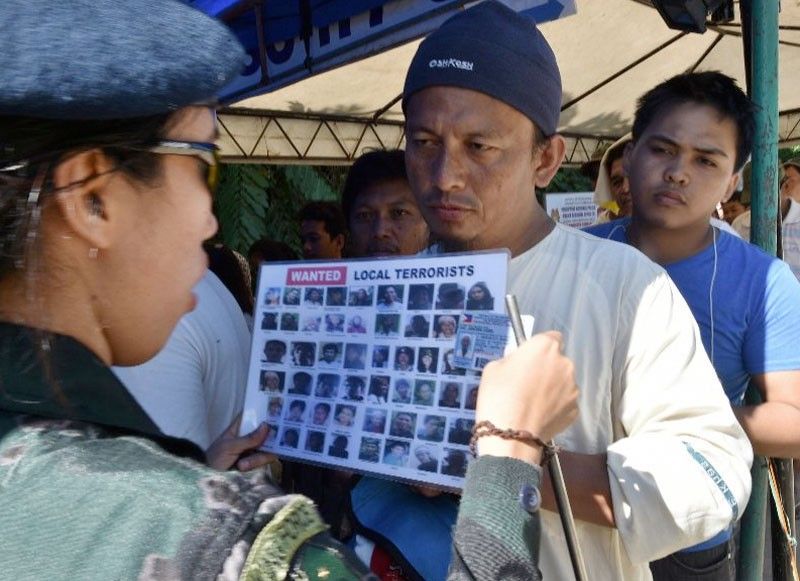 Duterte alarmed over rise of Pinoy suicide bomber
MANILA, Philippines — President Duterte finds it alarming that a Filipino militant went to the extent of becoming a suicide bomber to propagate extremist Islamic beliefs.
Presidential spokesman Salvador Panelo yesterday said the President was referring to the "dangerous times in the horizon" after learning that a Filipino was among two suicide bombers that recently attacked an Army camp in Indanan, Sulu.
Panelo said it was a "game changer" that homegrown terrorists are becoming more extreme.
During the appreciation dinner for former president and speaker Gloria Macapagal-Arroyo on Tuesday, Duterte talked about the "dark times" ahead as he vowed to modernize the Armed Forces of the Philippines by the time he steps down from office.
Sought for clarification, Panelo said the President was talking of many security issues and concerns that might again test his political will.
The military has confirmed one of the two suicide bombers was a Filipino named Norman Lasuca, a native of Sulu who was identified through DNA tests.
Lasuca, along with the other still unidentified suicide bomber, blew himself up, leaving dead three soldiers and three villagers. Twenty-two others were wounded in the attack on June 28.
"One of the biggest implications if we already have a suicide bombing case in the Philippines is that this should open a new mindset that we now have a different security environment in our country," military spokesman Brig. Gen. Edgar Arevalo said.
Arevalo called for greater public vigilance and stressed the need for a more modern and better-equipped armed forces to fight "a rising level of terrorism."
Regional military commander Lt. Gen. Cirilito Sobejana said the probability of more suicide attacks was high, and that the military has heightened surveillance and was trying to check if the Abu Sayyaf was training more local would-be suicide bombers.
Two other suicide bombings in Mindanao last year and in January have been blamed on foreign militants, who were reportedly harbored by Abu Sayyaf commander Hajan Sawadjaan in his jungle encampments in Sulu.
Sobejana has said Lasuca left his family in 2014 and joined the group of Sawadjaan, who is believed to have been recognized by the Islamic State group as its leader in the southern Philippines.
Security analyst Rommel Banlaoi said a good number of foreign jihadists are operating with the Abu Sayyaf.
"While mostly Indonesians and Malaysians, some of them are Arabs, Pakistanis, Pattanis (Thais), Bangladeshi and Uyghurs (Turkish)," Banlaoi said.
He earlier said an Egyptian couple is now recruiting and training local militants on suicide bombing operations.
Defense Secretary Delfin Lorenzana said the military has no information so far regarding the presence of the Egyptian couple in Sulu.
A government anti-terror official, however, agreed with the observation of Banlaoi that foreign terrorists are operating in Sulu with the Abu Sayyaf.
Battle setbacks have reduced the number of bandits to less than 400 but they have remained a national security threat.
They have largely thrived on ransom kidnappings and extortion, although defense officials said they may have received foreign funds, including from the Islamic State, to finance attacks.
The Abu Sayyaf has been blacklisted as a terrorist organization by the United States and the Philippines for bombings, ransom kidnappings and beheadings during decades of a Muslim separatist rebellion.
Noting that a Filipino extremist was confirmed as a suicide bomber, Philippine National Police (PNP) chief Gen. Oscar Albayalde said lawmakers should amend Republic Act 9372 or the Human Security Act.
He said the fact that a Filipino has become a suicide bomber should be taken into account on the need to make adjustments on the new level of terrorism in the country.
Albayalde also urged that funds be earmarked to upgrade the PNP's surveillance and intelligence gathering equipment. – With Jaime Laude, Emmanuel Tupas, Pia Lee-Brago