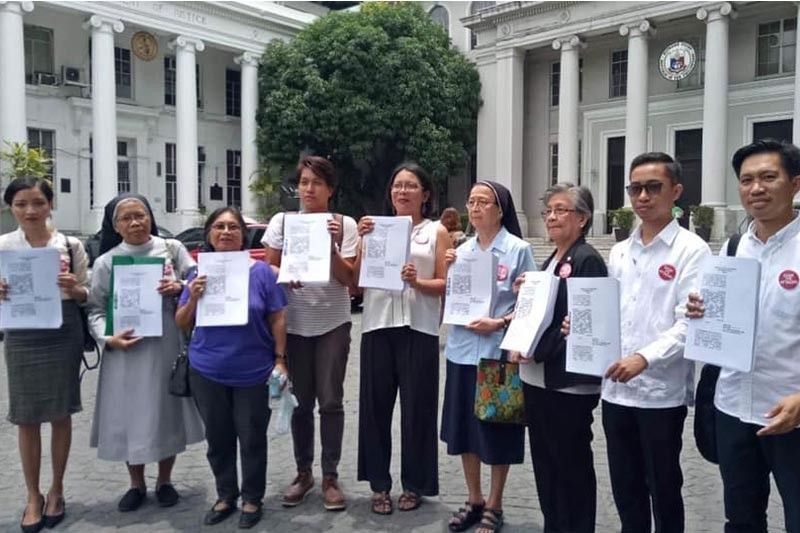 File photo on May 6, 2019 shows members of Karapatan, Rural Missionaries of the Philippines and Gabriela, who filed the petition for the issuance of writ of amparo and habeas data before the Supreme Court.
Released
Court of Appeals dismisses rights groups' plea for writ of protection, habeas data
(Philstar.com) - June 28, 2019 - 5:11pm
MANILA, Philippines — The Court of Appeals has dismissed the plea for writ of protection and habeas data filed by three human rights groups, saying there is no substantial evidence to establish the petitioners' allegations of state-sponsored harassment.
In a June 28 decision, the 14th Division of the appellate court denied the petitions for the writ of amparo and habeas data filed by Karapatan, Rural Missionaries of the Philippines (RMP), and Gabriela.
The writ of amparo pertains to the protection by the highest tribunal extended to petitioners where threats to their life, liberty and security emanate from the military, police and other state security forces.
Meanwhile, the writ of habeas data requires the respondent state authorities to disclose to the petitioners all of the dossiers the former hold against them and, as warranted, to destroy such files against each of them.
In dismissing the petition, the CA said the plea did not conform with the requirements of the rules on writs of amparo and habeas data.
The court also said the allegations in the petition and documents submitted "did not fulfil the evidentiary standard to establish that the petitioners' right to life, liberty security and privacy were violated or threatened by the respondents."
"There is no evidence of extrajudicial killings, enforced disappearances, arbitrary arrests, malicious prosecutions and defamations," the CA said.
"The writs cannot be issued on amorphous and uncertain grounds lest their purpose be undermined by the indiscriminate filing of petitions on the basis of unsubstantiated allegations," it added.
Commenting on the CA's decision, Karapatan secretary general Cristina Palabay said the groups will continue to exhaust all legal processes to appeal and overturn the decision.
"The dismissal of our petitions for the writ of amparo and habeas data is a gross disservice to all the human rights defenders of Karapatan who have been killed and to those who continue to remain in the line of fire. In doing so, the appellate court has refused protection for defenders at risk. This is tantamount to complicity on the attacks perpetrated against us," Palabay said.
"The result is deplorable, but not altogether surprising. In the June 18 hearing, even as we were set to submit our judicial affidavits and additional documentary evidence after what should have been the preliminary conference, the denial of our counsel's plea to include our testimonies was already telling," she added.
"The Court will not be disadvantaged in any way if they hear our testimonies, but they nonetheless chose to ignore it. In that instance, we felt like they were acting as legal counsels of the respondents, instead of impartial adjudicators." — Ian Nicolas Cigaral with a report from Kristine Joy Patag