Sea militia attacks could trigger US obligations under defense treaty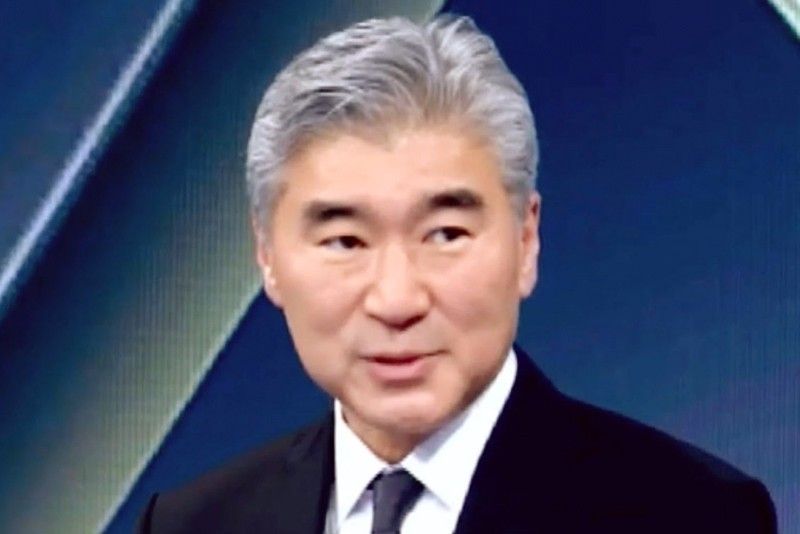 MANILA, Philippines — Foreign government-sanctioned attacks initiated by militia or armed civilians in the South China Sea may trigger the Mutual Defense Treaty (MDT) of the United States and the Philippines, US ambassador to Manila Sung Kim said.
Kim, in an interview with "The Chiefs" aired on Cignal TV's One News on Friday night, reiterated the US commitment to honor the provisions of the treaty, which binds the two countries to support each other in case of an external attack.
"(US Secretary of State Mike Pompeo) made clear that because the South China Sea is part of the Pacific, under the treaty itself, any armed attack on Filipino vessels, Filipino aircraft will trigger our obligations under the Mutual Defense Treaty," he said.
"I think that's about as clear as you can get without getting into millions of possible hypothetical situations," added Kim.
The ambassador said the treaty covers any armed external attack against Filipino forces, including public vessels.
"Any armed attack, I would think that would include government-sanctioned militias," he said when asked about the presence of Chinese militia in the South China Sea.
"We are totally committed to the obligations under the Mutual Defense Treaty and we will live up to those obligations. I have confidence that our defense leaders in Washington and Manila understand what is at stake and that when we encounter situations that will require our commitment to come to reality, I think we will deliver," he added.
The ambassador said the US is open to proposals to review the MDT, which was earlier raised by Defense Secretary Delfin Lorenzana.
"We're always open to discussing how we can improve, how we can strengthen the alliance," he said. "And if it means looking at some aspects of the Mutual Defense Treaty to find out if there are in fact ways to strengthen our partnership, certainly we're open to it."
Foreign Affairs Secretary Teodoro Locsin Jr. earlier contradicted Lorenzana and said there is no need to review the treaty.
Accountability after probe
The US ambassador stressed the need for full accountability after a careful investigation into the Recto Bank incident.
"If in fact a Chinese ship ran into a Filipino fishing vessel and ran off without offering any assistance to the Filipino fishermen, I think that's a very serious situation and I believe that's why senior government officials here have called on Chinese authorities to investigate fully and hold those responsible accountable," Kim said.
He said the US has no independent information on what happened, saying it requires a careful and thorough investigation by relevant authorities.
Kim said the incident underlines how precarious and overcrowded the fishing areas have become, calling on all countries in the region to be respectful of international law and each other's rights to fish in common areas.
He reiterated the US's deep concern over China's aggressive action in the South China Sea, saying rights like freedom of navigation and overflight must be protected.
"Consider how much international commerce goes through the South China Sea and it doesn't take much to realize that unilateral aggressive actions by any claimant could have a devastating effect on all of us, anyone who is engaged in international trade and benefits from international trade," Kim said.