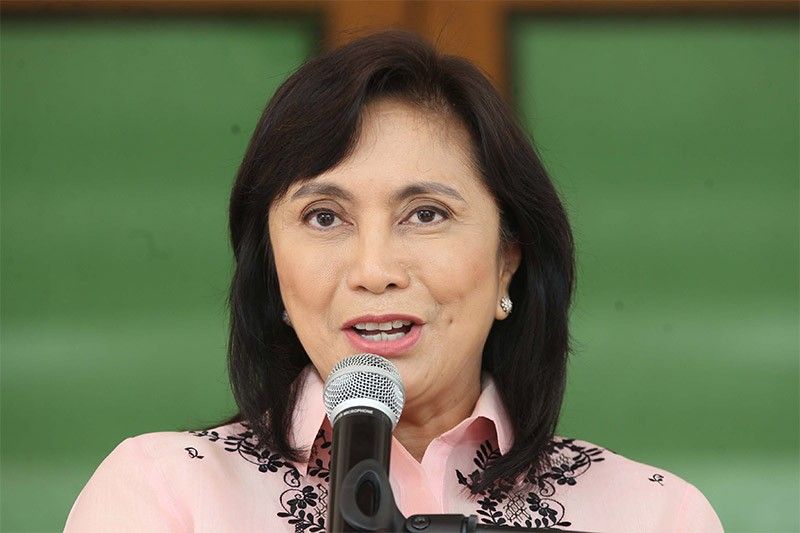 Vice President Leni Robredo faced the members of the press, May 23, 2019 noon, to address the allegations of Peter Joemel Advincula.
The STAR/Felicer Santos
Robredo, Liberal Party: We never met 'Bikoy'
MANILA, Philippines (Updated 2:59 p.m.) — The Liberal Party has nothing to do with the latest allegations of Peter Joemel Advincula—the man claiming to be the "Bikoy" in a series of anonymous videos—said Vice President Leni Robredo, who is also party chair.
In a televised press conference, Robredo said that she never met nor communicated with Advincula who surfaced Thursday morning. Advincula accused the Liberal Party and Sens. Antonio Trillanes IV and Risa Hontiveros of conniving in a supposed scheme to bring down President Rodrigo Duterte.
Trillanes is of the Nacionalista Party and the Magdalo group while Hontiveros is from Akbayan, but both have close ties with the former ruling party.
"There were so many names that were mentioned. The Liberal Party was once again tagged," Robredo said in Filipino.
READ: 'Bikoy' tags Trillanes in making of 'Ang Totoong Narcolist' videos
She added: "It is unfair to tag the Liberal Party again. If this is harassment, to pull down the party due to being the opposition, this will not be a cause for us to stop to criticize."
Advincula changes tune
After weeks of hiding, Advincula surrendered to the Philippine National Police and recanted earlier statements implicating Dutertes and senator-elect Bong Go in illegal drugs that he said he made .
In the same month that he said he is receiving threats to his life due to the "truth" behind the "Ang Totoong Narcolist" videos, Advincula claimed he was hired to create the videos in an effort to divert the public's attention from the high approval ratings of the Duterte administration.
Advincula also said Robredo "passed by" one of the Otso Diretso meetings at the Ateneo de Manila University but did not attend.
But the vice president said that the last time she was in Ateneo was last December for a Christmas party.
'Why believe him now?'
She also pointed out that Advincula's credibility was in doubt when he was accusing Go and the Dutertes, but has seemingly been restored now that he has changed his tune.
"When the videos were released, it seemed like his credibility was shot down. What I don't understand is now that the opposition is being accused, all of a sudden, he is again credible," she said.
"So it's suspicious. It's suspicious that those who were saying this person is a liar, that he shouldn't be trusted, and now that it's not you who are being accused, that it's now the opposition, all of a sudden, we need to hear him out," she added.
Davao Vice Mayor Sara Duterte said that Advincula "is a scam created by people who oppose the Duterte administration."
The president's daughter added that the group behind "Bikoy" is "so disorganized they cannot even get to first base because the path to their objective is in disarray."
Congressman-elect Paolo Duterte meanwhile stressed that he knew that Trillanes is the man behind it all.
He said: "I believe a proper investigation is in order."
Pangilinan: LP again?
Sen. Francis Pangilinan, who is LP president at least until June 30, also said that Advincula's allegations are "lies."
"The Liberal Party is again tagged in ouster plots that are made up to cover up the failures and corruption of the administration," Pangilinan said.
"I will repeat: The LP has nothing to do with the Bikoy video. All these are lies and fabricated," he added.
Robredo also said the allegation that she is part of the group destabilizing the government has been floated since 2016.
While she said that she met with Trillanes a few times, she stressed that the senator only met with her to show the internal survey of the Magdalo survey for the election campaign.
"There was no mention of destabilization nor of Bikoy," she added.
"I will never be part of any destabilization plot," she also said.
Trillanes mulls suit vs Advincula
Trillanes, in a separate statement, denied the allegations made by Advincila.
"This could be another ploy of the administration to harass the opposition," he said.
The senator, a vocal critic of the Duterte administration, said that he is mulling filing charges against Advincula.
"For now, I will be consulting with my lawyers so that we could also file the appropriate charges against him," he added.
Trillanes has filed complaints against former Palace official Margaux "Mocha" Uson and Thinking Pinoy blogger RJ Nieto.