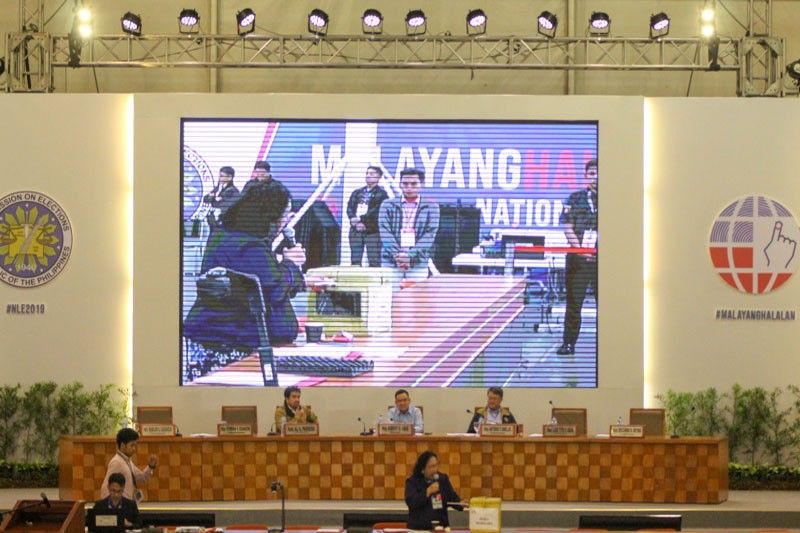 In this May 15, 2019 photo, the National Board of Canvassers resume its session at its command center in Philippine International Convention Center.
Philstar.com/Efigenio Toledo IV
Do not interrupt canvassing, respect NBOC, candidates' representatives told
MANILA, Philippines — Commission on Elections Chair Sheriff Abas, who is also the head of the National Board of Canvassers, on Wednesday reminded representatives of candidates witnessing the national canvassing to avoid interrupting the session.
Abas said the seven-member Comelec, sitting as the NBOC, welcomes objections on the execution, authenticity and correctness of the certificates of canvass but it would not entertain any non-canvass related concerns to avoid delay.
"Other than that I don't think it's a proper manifestation in this canvassing," Abas said.
"I think it is clear enough but again we have given you respect so you should also respect us. Otherwise, we will cite you in contempt," he added.
The poll body chief said those who refuse to follow NBOC rules might be sent out of the command center or might face detention.
He made the reminder after Comelec Commissioner Rowena Guanzon, an NBOC member, had a heated exchange with lawyer Romel Bagares, who represents APPEND party-list during the canvassing of COCs from the Vatican.
Guanzon scolded Bagares for "disrespecting" and "interrupting" the canvass session when he was raising an election-related concern.
The legal counsel was requesting to open the logs of transparency servers.
Guanzon asked Bagares to state his objection and cite the ruling objected to. However, the lawyer defended himself saying he does not want to make any objection but just a motion or plea.
Asked if he is making an accusation of election fraud, Bagares said: "Not now, your honor."
Despite repeated explanations that Bagares only wants to make a motion, the NBOC did not allow him as they strictly mentioned only concerns on COCs are allowed.
"This is a canvassing not for grandstanding. He could not cite his objection to the votes from Vatican being canvassed but spent 10 minutes giving a speech. Sit down," Guanzon said in a separate tweet in response to the incident.
Abas said the Comelec is aware of the demands to show logs of the transparency servers and the en banc would discuss the concerns on the delay in the transmission of election returns.
On Tuesday, progressive groups protested the eight-hour transmission delay before the Comelec main office in Manila. They are demanding transparency from the poll body.
Police officers barred protesting groups to go near the Comelec gate on Tuesday. #Election2019 @PhilstarNews

????: @ectoledoiv pic.twitter.com/qXW7pXOOYG

— Rosette Adel (@rosette_adel) May 15, 2019
As of 9:28 p.m., the NBOC tabulated 72 of 167 COCs.
RELATED: WATCH: Progressive groups protest at Comelec over allegedly rigged elections