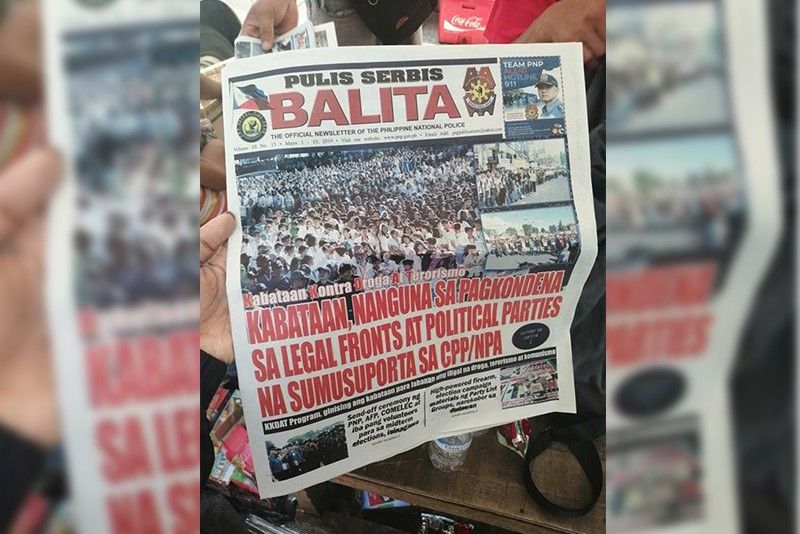 A police officer was caught on camera distributing newsletters tagging party-list groups Bayan Muna and the Makabayan bloc as "New People's Army supporters."
Facebook/Konta Daya Metro Manila
PNP to probe cops' alleged red-tagging activity on Election Day — Albayalde
(Philstar.com) - May 13, 2019 - 8:50pm
MANILA, Philippines — The Philippine National Police said Monday it would launch an investigation into reports of cops distributing newsletters tagging party-list groups Bayan Muna and the Makabayan bloc as backers of communist insurgents on election day.
The distribution of flyers calling the party-list groups "New People's Army supporters" allegedly happened inside Geronimo Elementary School in Sampaloc, Manila.
Election watchdog Kontra-Daya Metro Manila received multiple reports of the activity, including a video of an unidentified man allegedly distributing the newsletter within the premises of the polling place.
Speaking to reporters, PNP chief Oscar Albayalde maintained that the police force "do not meddle with the political exercise of anybody or in any area."
"We will look into that. Remember, our directive to the PNP is always remain non-partisan and apolitical," Albayalde said.
Makabayan bloc is a progressive coalition of 12 party-lists.
Under the Omnibus Election Code, cops are not allowed inside polling places except when there is an actual disturbance of the peace and order, or unless it is his polling precinct where he will vote but in such a case he should immediately leave.
It is also unlawful to post or distribute any printed matter advertising for or against any candidate or political party.
Bayan Muna Rep. Carlos Zarate said his group is preparing possible charges against the cops caught giving away printed materials red-tagging the progressive party-lists.
Albayalde said the complainants are free to take legal action. — Ian Nicolas Cigaral with a report from Blanch Marie Ancla