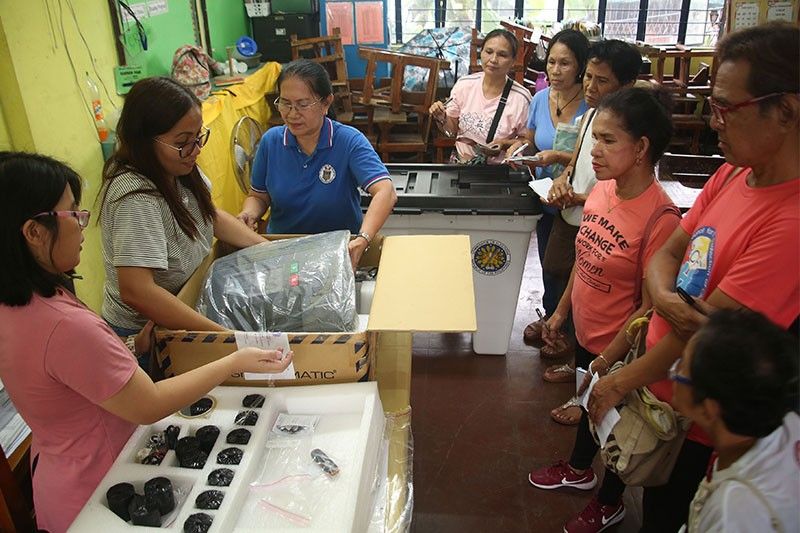 Teachers of Pinyahan Elementary School conducts testing and sealing upon the arrival of Vote Counting Machine at their school May 7, 2019.
The STAR/Michael Varcas
Teachers serving as poll workers to get tax-free honoraria
MANILA, Philippines — The honoraria for public school teachers serving as members of the Electoral Boards in the upcoming May 13 midterm elections will be exempt from tax, the Commission on Elections announced Thursday.
The poll body said it is committed to paying poll workers for rendering their services in the upcoming polls as mandated by Republic Act 10756 or the Election Service Reform Act.
To be exempted from tax, teachers serving as poll workers would have to file a prescribed sworn declaration of having an annual income threshold of P250,000 before the Comelec.
"Taxes will be withheld by the Comelec, acting as a withholding agent pursuant to BIR rules, for those whose income exceeds said threshold," Comelec spokesperson James Jimenez said in a statement.
The Comelec stands ready to assist public school teachers serving as Electoral Boards (EBs) in complying with this requirement with the BIR.
The poll body's disbursing officers will also act as administering officers in the execution and filing of the sworn affidavit, according to Jimenez.
Under the Election Service Reform Act, EB chairpersons would receive an honoraria of P6,000 while members are entitled to P5,000. DepEd supervising officers and support staff would also receive P4,000 and P2,000 respectively.
Aside from the honorarium, poll workers will also receive an additional travel allowance worth P1,000 each.
The Alliance of Concerned Teachers earlier expressed concern on taxing the honoraria for teachers rendering election service as it would ""brought forth a string of problems to teachers that causes bitterness to teachers as they perform their otherwise noble and nationalist duty of facilitating the people's exercise of their right to vote."
In the 2018 barangay elections, the BIR imposed a 5% withholding tax on the compensation given to poll workers.