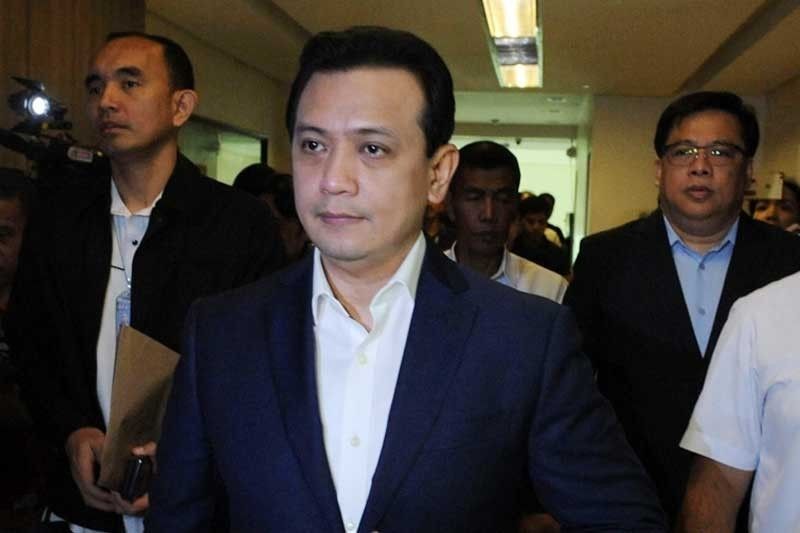 In this Dec. 10, 2018 file photo shows Sen. Antonio Trillanes IV visiting the Pasay court to pay the bail amounting to P96,000 or P24,000 for each of four counts of libel.
The STAR/Edd Gumban
Inciting to sedition trial vs Trillanes to proceed
MANILA, Philippines — The inciting to sedition case against Sen. Antonio Trillanes IV over his remarks on President Rodrigo Duterte's hidden wealth will proceed after a Pasay judge junked his motion to quash due to lack of merit.
In a two-page order, Pasay Metropolitan Trial Court Branch 45 Presiding Judge Remiebel Mondia denied Trillanes' motion to quash information, which seeks the dismissal of the charge.
The order is dated Feb. 22, 2019 but was released only Thursday.
Article 142 of the Revised Penal Code states that inciting to sedition can be done through speeches, proclamations, writings, emblems, cartoons, banners or other representations "that tend to disturb or obstruct any lawful officer in executing the functions of his office, or instigate others to cabal and meet together for unlawful purposes, or which suggest or incite rebellious conspiracies or riots, or which lead or tend to stir up the people against the lawful authorities or to disturb the peace of the community, the safety and order of the government, or who shall knowingly conceal such evil practices."'
RELATED: Inside the inciting to sedition charge vs 'sharer' of 'Bikoy' videos
The case stemmed from a complaint of suspended lawyer Eligio Mallari, Glenn Chong, Nestor Ifurung, Eduardo Bringas, Nasser Marohomsalic and Labor Undersecretary Jacinto Paras accusing the senator of inciting to sedition "by concocting, creating and making false documents and statements, (making) it appear that President Duterte has bank transactions from 2006 to 2015."
Trillanes uttered the remarks at the Senate on Oct. 3, 2018. He allegedly said: "So ito ngayon sagot. Kung makikita 'to ng mga sundalo, M60 machine gun ang gagamitin sa'yo. Marami-rami ito, maubos magazine kung P40 million hinahanap mo, Mr. Duterte."
(Now this is the answer. If the soldiers could see this, they would use M60 machine gun on you. These are a lot. The magazines would be emptied if you are looking for P40 million, Mr. Duterte.)
Trillanes, in his motion to quash, said that his pronouncement " was merely referring to the earlier speech of the president and was like resorting to hyperbole."
But the court held: "These arguments are based on allegations that are purely evidentiary in nature, the truth of which can only be ascertained in a full-blown trial where the parties will be given equal opportunity to present proof that will support their respective claims."
Legal suits vs Trillanes
This is one of the inciting to sedition charges that Trillanes is facing before a local court.
He was also charged for his remarks against the president after the issuance of Proclamation 572 that declared Trillanes' amnesty void from the beginning.
The senator was also among the personalities the Malacañang tagged in a supposed ouster plot against Duterte. Presidential spokesperson Salvador Panelo presented the matrix on Wednesday, sans evidence and confirmation from the military of a supposed plot to boot out the president from the seat of power.
The senator is also facing a libel charge filed by former Davao City Vice Mayor Paolo Duterte and Manases Carpio, the president's son and son-in-law, respectively, before a Davao court.
Trillanes would also return to Makati Regional Trial Court Branch 150 on May 27 after it revived the rebellion case against him.