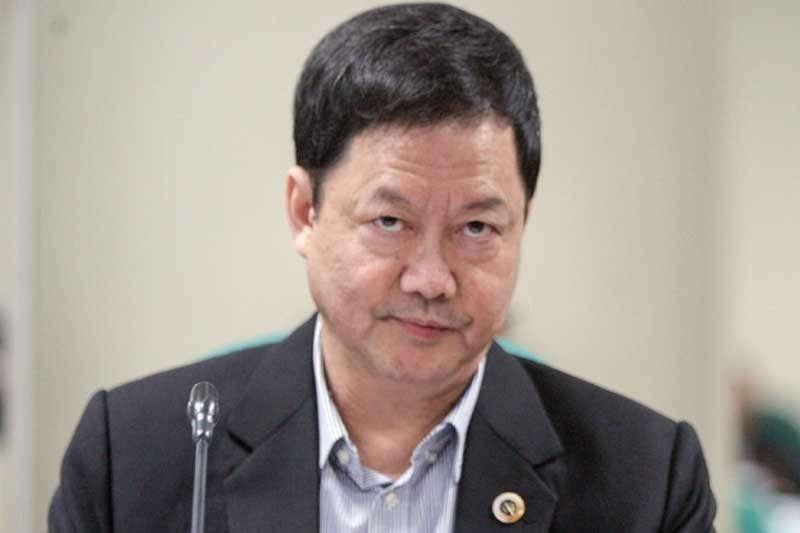 The National Bureau of Investigation is an agency under the Department of Justice which Justice chief Menardo Guevarra heads,
The STAR/Krizjohn Rosales
DOJ looking into 'leak' of resolution indicting Acierto
MANILA, Philippines — Justice Secretary Menardo Guevarra has ordered a probe into the leakage of a Department of Justice resolution indicting former cop Eduardo Acierto and other persons that supposedly foiled the authorities manhunt on the accused.
"The Office of the Prosecutor General is now doing the probe," Guevarra told reporters in a message Friday.
A Manila court has issued a warrant of arrest against Acierto, former Philippine Drug Enforcement Agency deputy director for administration Ismael Fajardo, importers Chan Yee Wah and Zhou Quan, consignees Vedasto Baraquel Jr. and Maria Catipan of Vecaba Trading and Emily Luquian.
The arrest warrant stemmed from the multi-billion shipment of shabu, believed to be concealed magnetic lifters, that slipped past authorities last year.
"He has been hiding since the Senate Blue Ribbon Committee chair by Sen. [Richard] Gordon investigated the magnetic lifter drug smuggling cases. I suppose that leaked information of his impending arrest made him hide all the more," the Justice chief added.
The STAR reported that the National Bureau of Investigation set a manhunt during the Holy Week break to implement the arrest warrant against Acierto and seven others.
But the indictment was reported late Wednesday night, April 17, a day before the scheduled operation.
The report quoted an NBI official that said: "[B]ecause it came out in the media, the operation for the arrest of Acierto was foiled. Nasunog tayo dun (We got burned)," the unnamed NBI source said.
It also said that Guevarra had issued a strict directive to keep the resolution confidential so as not to jeopardize to manhunt and pre-empt the actions of law enforcers. Police forces are now scouring Acierto's possible hideouts in the country.
Acierto, earlier this month, called for a press conference with select media outfits and revealed that former presidential economic adviser Michael Yang is linked to the illegal drug trade. — with reports from The STAR/Edu Punay