MWSS fines Manila Water P1.15 billion over water shortage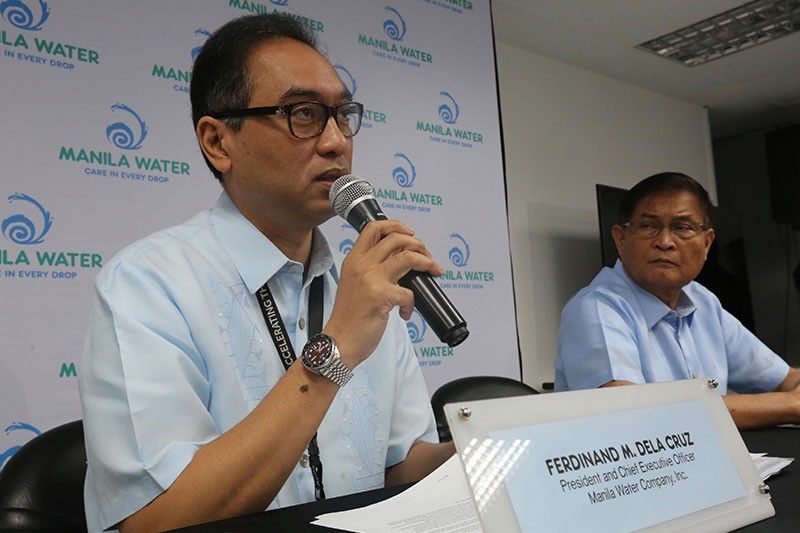 MANILA, Philippines — The Metropolitan Waterworks and Sewerage System (MWSS) has sanctioned private water concessionaire Manila Water over the water shortage in Metro Manila and Rizal province last month.
Government regulators fined the Ayala-led water service provider with an estimated P1.15 billion, according to a report from The STAR.
JUST IN: MWSS Board sanctions Ayala-led Manila Water @ManilaWaterPH with P1.15 billlion in fines following the supply mess last month @PhilippineStar

— Maureen Simeon (@maureensimeon) April 24, 2019
The MWSS earlier confirmed that Manila Water violated its obligation under the concession agreement to provide uninterrupted service to its customers in the east concession zone.
Following the supply mess, Manila Water announced that it would be waiving the minimum or basic charge for March.
The voluntary and one-time bill waiver scheme covers the first 10 cubic meters consumed each month.
"This minimum charge ranges for our lifeline customers of P76 but it also goes to all kinds of customers — lifeline, domestic, semi-domestic, commercial, industrial so it ranges from P76 to P656 for industrial customers, which represents the 10 cubic meters," Manila Water CEO Ferdinand dela Cruz earlier said.
The penalties imposed on the Ayala-led water concessionaire are on top of the nearly P500 million that will be returned to consumers through its one-time bill waiver scheme.
Dela Ceuz said Manila Water will abide by the decision of the MWSS to impose a financial penalty upon the recommendation of the regulatory office. — Patricia Lourdes Viray with reports from Louise Maureen Simeon
As It Happens
LATEST UPDATE: June 27, 2021 - 11:12am
An environmental watch group advises the public to conserve water all the more as parts of the country grapple with the effects of drought brought by the onset of El Niño.
In a statement, the EcoWaste Coalition calls on Metro Manila households to take water conservation more seriously while also calling on establishments to intensify water conservation measures.
"We join our water authorities in asking household, businesses and government institutions in Metro Manila to use water more wisely amid the declining water level in Angat, Ipo and La Mesa Dams," Aileen Lucero, EcoWaste national coordinator, says.

She adds: "Let us all aim for zero water waste to reduce the impacts of low water supply during the summer months to the people, especially the poor, and the environment."
The water level in La Mesa Dam is now below critical level at 68.93 meters due to the summer season and the El Niño phenomenon.
June 27, 2021 - 11:12am
Maynilad customers in Caloocan, Malabon and Quezon will experience low pressure to no water starting 1 p.m. today, June 27.
The emergency water service interruption is expected to last till 9 p.m.
"We apologize for the inconvenience. Thank you," Maynilad says in a tweet.
June 17, 2019 - 2:31pm
Manila Water is now operating an additional 34 deep wells in its concession area to help meet the demand of customers while the new water sources are being completed.
As of June 9, 2019, 43.42 million liters of water per day have been drawn from these deep wells and is seen to bring more water supply upon full operation of more deep wells in the coming months.
"The operation of these deep wells is vital to recovering our service towards 24/7 supply at 7 psi or pressure up to the ground level as one of the means of augmenting the water supply deficit," Manila Water Corporate Strategic Affairs Group Head Jeric Sevilla says.
April 24, 2019 - 8:49pm
Manila Water President Ferdinand dela Cruz says in a statement that he will abide by the decision of the Metropolitan Waterworks and Sewerage System to pay a financial penalty upon over its momentary inability to meet its service obligations to provide round-the-clock water supply to consumers.
The MWSS board has sanctioned Manila Water Company Inc. with a total of P1.134 billion fine and an additional P600 million fund for development of a new water supply source following the water shortage last month that affected parts of Metro Manila and neighboring towns.
April 24, 2019 - 8:39am
The imposition of penalties on Manila Water was due to its failure to comply with Article 10.4 of the concession agreement or the 24-hour available supply in its service areas.
April 24, 2019 - 8:34am
The MWSS Board sanctions Ayala-led Manila Water with P1.15 billion in fines following the supply mess last month.
— The STAR/Maureen Simeon