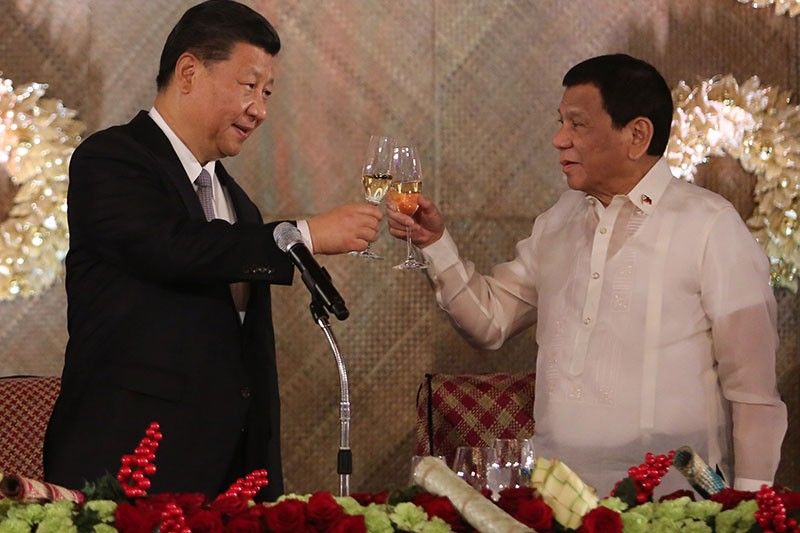 President Rodrigo Duterte with Chinese President Xi Jinping during the state banquet at the Rizal hall of Malacañang Palace on Tuesday, November 20, 2018. President Xi Jinping is in the country for two days for a series of bilateral meeting and signing of agreements.
Pool/Russell Palma
SWS: Most Pinoys back ICC challenge vs China's Xi Jinping
(Philstar.com) - April 18, 2019 - 9:59am
MANILA, Philippines — Majority of Filipinos were in favor of the suit filed by two former Philippine officials against Chinese President Xi Jinping before the International Criminal Court over his country's actions in the South China Sea, a new opinion poll suggests.
Former Foreign Affairs Secretary Albert del Rosario and former Ombudsman Conchita Carpio Morales had urged the ICC's Office of the Prosecutor to conduct a preliminary examination into Chinese officials' activities in the South China Sea, part of which is the West Philippine Sea.
The former high-ranking government officials noted that China's unlawful acts in the South China Sea "have caused devastating and long-lasting damage to the environment."
A March 28-31 Social Weather Stations survey of 1,440 adults found 49% of Filipinos agreeing to the statement that the ICC challenge against Xi "tells the world that China should leave the islands it has occupied" in the contested waters.
Broken down, 27% of respondents said they "strongly agree" with the move, 22% said they "somewhat agree", 10% "somewhat disagree", 7% "strongly disagree" and 28% were undecided.
That yielded a net agreement score of +32, classified by SWS as "very strong."
By areas, there was "very strong" agreement in Metro Manila and Balance Luzon, and "moderately strong" agreement in Mindanao and the Visayas.
"Net agreement with the statement was very strong regardless of people's trust or distrust in China as a country," the pollster said.
"It was very strong +34 among those with much trust in China, very strong +30 among those undecided with their trust, and very strong +33 among those with little trust in China," it added.
Ties between the Philippines and China have significantly improved under President Rodrigo Duterte, who has set aside a landmark ruling from a United Nations-backed tribunal that struck down Beijing's "Nine Dash line" claim that encompasses most of the resource-rich sea.
Duterte's management of the maritime dispute has frustrated nationalists, who criticized his seeming inaction towards China's military buildup in the strategic waterway.
Amid accusations of crimes against humanity against the Chinese leader, Duterte defended Xi, saying The Hague-based court has no jurisdiction over China since it's not a member of the tribunal. The communication was sent to the court four days before the Philippines officially withdrew from the ICC, which has been conducting an initial probe into Duterte's drug war.
According to Del Rosario, the condition of Filipino fishers being affected by Chinese presence in the West Philippine Sea was the primary concern in the communication submitted before the ICC.
"Our estimate is that there are 300,000 fishermen that have had their livelihood affected plus that fact that the food security was a factor," Del Rosario told CNN Philippines. — Ian Nicolas Cigaral