German NGO network concerned for safety of local partners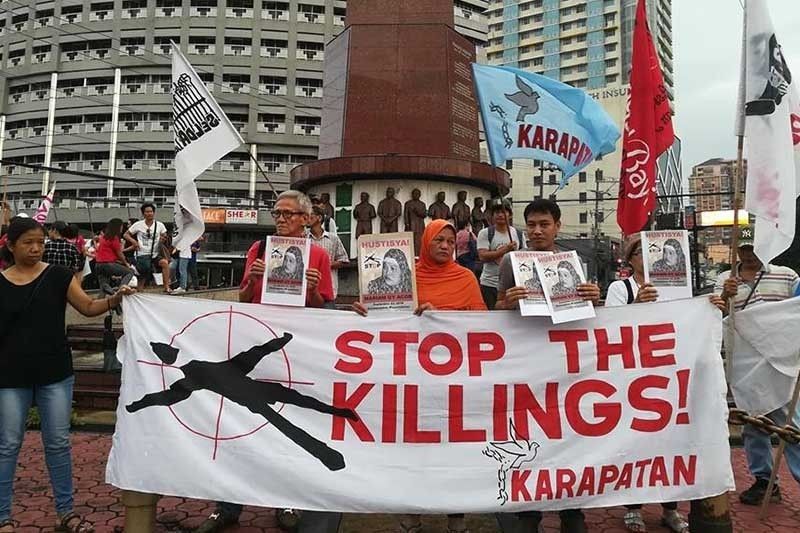 MANILA, Philippines — A network of German church-based and human rights organizations on Wednesday expressed concern over violence allegedly experienced by NGO workers in the Philippines and alleged government attempts to impede their work.
The Aktionsbündnis Menschenrechte-Philippinen (Action Network Human Rights-Philippines) said it had written letters to Local Government Secretary Eduardo Año and Defense Secretary Delfin Lorenzana about the tagging of several NGOs as fronts for communist rebels.
"These accusations frequently have deadly consequences since human rights defenders who work for organizations alleged by the security forces to ties with the communist insurgency are at particular risk of becoming victims of extrajudicial killings," AMP said in a statement Wednesday.
Last month, the European Union said it would investigate the claims that the regional bloc's aid funds were being diverted to the communist movement after the Philippine government formally requested the probe.
AMP—an initiative of seven major German church-based agencies and human rights groups to promote advocacy and information work in Germany and European Union on the human rights situation in the Philippines—defended the local NGOs tagged by the Philippine government as rebel fronts.
"Since the AMP and its members have worked with these organizations for many years, we can attest that the accusations are unfounded and aimed at silencing voices critical of the government," it said.
Its partners in the Philippines include Alyansa Tigil Mina, Asian Federation Against Involuntary Disappearances, Consortium of Bangsamoro Civil Society, Desaparecidos, Families of Victims of Involuntary Disappearance, Free Legal Assistance Group, Karapatan, Legal Rights and Natural Resources/Kasama sa Kalikasan, Mindanao Peoples Caucus, National Council of Churches of the Philippines, Philippine Alliance of Human Rights Advocates, Philippine Misereor Partnership, Inc., Ramento Project for Rights Defenders of the Philippine Independent Church, Task Force Detainees of the Philippines, The Philippine Human Rights Information Center and United Church of Christ in the Philippines.
Calls to Philippine government
AMP called on the Philippines to protect human rights defenders from violence and uphold their freedom of association as well as to order security forces and government officials to refrain from making statements that stigmatize rights workers.
It also urged the government to rescind Security and Exchange Commission Memorandum Circular 15, which requires stricter reporting of funding sources and beneficiaries. SEC said the new rules will improve its system for regulation and risk assessment but civil society organizations are concerned that it might become a tool for political persecution.
"[The Philippine government] must guarantee the right of all civil society organizations to seek, receive and utilize funding from national, foreign and international sources without undue interference," AMP also said.
The EU must also declare its support for human rights organizations in the Philippines, it added.
Bloody Negros Oriental ops
AMP also condemned the killing of 14 farmers in Negros Oriental in police operations late last month.
"[The Philippine government must] immediately investigate the killings of March 30 in Negros Oriental and to bring possible perpetrators to justice," it said.
A fact-finding team that documented the killings alleged irregularities in police operations in Sta. Catalina, Manjuyod and Canlaon in Negros Oriental, citing witnesses who said "masked elements of the police in a full-combat gear barged into victims' houses, issued defective search warrants for the alleged weapons, shot the respondents to death, then planted fabricated evidences [sic] such as firearms and ammunitions."
The mission also said the perpetrators took money and other belongings of the victims.
The police and the Palace insist that it was a legitimate operation as the authorities were serving court-issued warrants.