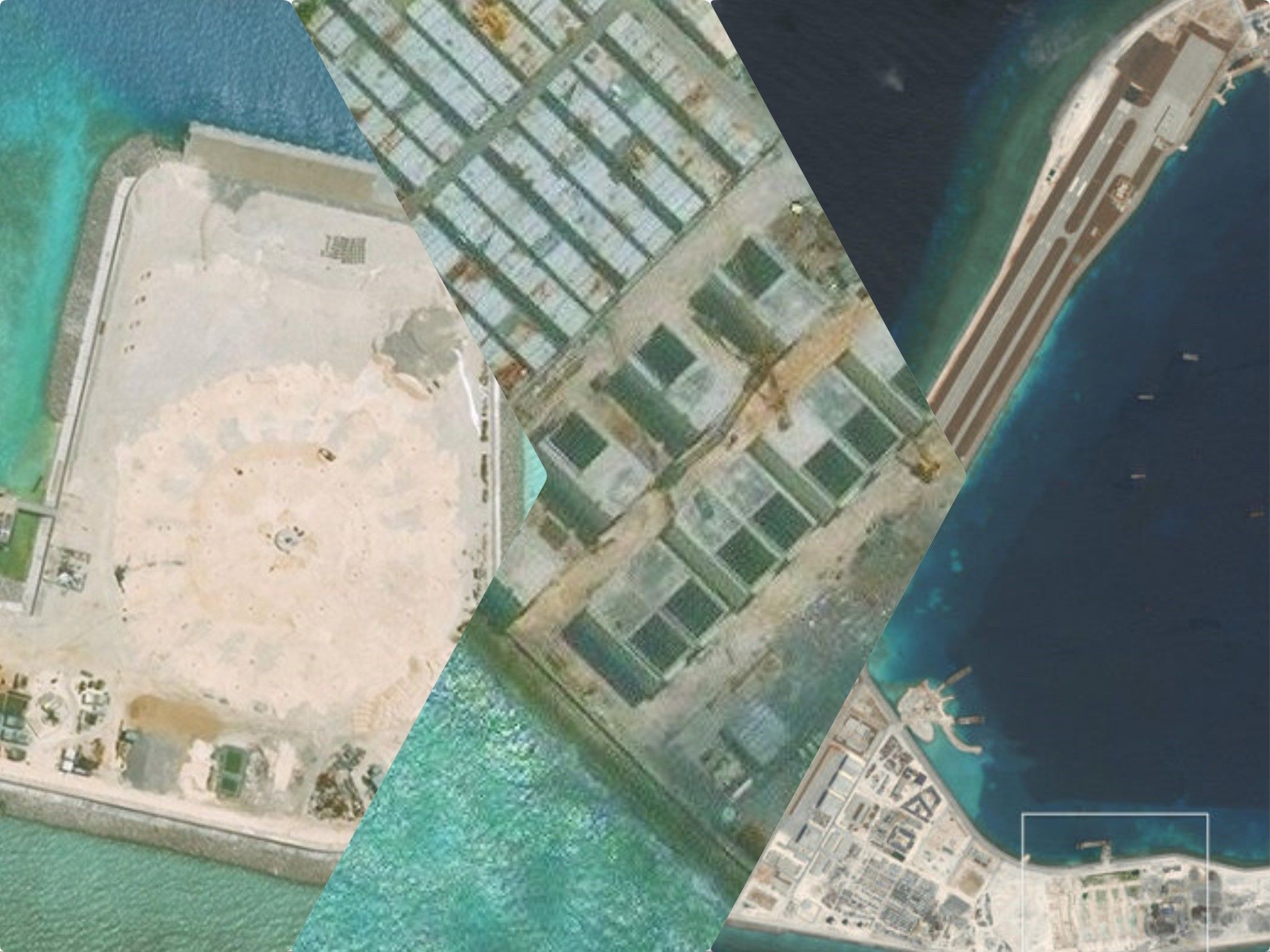 Chinese missile shelters and radar facilities have been spotted on Subi, Mischief and Fiery Cross reefs in the West Philippine Sea, the part of the South China Sea claimed by the Philippines.
CSIS/AMTI via DigitalGlobe
South China Sea militarization might undermine ASEAN, Pentagon says
MANILA, Philippines — Washington sees an undermining of the Association of Southeast Asian Nations member states as Beijing continues to militarize the South China Sea.
China and Southeast Asian countries, including the Philippines, have overlapping claims in the disputed waterway. In recent years, Beijing and the 10-member regional bloc have been negotiating on a legally-binding Code of Conduct in the South China Sea.
Speaking before a Congressional hearing, US Defense assistant secretary Randall Schriver noted that China, under the leadership of President Xi Jinping, seeks to undermine the rules-based order.
"China's ambitions are of pressing concern as the (Communist Party of China) seeks a different order and th security domain China devotes for its significant resources to eroding our advantages and threaten our interests. There is perhaps no better example of this than Chinese actions in the South China Sea," Schriver told the US House armed services committee on Wednesday.
This is despite Xi's pledge to former US President Barack Obama in 2015 that Beijing will not militarize the South China Sea.
With China's deployment of anti-cruise ship missiles and surface-to-air missiles on its outposts in the Spratly Islands, the US Department of Defense or the Pentagon warned that such actions would lead to "weakening of sovereignty."
"We could see an erosion to our system of alliances and partnerships. We could see an undermining of ASEAN and its member states and we could see diminishment of respect for individual and human rights," Schriver said.
In response to Beijing's actions in the region, the US Indo-Pacific Command continues to fly, sail and operate on international waters and airspace.
Schriver added that Washington has been urging other countries to conduct freedom of navigation operations in the South China Sea, whether alongside the US Navy or unilaterally.
"We're perfectly happy to see them operate in the international seas that is the South China Sea. It demonstrates that it's an international concern to maintain that open sea and air space," Scriver told the House panel.
Adm. Philip Davidson, commander of the US Indo-Pacific Command, said China represents the "greatest long-term strategic threat" to Washington.
Noting China's expansion of military activities in the South China Sea last year, Davidson added that Beijing continues to develop their capabilities.
"Today they continue testing and development of advanced capabilities like fifth generation aircraft, hypersoncs, aircraft carriers and counterspace technologies," he said.
In a written report submitted to the House panel, Davidson also noted that Chinese coast guard vessels continue to harass Filipino fishermen near Scarborough or Panatag Shoal in the South China Sea or West Philippine Sea.
The US Navy official said the Chinese "regularly harass intimidate fishing vessels from our treaty ally, the Philippines, operating near Scarborough Reef, as well as the fishing fleets of other regional nations."
The Philippine military had disputed these reports, insisting that it has not received reports that Filipino fishermen experience harassment from the Chinese coast guard.
"We have coordinated with the Bureau of Fisheries and Aquatic Resources and initially, there were no reports of Filipino fishermen being subjected to the said attack of Chinese water cannons, and so far, there were no sightings of dredging ships in the waters of Bajo De Masinloc or in the West Philippine Sea," AFP Northern Luzon commander Lt. Gen. Emmanuel Salamat said earlier this week.