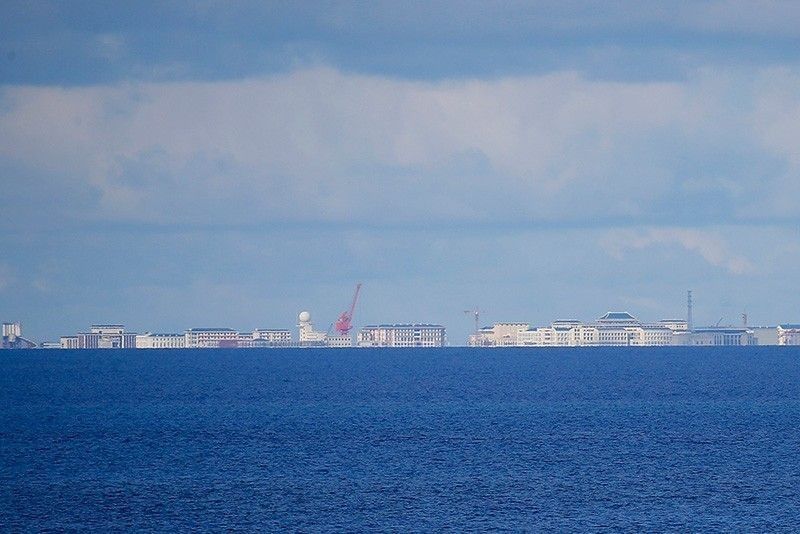 China's construction activities on Subi Reef is seen from Philippine-controled Pagasa Island in the South China Sea off Palawan province on April 21, 2017.
AP, File
ASEAN, China agree to pursue South China Sea code consultations
MANILA, Philippines — Senior officials from the Association of Southeast Asian Nations and China have agreed to move forward with consultations on the proposed Code of Conduct in the South China Sea (COC).
The officials recently met in China's Hunan province for the 15th Senior Official's Meeting on the Implementation of the Declaration of Conduct of Parties (DOC) in the South China Sea.
The Chinese government said that consultations on the COC will be based on the established framework so as to come up with a unified draft document.
"All participants agreed that we will peacefully resolve the South China Sea disputes through negotiations, control differences within the framework set out by regional rules, enhance mutual trust and prevent unexpected incidents on the sea through cooperation, and jointly maintain peace and stability in the South China Sea," Chinese Foreign Ministry spokesperson Lu Kang said in a press briefing Thursday.
Chinese Vice Foreign Minister Kong Xuanyou said that all participants in the meeting acknowledged the "sound and stable" situation in the South China Sea at the moment.
The ASEAN and China senior officials all affirmed the need for a comprehensive and effective implementation of the DOC.
Meanwhile, China criticized "non-regional" parties "hyping-up" the South China Sea dispute.
"China and other regional countries have more reasons than any non-regional parties to hold dear peace and navigation freedom and security in the South China Sea, considering our own interests. Some external forces have been trying whatever they can to muddy the waters in the South China Sea, including through hyping up the non-existent proposition that navigation freedom and security is somewhat affected," Lu said.
The Chinese Foreign Ministry did not specifically mention any country but it has been known that Beijing had been calling out Washington for "playing up" the militarization of artificial islands in the disputed waters.
Lu called on countries outside the region to respect efforts made by concerned countries to promote peace and stability in the South China Sea.
"They should refrain from stirring up trouble out of nothing," Lu said.
Last year, China agreed to work on the COC for the peaceful resolution of the maritime dispute. Beijing made the announcement after a bilateral meeting between President Rodrigo Duterte and Chinese President Xi Jinping in Vietnam in November 2017.
In August 2017, the ASEAN and China adopted a framework that would serve as an outline for the code. Its main objective was to establish a rules-based framework to guide the conduct of parties in the disputed waterway.
Related video: