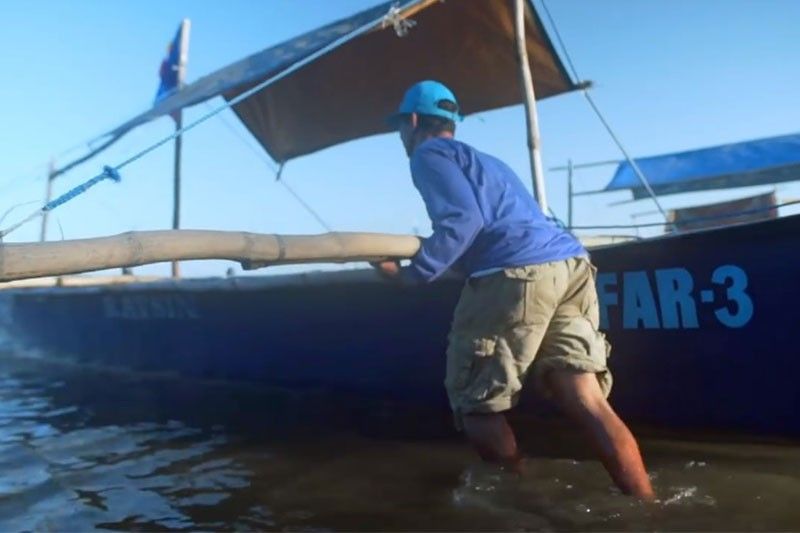 In a documentary released by the camp of senatorial candidate Neri Colmenares, fishermen from Masinloc, Zambales narrate how Chinese Coast Guard personnel have been harassing them in Scarborough Shoal in the West Philippine Sea.
Facebook screengrab/Neri Colmenares
Military disputes reported harassment of Filipino fishers in Scarborough
MANILA, Philippines — The Armed Forces of the Philippines is standing firm that there have been no reports of Filipino fishermen being harassed by Chinese nationals in the vicinity of the Scarborough or Panatag Shoal in the West Philippine Sea.
This statement comes after the camp of senatorial candidate Neri Colmenares released a video where Filipino fishermen recounted their experiences in the traditional fishing ground off the coast of Zambales.
According to the fishermen of Masinloc, Chinese coast guard personnel have been seizing their catch and driving them away from the shoal.
Lt. Gen. Emmanuel Salamat, commander of AFP's Northern Luzon Command (Nolcom), disputed the claims of local fishermen, which he described as "intriguing issues."
"We have coordinated with the Bureau of Fisheries and Aquatic Resources and initially, there were no reports of Filipino fishermen being subjected to the said attack of Chinese water cannons, and so far, there were no sightings of dredging ships in the waters of Bajo De Masinloc or in the West Philippine Sea," Salamat said in a statement.
Bajo de Masinloc is the government's official name for Scarborough, which is also called Panatag.
The Nolcom commander added that Navy and Coast Guard ships regularly patrol the country's northern maritime borders to ensure freedom of navigation in the area.
"Politicians should not exploit sensitive national issues such as these if they are not backed by a solid foundation and proper confirmation just to suit their own benefit," Salamat said.
The AFP's Nolcom assured the public that it remains committed to protecting the people and securing Philippine sovereignty, particularly within its area of responsibility in the northern region.
Palace: Harassed fishers must show proof
Malacañang earlier said the Philippine government would protest China's supposed harassment of Filipino fishermen if verified.
"They have to show proof that is being done now again because if it's being done, certainly we will protest. We will not allow our countrymen to be subjected to that kind of harassment," Panelo said Monday.
Panelo cast doubts on the video documentary that Colmenares released, saying that the footage might have been old.
In response to Panelo, the filmmaker of the six-minute video posted a behind-the-scene photo of the shoot dated February 16.
"I am the filmmaker behind the video. Here is a behind-the-scenes footage of our shoot dated Feb. 16, 8:15 AM. It is one month and one week old," filmmaker Kip Oebanda said on Facebook.