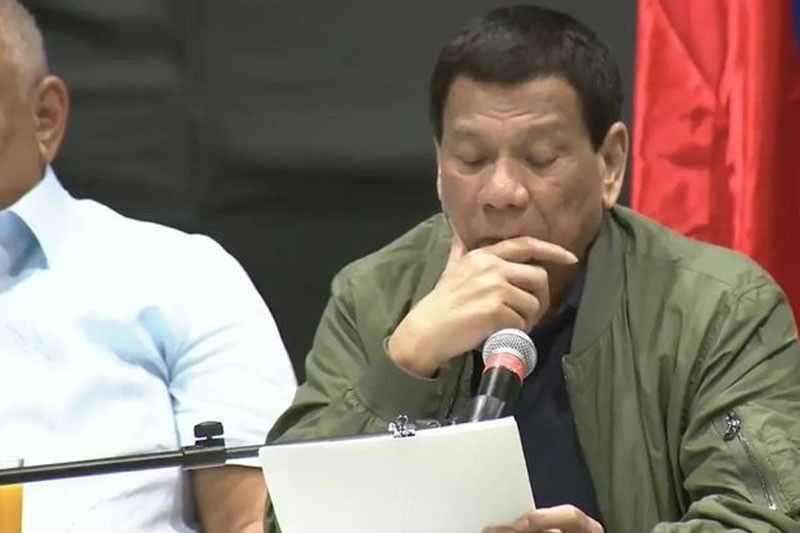 President Rodrigo Duterte on March 15 bared the names of 46 politicians included on the so-called "narco-list."
Screengrab from Radio Television Malacañang
'Stop publicizing drug lists,' international lawyers' groups urge government
MANILA, Philippines — A panel of international lawyers on Monday called on the Philippine government to stop publicizing its lists of personalities it claims are involved in the illegal narcotics trade.
"The government should put an end to...public disclosure of drug lists," the delegation said after conducting a review of attacks against lawyers in the Philippines since the start of the Duterte administration last week.
The delegation is composed of representatives from International Association of Democratic Lawyers, International Association of Lawyers and Day of the Endangered Lawyer Foundation. They released their findings at a press conference at the Integrated Bar of the Philippines office in Ortigas.
'Narco-list has become a common practice'
The delegation said that due to the government's war against drugs, listing personalities that are suspected of having drug links "has become a common practice."
"From what we learned, there are no criteria nor minimum evidence required to be named on these lists and names are frequently made public," they said.
Barely two months into his office, President Rodrigo Duterte released a list of personalities allegedly involved in the illegal drug trade. He also released a "drug matrix" of politicians and government officials allegedly involved in drugs.
Ahead of the May polls, the president himself rattled off names of 43 local government officials and three congressmen from yet another "narco-list".
The government has said administrative raps have been filed before the Office of the Ombudsman against the personalities, but criminal complaints alleging drug links have yet to be filed before local prosecutors.
Several politicians in the list have already denied the allegations against them and have blamed political rivals for their in inclusion on the list.
The panel of international lawyers pointed out that the narco-list also extended to "lawyers who have been labelled drug protectors because of their defense of those accused of drug crimes."
The list that the president read out in 2016 included judges, prompting Maria Lourdes Sereno, chief justice at the time, to write a letter to Duterte saying that the disclosure of the judges' names was premature.
The SC conducted its own fact-finding investigation into the local judges and cleared three of them.
The panel stressed: "The consequence of being on this list is to be discredited, exposed, and subject to a high probability of being killed."
Sereno has since been ousted from office. Her colleagues voted in favor of the position that her appointment as chief justice had been void from the start.
Duterte last week said that more names allegedly linked to the drug trade would be released as authorities continue to validate reports.
READ: DOJ assures 'narco list' pols of fair probe
Increase in rights violations vs lawyers
The panel also raised that there "has been a sharp increase" of rights violations against lawyers and other legal professionals.
The panel asked Duterte to "refrain from publicly attacking lawyers and instead publicly condemn all attacks against lawyers, prosecutors and judges."
The Palace, however, distanced itself from the killings. Presidential spokesperson Salvador Panelo said in a statement: "The administration has not attacked any lawyer in any way and/or manner."