Duterte welcomes US guarantee to protect Philippines if attacked in South China Sea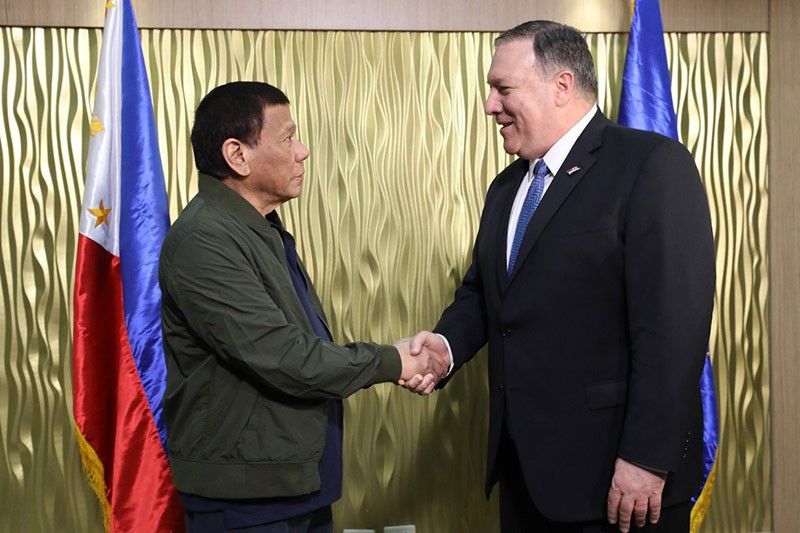 MANILA, Philippines — President Rodrigo Duterte hailed the United States' assurance that it would defend the Philippines from attacks but expressed qualms about the processes that require the approval of American lawmakers.
US State Secretary Mike Pompeo assured Philippine officials that Washington would protect Manila if its forces are attacked in the disputed West Philippine Sea (South China Sea).
Pompeo, who met with Duterte in Manila last week, noted that an armed attack on Philippine forces, aircraft or public vessels in the West Philippine Sea would trigger obligations under the Mutual Defense Treaty.
"America said, "We will protect you. We will — your backs are covered I'm sure. I said, it's okay," Duterte said during a campaign sortie of the Partido Demokratiko Pilipino-Lakas ng Bayan last Sunday in Zamboanga City.
"But the problem here is they would invoke the (Mutual Defense Treaty) which was entered into by us, by our ancestors... But in America, it has to pass through Congress. Any declaration of war will pass Congress. You know how b***s*** America's Congress is," he added.
READ: US assures Philippines: Any armed attack in South China Sea will trigger Mutual Defense Treaty
Duterte noted that US President Donald Trump is facing a budget stalemate because of a disagreement with lawmakers.
"They still do not have a budget. I almost experienced that. But our congressmen's approval of the budget was timely," he said.
"We were nearing the same situation as with America. They do not have a budget... We gave similarities. America crafted our constitution," he added.
The US government was forced to shut down because of disagreements over Trump's appeal for funding of a wall along the US-Mexico border to prevent the entry of illegal immigrants.
READ: Commentary: A renegotiated Mutual Defense Treaty is neither simple nor a panacea for bilateral ties
In a related development, Malacañang said it has to verify reports that Chinese ships drove away Filipino fishermen from sand bards near Pag-asa Island in the West Philippine Sea.
If proven, such action by Chinese vessels are "certainly" not correct, presidential spokesman Salvador Panelo said.
"Our fishermen have been fishing there. So...nobody has the right to drive our fishermen away. But we'll have to validate that," he added.