Palace: Chinese blockade of Pag-asa sandbars up for validation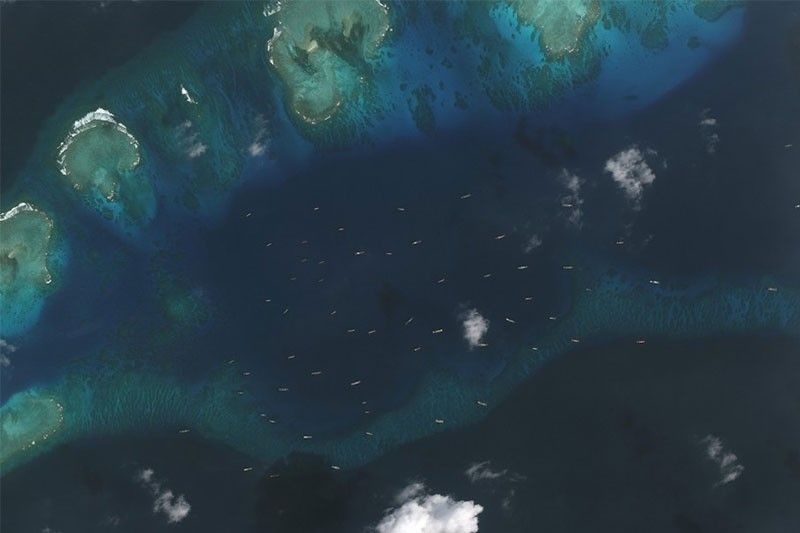 MANILA, Philippines — Reports that Chinese vessels have been driving away Filipino fishermen from sandbars in the West Philippine Sea would have to be validated first, Malacañang said Monday.
Chinese vessels have reportedly been denying access to Filipino fishermen on sandbars near Pag-asa Island, which is under the jurisdiction of the municipality of Kalayaan in Palawan, according to a report from Inquirer.net.
"I will need to validate that from the Secretary of National Defense," Panelo said in a press briefing.
If the report true, Duterte's spokesman said the acts of the Chinese in Philippine waters is "not correct."
"That is our area. From the very start, we said that's ours... Our fishermen have been fishing there so nobody has the right to drive our fishermen away," Panelo said.
Defense Secretary Delfin Lorenzana has yet to release a statement on the matter.
According to the report, Kalayaan Mayor Roberto del Mundo said the presence of Chinese vessels in the area has been affecting the fishing activities of local fishermen.
There are no reports of harassment but the Chinese have been warding off Filipino fishermen from getting to the sandbars.
Panelo said this would be a cause of concern if Lorenzana declares so.
Asked if the Philippines would protest Beijing's latest actions in the West Philippine Sea, Panelo said it would be up to Foreign Affairs Teddy Locsin.
The reported driving away of Filipino fishermen by Chinese vessels in the Spratly Islands came as Beijing deploys paramilitary forces in the area.
Last month, Washington-based think Asia Maritime Transparency Initiative released a report showing that Chinese ships have been deployed near Pag-asa Island as early as July 2018.
The fishing vessels are speculated to be part of Chinese maritime militia as they have no gear indicating fishing activity.
The Chinese paramilitary forces — composed of People's Liberation Army Navy, Chinese Coast Guard ships and fishing vessels — have been stationed near Subi Reef, which is 12 nautical miles from Pag-asa Island.
Chinese ships have reportedly been operating in the area around the same time that the Philippines started upgrading its facilities on Pag-asa Island, one of the largest features in the Spratly group.