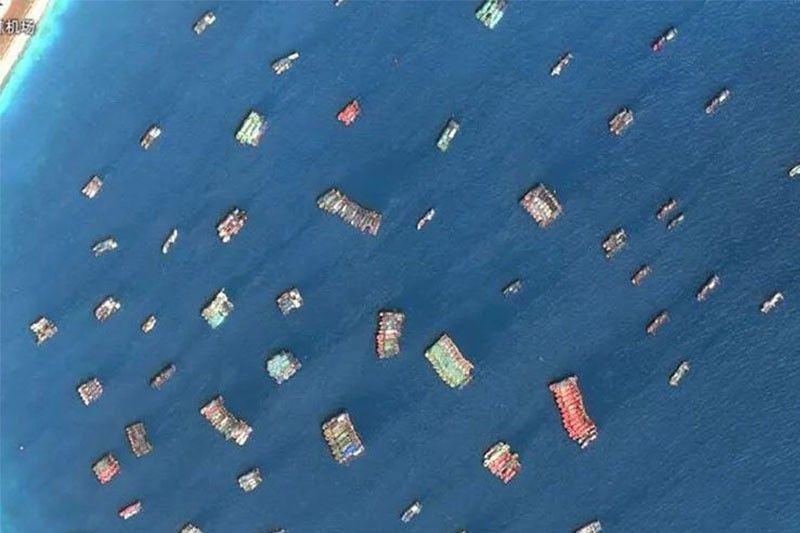 The Center for Strategic and International Studies, in partnership with Vulcan, Inc., released satellite imagery revealing the extent to which the Philippine exclusive economic zone is being used by foreign fishing fleets, most of which is from China. Above is a satellite image of Chinese fishing vessels at Subi Reef taken Aug. 12, 2018.
DigitalGlobe and Vulcan, Inc. via CSIS
Satellite imagery shows Chinese fishing vessels in Philippine EEZ — study
MANILA, Philippines — Chinese fishing vessels comprise the largest number of ships operating in the Spratly Islands in the South China Sea or West Philippine Sea so far based on satellite imagery.
Gregory Poling, director of Washington-based think tank Asia Maritime Transparency Initiative, noted that satellite imagery reveals most of these ships congregate in the lagoons at Subi and Mischief Reefs, as well as nearby waters around Philippine-claimed islands.
In an article titled "Illuminating the South China Sea's Dark Fishing Fleets," Poling discussed the possibility of Chinese maritime militia loitering around Pag-asa Island, one of the largest features in the Spratlys.
Subi and Mischief Reefs are two of Beijing's military outposts in the disputed area, where it has installed surface-to-air missiles and electronic jamming equipment in the past year.
"Two passes over Subi in August revealed 117 SAR returns within the reef's lagoon and another 61 in waters nearby, including around Philippine-occupied Thitu Island just over 12 nautical miles away," Poling wrote.
The Synthetic Aperture Radar is one of the technologies used to monitor fishing activity in the study. It can identify anything metallic, such as the hull and superstructure of modern fishing vessels as small as six meters.
Two passes of the SAR in October last year revealed that 19 ships were spotted in the lagoon of the two reefs and 190 in waters nearby.
An analysis of satellite imagery shows the Chinese fishing boats near the military outposts often ride at anchor or transit without fishing.
A falling net vessel could occassionally be seen from a Chinese ship but these instances were rare, the report read.
At least 10 large Chinese fishing boats were also spotted near Philippine-occupied Pag-asa and Kota Islands, as well as Taiwan-occupied Itu Aba Island.
"These clusters remained for weeks at a time and only a few vessels showed signs of fishing during the time period [the] imagery was collected. Overall, the Chinese fleet in the Spratlys spends far less time fishing and far more time at anchor than is typical of vessels elsewhere," Poling said.
Analysis of satellite imagery also shows that fishing very often in the area is not sustainable as the size and quantity of Chinese ships suggest a massive overcapacity.
"This gross overcapacity combined with their tendency to congregate around both Chinese-occupied reefs and those held by other claimants leads to the conclusion that most of these vessels serve, at least part-time, in China's maritime militia," the maritime expert said.
Poling previous mentioned the possible presence of maritime militia in the West Philippine Sea during a security forum in Manila last December.
As early as August 2017, 200 boats have been spotted on the lagoon of Subi Reef, based on the satellite image.
"Now I mentioned the maritime militia, paramilitary forces, however, we would like to categorize them because I seem to have an impression... that this is a relatively minor part of the Chinese arsenal and we are at a mistake," Poling earlier said.
Beijing continues to ignore the July 2016 ruling of a United Nations-backed tribunal that invalidated its nine-dash line claim over the South China Sea.
The landmark ruling also indicated that China violated the Philippines' exclusive rights in its exclusive economic zone by interfering with Philippine fishing and petroleum exploration, constructing artificial islands and failing to prevent Chinese fishermen from fishing in the area.