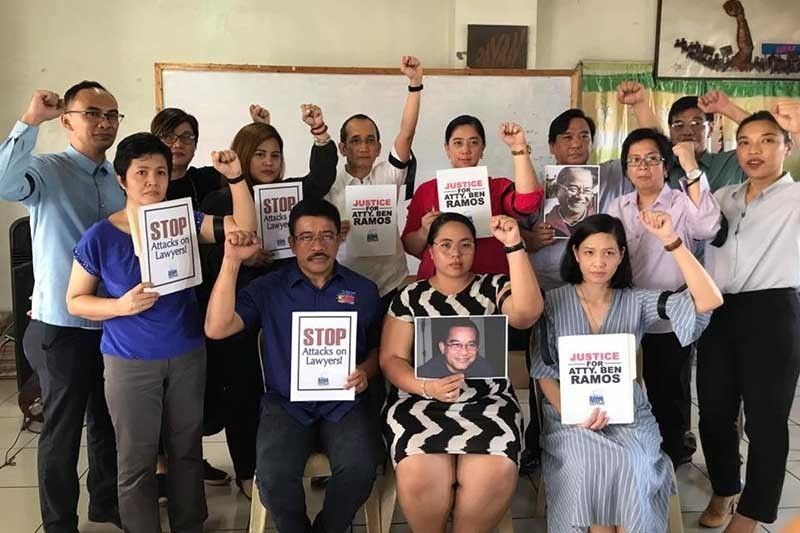 In this file photo, members of of the National Union of Peoples' Lawyers denounce the killing of their colleague, lawyer Benjamin Ramos.
National Union of Peoples' Lawyers Facebook page
CHR warns against 'red-tagging' of rights lawyers
MANILA, Philippines — The Commission on Human Rights warned against a seeming trend of vilifying rights lawyers by branding them as "leftist," which the commission had earlier said puts people's lives in danger.
CHR spokesperson Jacqueline Ann de Guia, a lawyer, on Thursday said the "harassment and vilification of lawyers labelled to be 'leftist' has become a new trend of attacking progressive rights groups."
De Guia denounced the move and called on the government to ensure the protection of members of the Union of People's Lawyers in Mindanao and the National Union of People's Lawyers.
"Regardless of political affiliation, we remind (everyone) that equal protection of the law must be accorded to all," de Guia added.
Lawyer Beverly Selim-Musni, and her daughters Beverly Ann Musni, Yr., and Czarina Golda Musni said in a joint statement posted online last week that they were named in "flyers vilifying several of the human rights defenders in the region."
Selim-Musni said "the bias of my daughters for the poor and the oppressed is distinct, much more my pride, since they have inherited my compassion. Their father, Attorney Oscar Musni, is a [Free Legal Assistance Group] lawyer himself and a political detainee during the time of Martial Law."
The Musnis added: "The attacks against lawyers under the administration of President Duterte, a lawyer himself, are not new and are not only in Northern Mindanao. Moreover, the attacks against the brave lawyers who have chosen the hard battle of fighting repressive state mechanisms is constant in the history of our country's repressive governments."
Earlier in February, the NUPL reported an attack against lawyer Edgardo Balgos, its Cagayan Valley Region member, who was helping the family of slain peace consultant Randy Malayao.
The group also slammed red-tagging of their members in Panay. Cagayan de Oro and Cayagan Valley region "when all they had done was to represent and defend human rights defenders languishing in jail for State-sponsored trumped up charges."
The CHR and progressive groups have repeatedly cautioned against "red-tagging" or the practice of labelling individuals and organizations critical of the government as communist terrorists, state enemies and subversives. They raise that the practice opens personalities for persecuting and violating their right to due process.
EXPLAINER: Duterte's red-tagging endangers activists — militant groups
The Commission also urged that the steps should be taken to prevent another injustice committed against human rights lawyer Benjamin Ramos who was gunned down in November 2018.
Prior to the attack, the lawyer was included in a poster of supposed "CNN"—a government abbreviation for Communist Party of the Philippines-New People's Army-National Democratic Front—personalities, according to a report from independent news site Bulatlat.com.
The report added that the following names were also included in the poster: Karapatan-Negros secretary general Clarizza Singson, Zara Alvarez of the Negros Island Health Integrated Program, UMA secretary general John Lozande, NFSW secretary general Christian Tuayon, National Union of Peoples' Lawyers-Negros secretary general Benjamin Ramos, Escalante Councilor Bernardino Patigas, Julius Dagatan, Ronald Evidente, Ma Rina Amacio, Rogina Quilop, Lary Ocena and Anecita Rojo.
READ: CHR dispatches team to probe human rights lawyer's killing
"Lawyers who choose to bravely fight for the poor and oppressed must be supported and protected, not threatened nor disparaged," de Guia stressed.
Chief Justice Lucas Bersamin, last year, said that he would seek his colleagues' agreement to conduct an independent probe into the killings of lawyers in the country.
At least 78 lawyers have signed a petition asking the SC to ensure a "thorough, prompt, impartial and independent investigation" into killings of lawyers since the administration of President Rodrigo Duterte.