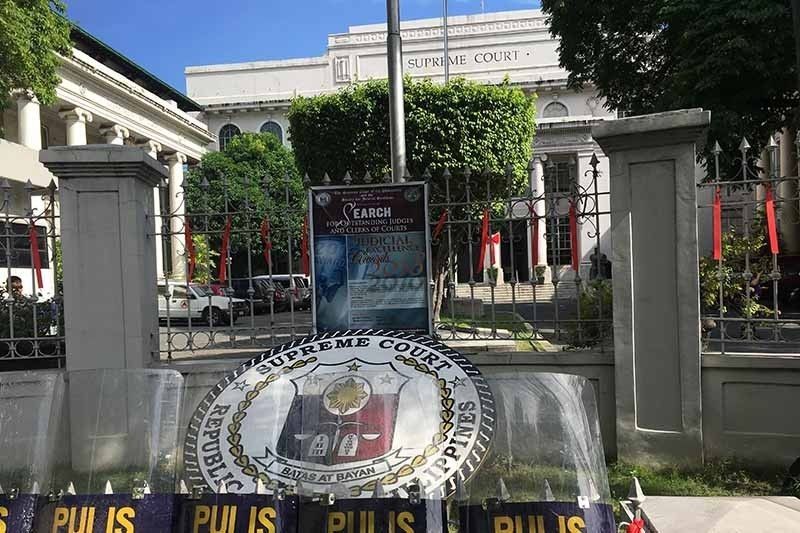 In this photo taken on May 11, red ribbons were tied at the gates of the Supreme Court in Padre Faura, Manila. The ribbons were in support of the ouster of Maria Lourdes Sereno. Police ranks secured the area as protests from both sides of the SC compound happened, in anticipation of the high court ruling on the quo warranto petition against Sereno.
Philstar.com/Kristine Joy Patag
Bersamin to ask colleagues for independent probe into killings of lawyers
MANILA, Philippines — Chief Justice Lucas Bersamin said that he would seek his colleagues' agreement to conduct an independent probe into the killings of lawyers in the country.
In a statement sent through Supreme Court spokesperson Midas Marquez, Bersamin echoed the Integrated Bar of the Philippines condemnation of the recent spate of killings of lawyers, prosecutors and even judges.
Among the latest killed is Rep. Rodel Batocabe (Ako Bicol party-list), who is also a member of the Bar.
Batocabe and his escort SPO1 Orlando Diaz were killed in a gift-giving event last weekend.
READ: Happy day turns tragic as Batocabe murdered on wedding anniversary
"The Chief Justice will seek the concurrence of the Court in conducting an independent investigation and convening a dialogue between the member of the bar and the law enforcers," read the statement.
Bersamin urged the authorities to put an immediate stop to the senseless killings and bring the perpetrators to justice.
At least 78 lawyers have signed a petition asking the SC to ensure a "thorough, prompt, impartial and independent investigation" into killings of lawyers since the administration of President Rodrigo Duterte.
The national organization of lawyers also suggested a dialogue between the SC, IBP, state security forces including the police and army, civil society organizations and other lawyer groups to ensure the security of lawyers.
For his part, SC Justice Diosdado Peralta, who also sits as chair of the House of Representatives Electoral Tribunal, lamented the loss of Batocabe.
The HRET is composed of three senior SC justices and six members of the House.
Peralta said that Batocabe's views "are quite insightful."
"It is always very interesting to debate with him," said the SC justice.
Peralta urged the authorities to arrest the perpetrators "especially during this time when elections are fast approaching."
Batocabe's bereaved offered a P30-million reward for information that would lead to the identification of the perpetrators.