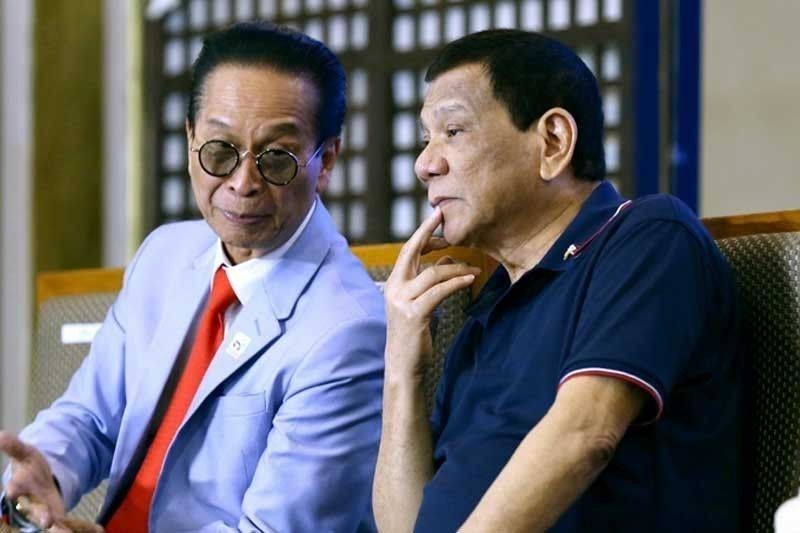 A recent post by Pinoy Ako Blog cited a report stating that Keng's mining firm Century Peak Metals Holdings Corp. was one of 12 companies that passed an audit conducted by the environment department in 2016.
Robinson Ninal/PPD
Spokesman Salvador Panelo claims Duterte doesn't know Wilfredo Keng
Alexis Romero
(The Philippine Star) - February 19, 2019 - 12:00am
MANILA, Philippines — Malacañang yesterday maintained that President Duterte does not know Wilfredo Keng, the businessman that sued Rappler for cyber liber, after an administration critic pointed out the government made decisions that favored his business.
A recent post by Pinoy Ako Blog cited a report stating that Keng's mining firm Century Peak Metals Holdings Corp. was one of 12 companies that passed an audit conducted by the environment department in 2016.
The blog, owned by a critic of Duterte and an ally of the opposition, also noted that Keng's company has secured a reclamation project in Cavite.
The Board of Investments registered a Century Peak-owned cement manufacturing plant worth P10.9 billion in Cebu last year, the blog added.
Asked to comment on the post, presidential spokesman Salvador Panelo said Duterte does not meddle with the work of government agencies.
"Even assuming that those facts you stated are correct, it doesn't follow that the President will know this particular person," Panelo said at a press briefing,
"You must remember that the policy of the President is he does not interfere with department heads relative to the governance of their departments," he added.
Panelo said Duterte only interferes when there are allegations of corruption in a transaction.
"The departments, they are the ones in charge. If their transactions are OK and are not tainted with corruption, the President does not interfere."
Asked how Malacañang views Keng, Panelo replied: "The President said he does not know him. If he is an investor, then he is just an investor."
Last Thursday, Rappler chief executive officer Maria Ressa was arrested over a cyber libel complaint filed by Keng.
The article, published in 2012, said the late former chief justice Renato Corona had been using a vehicle owned by Keng. The report also cited an intelligence report that mentioned allegations that Keng was involved in drug smuggling, human trafficking and a murder case.
Rappler has described Keng's complaint as baseless and preposterous, noting that it came five years after the story was published and months before the cyber crime law was enacted.
Ressa and her supporters believe that Duterte was behind the complaint, which they view as an assault on press freedom.
Malacañang and Keng have maintained that the complaint had nothing to do with press freedom, insisting that the case was between a private individual and Rappler.
In a separate interview, Panelo said Ressa's arrest does not have a chilling effect on the media.
"We have the freest country with respect to expression of oneself and publication of newspapers. Just look at the newspapers, have you heard of any lawsuits? There's none. Personally I'm even amused by the reaction," Panelo told ANC.
Panelo reiterated that Ressa was demanding special treatment from authorities.
"The law is not respecter of any social status. What do the rules of court say: the warrant of arrest upon issuance of the court must be served immediately. It does not prescribe any time. You have to be brought to the court," the spokesman said.
While the Duterte administration believes that Ressa was arrested because of rule of law, Panelo agreed that libel should not be regarded as a criminal act.
"Personally, not the Palace's view, it can be a civil suit," Panelo said.
Panelo admitted it is hard to prove malice in a libel suit, making it difficult to secure a conviction.
The Office of the United Nations High Commissioner for Human Rights called for an independent and thorough review of all charges against Ressa and other media professionals in the Philippines.
Rupert Colville, spokesman for UN Rights chief Michelle Bachelet, urged the Philippine judiciary to "safeguard their own independence by throwing out cases that are clearly politically motivated or are not in line with international human rights standards, including freedom of opinion and expression.
"Any charges that appear to be aimed at preventing journalists from undertaking their profession, thereby depriving the public of their right to information, should be dropped immediately," Colville said in a statement.
The UN rights office expressed concern over the arrest of Ressa, saying it appears to be the "latest element in a pattern of intimidation of a media outlet" that has fiercely guarded its independence and its right to conduct in-depth investigations and to criticize the authorities.
'Nothing irregular'
There was nothing irregular in the actions taken by local courts in the cyber libel case against Ressa, a court official said yesterday.
The court insider, who requested anonymity as the controversy may reach the Supreme Court, said the courts have legal basis to issue the arrest warrant against Ressa and also reject her bail plea when she was arrested by the National Bureau of Investigation (NBI) last week.
The source specifically referred to the issuance of arrest warrant by the Manila Regional Trial Court (RTC) Branch 46 against Ressa and the refusal of Pasay metropolitan trial court (MeTC) to grant her bail.
The official stressed that Manila RTC 46 Judge Reinelda Estacio-Montesa issued the arrest warrant against Ressa after finding probable cause in the cyber libel case filed by the Department of Justice (DOJ).
"Judge Montesa is an expert in cyber crime law so she knows how to handle this case very well. In fact, she is an international lecturer on cyber crime at the Council of Europe," the source revealed to The STAR.
Justice Secretary Menardo Guevarra also explained earlier that the issuance of the arrest warrant and its implementation last Feb.13 were "procedural" or part of the criminal procedures in court and not a "persecution and weaponization of the law" as claimed by Ressa.
The insider also rebutted the claim of former Supreme Court spokesman Theodore Te that Ressa's right to bail was violated by Pasay MeTC Executive Judge Allan Ariola, a night court judge, when he did not allow Ressa to post bail after being arrested by NBI after court office hours.
"It has nothing to do with the court being a night court. The bail was not allowed because of jurisdiction issue," the source explained.
"An accused can only post bail before the court where warrant was issued or before the court that has jurisdiction on the city or town where the accused was arrested," the insider pointed out.
In Ressa's case, a Manila court issued the warrant while she was arrested in Pasig City.
"She cannot post bail before a Pasay court – only before a Manila or Pasig court. The accused cannot choose her judge and the lawyers should know that for a fact," the official explained.
Ressa was arrested by NBI agents inside Rappler's office by virtue of the arrest warrant dated Feb. 12.
Guevarra explained that lawyers of Ressa could have prevented the arrest if only they monitored the case closely.
He stressed that Ressa could post bail anytime after filing of the case and even prior to the issuance of warrant.
After the arrest of Ressa, militant labor leaders expect stronger resistance against the Duterte adminitration. – With Pia Lee-Brago, Edu Punay, Mayen Jaymalin