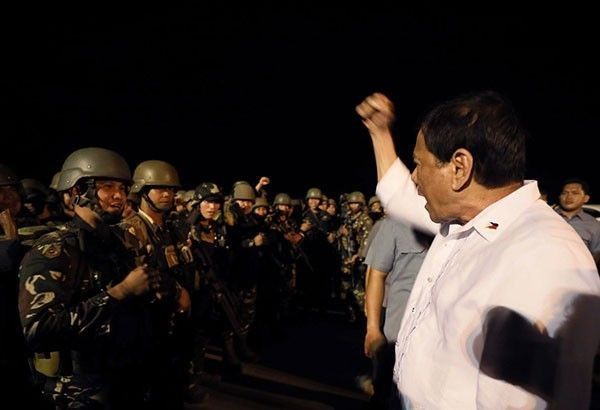 In this file photo, President Rodrigo Duterte expresses his high praises to the troops of the 1st Infantry Battalion at the Laguindingan Airport in Cagayan de Oro City on October 20, 2017.
Presidential Photographers Division/Ace Morandante, file
SC upholds 3rd martial law extension
MANILA, Philippines (Update 2 3:51 p.m.) — The Supreme Court on Tuesday, voting 9-4, upheld the constitutionality of the extension of President Rodrigo Duterte's martial law in Mindanao until the end of 2019.
This is the third time that the high court affirmed the constitutionality and factual basis of martial law rule in the region.
.@SCPh_PIO Chief Brian Keith Hosaka confirms voting of SC upholding the constitutionality of martial law in Mindanao. AJ Rosmari Carandang penned the ruling. @PhilstarNews pic.twitter.com/NMmWqCqOrO

— Kristine Patag (@kristinepatag) February 19, 2019
In a full court session, the SC junked the four consolidated petitions—from lawmakers, human rights lawyers and Mindanao residents—challenging the constitutionality and factual basis of martial law.
The SC upheld constitutionality of Duterte's martial law declaration and its subsequent year-long extensions until the end of 2017 and of 2018, respectively.
Parties submitted their respective memoranda on February 4.
AJ Carandang's first SC decision
SC Public Information Chief Brian Hosaka, in a press briefing, said that Associate Justice Rosmari Carandang penned the decision.
Carandang is the most junior member of the current SC justice bench,
Hosaka said that he has no information on the arguments that the SC delved into when they voted on the petitions earlier on Tuesday.
A copy of the full text of the decision has yet to be uploaded as of this story's posting.
The SC held oral arguments on the petitions on January 29.
It was attended by top military officials, including Maj. Gen. Pablo Lorenzo, Armed Forces of the Philippines deputy chief of staff for intelligence and Director General Oscar Albayalde, Philippine National Police chief.
During the oral arguments, Associate Justice Alfredo Benjamin Caguioa asked the government to define when it could be said that rebellion—one of the justifications in the 1987 Constitution for martial law—has been quelled and recommend the lifting of military rule in Mindanao.
Lt. Gen. Benjamin Madrigal, AFP chief, told the court during the oral arguments that the military defines "destruction of the enemy" when they have "reduced the enemy 30 percent."
The enemy's capability is measured in terms of manpower, firearms, support system (such as controlled barangays) and violent incidents.
Associate Justice Francis Jardeleza asked Madrigal what it means to the military when the enemy's capability is reduced to 30 percent.
Madrigal said that it meant that the capability was "brought down to level of law enforcement or the police can take the lead."
When the military attains that, Madrigal said, "we would gladly recommend the lifting of martial law."
Voting
The voting is as follows: