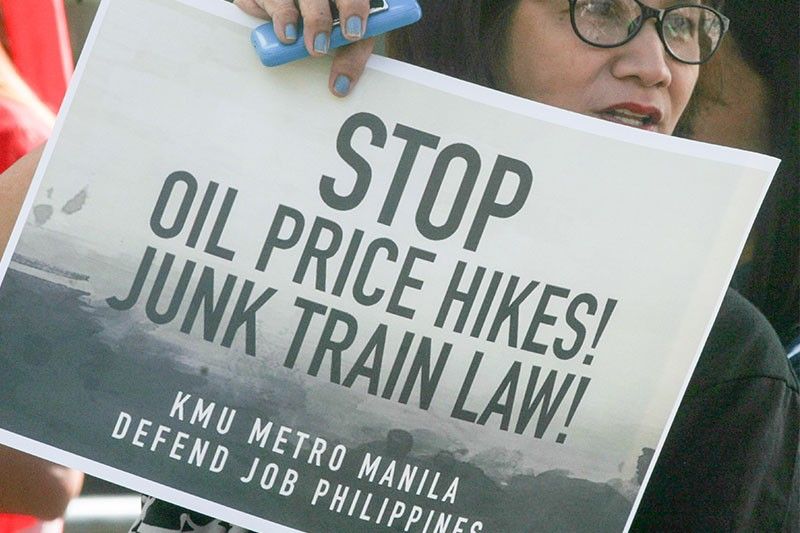 Members of a militant group protest against the Tax reform for acceleration and inclusion (TRAIN) law on higher fuel excise tax at Mendiola in Manila, Jan. 15, 2019.
The STAR/KJ Rosales
Senate bets blame TRAIN law, NFA mismanagement for inflation
MANILA, Philippines — The rising prices of goods can be attributed to excise tax imposed on fuel under the Tax Reform for Acceleration and Inclusion (TRAIN) law, senatorial candidates said Sunday.
During ABS-CBN's "Harapan 2019" senatorial town hall debates, the aspirants were asked what they can do to address inflation.
Marawi civic leader Samira Gutoc suggested reviewing or even suspending the excise tax under the TRAIN law.
"Why the TRAIN law? Why taxation? That is imposing on gasoline that affects everything else, even gasoline, has a domino effect on everything else especially for us in the provinces who have less jobs and less source of income," Gutoc said.
She stressed that it is important to review, if not to revoke the fuel excise tax, as well as the value added tax.
Former Solicitor General Florin Hilbay also pointed out that the rising prices of goods rose last year due to the implementation of the TRAIN law and the mismanagement at the National Food Authority.
"The mandate, the promise of the Constitution is what we call a progressive system of taxation. Taxes should be based on the people's capacity to pay," Hilbay said, adding his belief that Congress failed to uphold its duty to impose taxes based on the capacity of Filipino citizens.
Former broadcast journalist Jiggy Manicad agreed that excise tax fuel has affected basic commodities.
"The long-term (solution) that I see here is that we should have transparency on what we call oil acquisition on the cost of oil that companies import to sell here in the Philippines," Manicad said.
Lawyer Chel Diokno also attributed to the "unjust" excise tax, the VAT rate and mismanagement of the NFA as the cause of rising costs of goods.
"The rising prices of goods is unjust. The excise tax within the TRAIN law is also unjust as it is the main reason why the prices of oil increased, which was followed by other commodities," Diokno said.
Sen. Bam Aquino, meanwhile, pointed out that he was one of the four senators who opposed the TRAIN law when it was passed in December 2017.
The re-electionist senator warned that there is an impending P2-increase on excise tax in 2020, which should be stopped.
"We need to amend that. Please vote for senators who are willing to commit to change the TRAIN law or remove such provisions that add to the prices of goods," Aquino said.