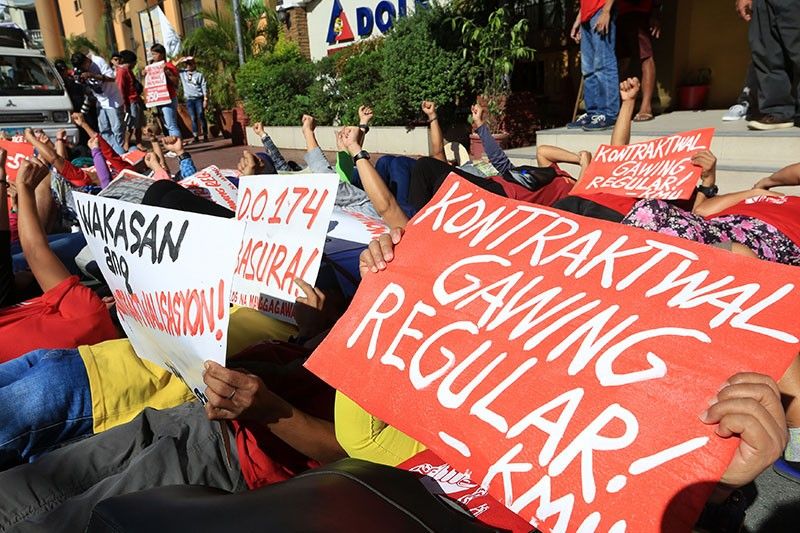 In this Jan. 15, 2019 photo, protesters call for the end of contractualization outside the Department of Labor and Employment building.
The STAR/Edd Gumban
Senate bets firm on stopping 'endo'
MANILA, Philippines — At least seven senatorial candidates vowed to put an end to contractualization or "endo" in the country if given the chance to serve in the upper chamber.
During ABS-CBN's "Harapan 2019" senatorial town hall debates Sunday evening, the senatorial candidates were asked what they can do to put a stop to "endo."
Sen. Bam Aquino, Dr. Willie Ong, former Solicitor General Florin Hilbay, lawyer Chel Diokno, Marawi civic leader Samira Gutoc, lawyer Glenn Chong and former broadcast journalist Jiggy Manicad were firm on their stand against contractualization.
Aquino, who is seeking is second term in the Senate, pointed out that he was one of the co-authors of the "Security of Tenure and End of Endo Act of 2018" which is still pending.
The re-electionist senator said he was ready to vote for the proposed measure but it has not yet been discussed before the plenary.
"Maybe we should also make sure that not only the private sector will be covered by this but also those who are working as job order employees in government offices. Endo should also end in the government," Aquino said.
For Ong, ending contractualization is possible for larger companies but not the small ones.
"In small businesses, maybe they cannot (end endo) but in big businesses, fastfoods, department stores, I think endo should be stopped and I will really vote to end this," the doctor said.
The culture of endo has vecome an instrument against workers as it prevents them to participate in their own industy, Hilbay said.
The former Solicitor General pointed out that workers do not have any incentive to work for a long time.
"While we do not have security of tenure, we should have unemployment compensation so that while are workers are looking for other jobs they have government assistance and they will not be left hanging," Hilbay said.
Diokno, on the other hand, shared his "Otso Diretso" slatemate Aquino's sentiments on making sure that contractualization should also end in the government.
"The issue is not only in the private sector but also for workers in the government... Endo should really stop and I will defend this if ever I get a seat in the Senate," Diokno said.
Gutoc, meanwhile, stressed that indefinite contractualization is a "form of slavery."
"It is a form of slavery when you don't know when it's going to end, your job term," Gutoc said, calling for health insurance, as well as job insurance from companies.
Chong also vowed to push for ending contractualization either by removing the labor-only contracting provision in the Labor Code or crafting a new law that would ban endo.
Also promising to fight endo, Manicad noted that aside from the private and public sectors, contractulization is also a problem in the media industry.
"We will not back down in fighting big companies that are enforcing contractualization until now, especually in the government that should be the model of properly enforcing labor laws," Manicad said.
'Strengthen industrial sector'
Two senatorial aspirants — lawyer Larry Gadon and former MMDA chair Francis Tolentino — had different positions when asked about contractualization.
"We cannot avoid endo because the service sector, most of them are only temporary jobs, so the solution there is to strengthen the industrial sector," Gadon said.
Gadon claimed that the industrial sector is composed of only 18 percent of workers, which is why the country cannot attract investors.
"Let us lower the price of electricity to attract investors and improve the peace and order situation so that we can increase the work force," Gadon added, moving away from the issue of contractualization.
Tolentino agreed with Gadon's remarks on strengthening the industrial sector. He also suggested revising the Labor Code.
"Let us change the appropriate civil service regulations, we should have security of tenure. What I heard earlier was correct — we should strengthen the industrial sector, the manufacturing sector," Tolentino said.
The former MMDA chair also suggested allowing retirees aged 56 to 60 years old to come back to the labor force.