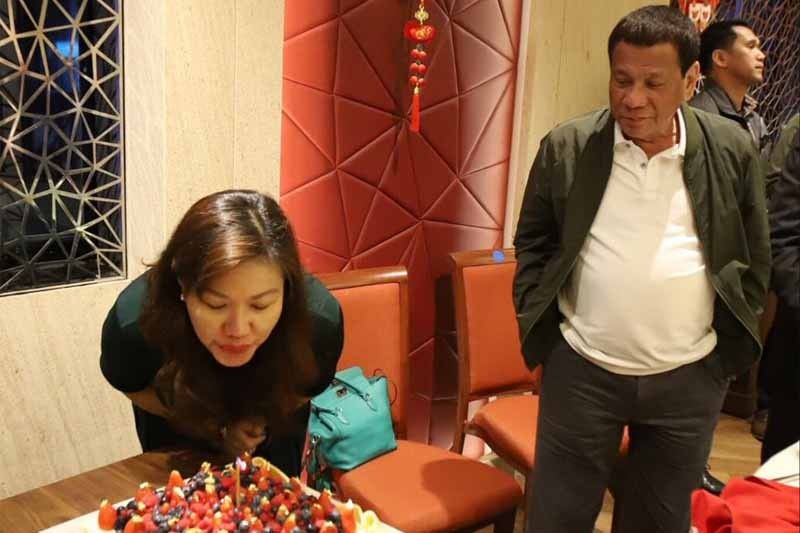 This Feb. 16, 2019 photo shows President Rodrigo Duterte celebrating the 49th birthday of his common-law wife Honeylet Avanceña.
Bong Go/Release
Duterte makes unannounced Hong Kong trip to celebrate Honeylet's birthday
MANILA, Philippines (Updated 2:39 p.m.) — President Rodrigo Duterte went on an unannounced trip in Hong Kong with his family this weekend, his second in China's second administrative region in more than four months.
The 73-year-old president and his security aides were seen in a shop of casual wear designer and retailer Uniqlo at the World Trade Centre in Causeway Bay last Saturday, according to a report by the South China Morning Post.
The report said some shoppers recognized the president but no one greeted him.
READ: Duterte impersonator sparks frenzy at Hong Kong church
Presidential spokesman Salvador Panelo said Duterte was in Hong Kong to celebrate the birthday of his partner Honeylet Avanceña. Avanceña turned 49 on Sunday.
Duterte's former aide Christopher Go said the president's daughter Kitty was the one who requested for the trip as a "gift."
"They have done this before when PRRD (President Duterte) was still mayor of Davao City. The weekend getaway is for rest and recreation," Go said in a statement.
Duterte had named Executive Secretary Salvador Medialdea as officer-in-charge of the Office of the President while he was out of the country, the former presidential aide added.
Photos released by Go showed Duterte and his family celebrating Avanceña's birthday in a restaurant. The president's partner was also seen blowing out a candle on a cake.
LOOK | President Duterte celebrates the birthday of his partner Honeylet Avanceña with their daughter Kitty in Hong Kong on Saturday. (via @News5AKSYON / @halili_maricel)

????: Bong Go pic.twitter.com/VXW6pYQQx7

— ONE News PH (@onenewsph) February 17, 2019
Go said Duterte and his family left the Philippines Friday night and were expected to return to the country Sunday.
It was Duterte's second visit to Hong Kong in over four months.
READ: #NasaanAngPangulo: Bong Go says Duterte in Hong Kong, Roque says in Davao
Last October, the president and his family went to the special administrative region days after he admitted to undergoing medical tests and raised the possibility that he may have cancer. The president, later on, announced he had been tested negative for cancer.
Officials had said the trip was meant to allow the president to rest.
READ: Duterte hits Tatad for claiming he had kidney transplant
— with Rosette Adel