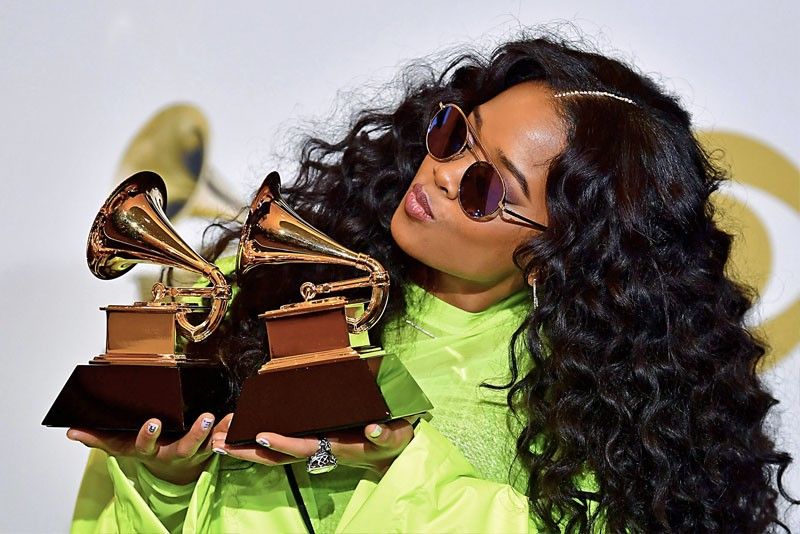 Gabriella Wilson, aka H.E.R., poses with her Grammy awards for Best R&B Performance and Best R&B Album in Los Angeles yesterday.
AFP
Filipino-American R&B singer takes home 2 Grammys
(Associated Press) - February 12, 2019 - 12:00am
LOS ANGELES – Filipino-American singer H.E.R. – an acronym for "Having Everything Revealed" – snagged two Grammys on Sunday, one for R&B album for H.E.R. and R&B performance for "Best Part."
H.E.R., whose real name is Gabi Wilson, was nominated for five Grammys, including album of the year. H.E.R. also wowed the audience at Staples Center with her rendition of "Hard Place" during the show.
H.E.R. grew up in the San Francisco Bay area to a black father and Filipino mother.
In a recent interview on "The Late Late Show with James Corden," H.E.R admitted that she was banned from talking about her Filipino roots. She said that being Filipino exposed her to a lot of music.
"I'm half-Filipino and Filipinos love karaoke," she said. "So yeah, I love to sing, I've always been around music my entire life and I just gravitated towards instruments. They were at my house and my dad would rehearse with his band," she told Corden.
Rap and women
Meanwhile, rap artists and women, who have both felt shunned by the Grammy Awards, in recent years, took center stage at the Grammys this year.
Childish Gambino's disturbing look at race relations, "This is America," won record and song of the year on Sunday's telecast. It was the first time a rap-based song won both of those awards, considered – with album of the year – the recording industry's most prestigious.
Kacey Musgraves won top album and matched Childish Gambino with four Grammys total. A year after many women felt left out of the Grammy telecast, they delivered the night's most memorable performances. The best new artist winner, British singer Dua Lipa, also cast major shade on the outgoing recording academy president.
Lady Gaga and Brandi Carlile won three Grammys apiece, and former first lady Michelle Obama was a surprise guest at the top of the show on CBS.
Childish Gambino, the stage name of actor Donald Glover, and another prominent rap nominee, Kendrick Lamar, both declined invitations to perform or attend Sunday's show. Some rap artists feel the Grammys have been slow to recognize how the genre now dominates popular music.
Ludwig Goransson, a songwriter and producer on "This is America," said backstage that he was surprised the victories were so historic. Just listening to the radio, watching the culture and seeing how many rap songs are downloaded is evidence of rap's impact.
"It's about time something like this happened with the Grammys as well," Goransson said.
Cardi B became the first solo female to win best rap album, although Lauryn Hill was the lead singer of the Fugees, which won the same award at the 1997 Grammys. Cardi B was so nervous accepting the award that she joked, "Maybe I need to start smoking weed."
She looked anything but rattled earlier, when her rendition of "Money" was among the night's performance highlights. Janelle Monae delivered a smoking version of her hit "Make Me Feel"; St. Vincent and Dua Lipa's duet on "Masseduction" was steamy; and Carlile sang an inspired version of her hit "The Joke."
When she accepted her best new artist award, Dua Lipa pointedly said, "I guess this year we really stepped up."
That was a reference to outgoing Recording Academy CEO Neil Portnow, who said women needed to "step up" when he was asked about the lack of women in top categories in 2018.
Yet Dua Lipa was rewarded by having her acceptance speech cut off mid-sentence. She wasn't alone, however, as a handful of other artists were also hustled off the stage, and the show seemed disjointed at the end, rushing through its final awards.
When she was onstage, Lipa was one of a handful of winners who paid special tribute to fellow artists. Another was Drake, whose appearance to accept the Grammy when "God's Plan" won best rap song was a surprise because he's not big on award shows.
He reminded fans and fellow artists that awards are based on the subjective views of others, and aren't contests in which there are clear winners and losers.