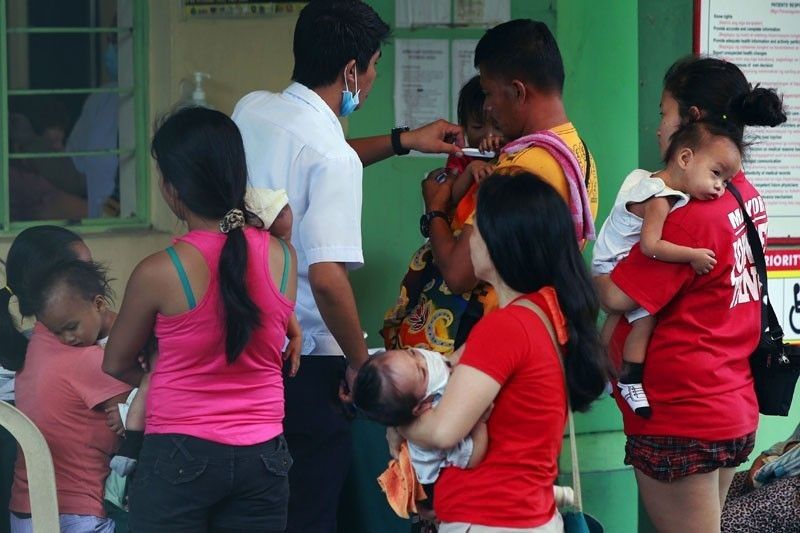 Most cases of measles are among children, according to the Department of Health.
Philstar.com, File
DOH declares measles outbreak in Metro Manila, Central Luzon
(Philstar.com) - February 6, 2019 - 4:15pm
MANILA, Philippines (Update 2 9:13 p.m.) — The Department of Health confirmed that there is a measles outbreak in Metro Manila and Central Luzon following the rise in the number of cases in the previous month.
Health Secretary Francisco Duque III confirmed the outbreak in Metro Manila where cases of measles have increased by about 550 percent from January 1 to February 6, according to a report from ABS-CBN News.
Data from the DOH showed that 169 cases have been recorded in the region, as opposed to the 26 cases reported in the same period last year.
There have been 55 deaths from measles recorded at San Lazaro Hospital in Manila, most of them children aged three months to four years old.
As of Tuesday morning, 248 children are being treated for the skin infection at the Manila hospital.
Other regions under 'tight watch'
Dr. Jesse Fantone, chief of the DOH's Regional Epidemiology and Surveillance Unit, meanwhile, confirmed the outbreak in Central Luzon, ABS-CBN reported.
DOH has recorded 442 suspected cases of measles in Central Luzon as of February 2.
Several regions are also under "tight watch" for a measles outbreak DOH spokesperson Roland Domingo said in an interview with ANC. These regions include Ilocos, Cagayan Valley, Cordillera Administrative Region and Caraga.
Central Visayas also recorded the highest increase in the number of measles cases with 2,550 percent. From January 1 to February 6 last year, only two cases were recorded but present cases have reached 53.
In December last year, the DOH confirmed that cases of measles grew from 3,804 in 2017 to 18,000 in 2018.
Health Undersecretary Eric Domingo earlier said the continuing increase in cases are brought about by the people's refusal to have themselves vaccinated.
This follows the vaccination scare after the supposed deaths caused by anti-dengue vaccine Dengvaxia.
Public Attorney's Office chief Persida Acosta's forensic team linked the deaths of at least 105 individuals to Dengvaxia after performing autopsies on vaccinated children. This is despite the lack of solid evidence.
Australian traveler returns from Philippines with measles
Earlier this week, Western Australia's Department of Health issued a measles warning after a Perth resident returning from the Philippines was diagnosed with the disease.
According to a report from The West Australian, the resident was a passenger of a Singapore Airlines flight and arrived in Australia on January 29.
The West Australian health department warned that those who may have been exposed to the disease may be at risk if they are not immune. — Patricia Lourdes Viray