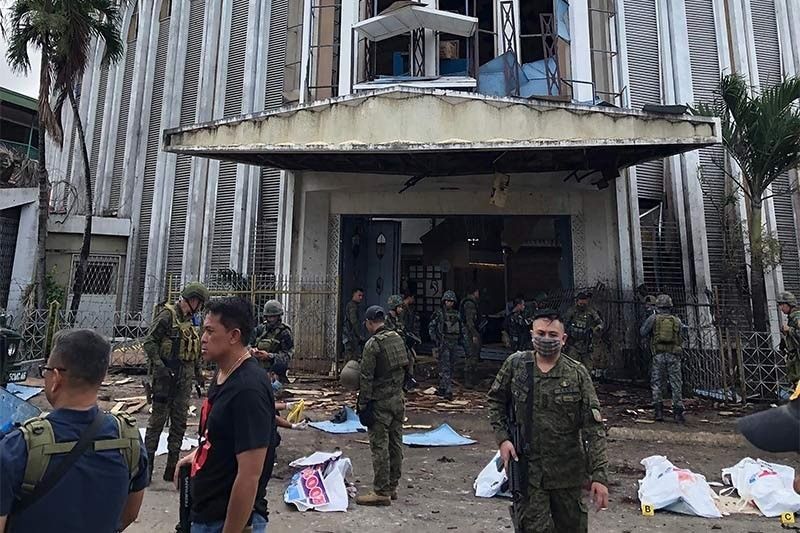 An attack on a cathedral in Jolo, Sulu on Sunday, Jan. 27, 2019, kills over 20 people.
Armed Forces of the Philippines/Release
Troops clash with Abu Sayyaf faction suspected in Jolo bombing
(Philstar.com) - January 31, 2019 - 9:08pm
MANILA, Philippines — Around 20 alleged members of the Abu Sayyaf's Ajang Ajang faction clashed with troops at around 7:20 a.m. in Patikul, Sulu on Thursday.
According to a statement from the Western Mindanao Command, no government troops were hurt in the clash.
The clash follows air strikes ordered by the military on terrorist targets in Sulu starting on Tuesday.
RELATED: 29 suspected Abu Sayyaf members nabbed in Patikul
The Ajang Ajang group is suspected of being responsible for the twin bombings of a cathedral in Jolo, Sulu, that killed at least 21 and injured 100 others.
Authorities said the group was using a forested area on the island as a temporary base.

The group is also suspected of being behind several kidnap-for-ransom incidents. Police say they often help the Abu Sayyaf group serving as spotters and finding kidnap-for-ransom victims in southern Mindanao.
READ: Police clear 4 persons of interest in Jolo bombing
The firefight happened the morning after four persons of interest captured on CCTV camera footage were cleared by police investigators.
Philippine National Police chief Oscar Albayalde said in an interview earlier on Thursday that security might have been too relaxed which is why the bombers were able to get into the church.
READ: PNP admits security lapse in Jolo twin bombings

President Rodrigo Duterte said earlier this week he believes the attack was done by a suicide bomber couple.
The police have yet to confirm this theory but said they are not ruling it out.

Duterte ordered air strikes and for the military to pursue an "all-out war" against the Abu Sayyaf group following the Jolo cathedral attack.

Police put the entire country on heightened alert earlier this week to ensure no similar plans will be carried out in other areas. — Ryan Macasero
Related video: