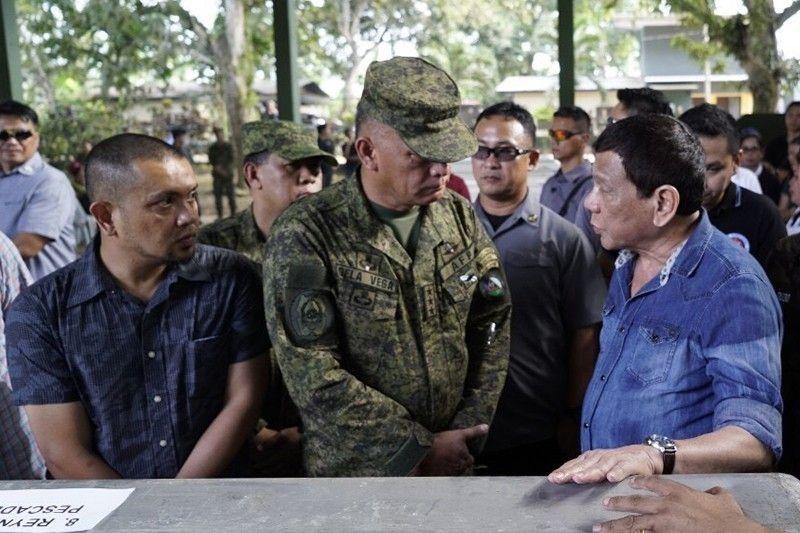 President Rodrigo Duterte inspects bombing site in Jolo, Sulu on Monday, Jan. 28, 2019.
Presidential Photo
Military unleashes air strikes on Sulu after Duterte's 'all-out war' order
(Philstar.com) - January 30, 2019 - 12:15am
MANILA, Philippines — The Armed Forces of the Philippines Tuesday launched airstrikes on two Sulu towns where Abu Sayyaf members were sighted following President Rodrigo Duterte's order to crush the terror group.
A report by GMA News said that one airstrike was unleashed on Patikul and the other on Indanan.
A "24 Oras" news report, meanwhile, showed footage of the Philippine Army's Alpha Battery 8th Field Artillery Battalion firing a canon at an area where the Abu Sayyaf is located.
"We are utilizing all the military or AFP might against sa pagtugis nitong mga Abu Sayyaf... Wala namang ano ito e. Yung intensity as intense as before," Brigadier General Divino Rey Pabayo, commander of Joint Task Force Sulu, said.
'All-out war'
On Monday, Duterte ordered the military to crush the Abu Sayyaf which is believed to be behind the twin bombings that hit the Cathedral of Our Lady of Mount Carmel in Jolo, Sulu.
"I order you now, pulpugin niyo ang Abu Sayyaf by whatever means," Duterte said during his visit to military and police forces at the headquarters of the Philippine Army's 11th Infantry Division at Barangay Bus-bus in Jolo, Sulu.
Presidential spokesperson Salvador Panelo confirmed Tuesday that Duterte has declared an all-out war against terror groups after he visited the blast site in Jolo.
"He just said all-out war, maybe against the perpetrators and for that matter all enemies of state in the region," Panelo said.
Suspected bomber identified
The twin blasts in Jolo on Sunday killed at least 21 people who were mostly churchgoers attending mass as well as responding troops and a Coast Guard personnel. Meanwhile, 100 others were wounded, latest data from the Western Mindanao Command showed on Tuesday.
Jolo is a base of the Abu Sayyaf, which is blamed for deadly bombings, including an attack on a ferry in Manila Bay in 2004 that claimed 116 lives in the country's deadliest terror assault.
The terror group is a loose network of militants formed in the 1990s with seed money from Osama bin Laden's Al-Qaeda network and has earned millions of dollars from banditry and kidnappings-for-ransom, often targetting foreigners.
It is among armed groups based in the strife-torn region of Mindanao, some of whose members have pledged allegiance to the Islamic State group.
Jolo also lies in the proposed Bangsamoro Muslim-majority autonomous region, which local voters overwhelmingly approved last week. Voters decisively approved a more powerful autonomous region in Mindanao, which is hoped will bring peace and development after decades of fighting that have killed thousands and mired the area in poverty.
The military said it is looking into a certain alias "Kamah," who it suspects as the bomber. "Kamah" is an alleged bombmaker and is the brother of slain Abu Sayyaf sub-leader Surakah Ingog. — Mikas Matsuzawa with Agence France-Presse
As It Happens
LATEST UPDATE: February 4, 2019 - 9:52am
Two explosions hit a cathedral in Jolo, Sulu as mass was about to start at around 8:15 a.m. on Sunday, January 27.
The first bomb exploded inside the Cathedral of Our Lady of Mount Carmel, the Western Mindanao Command says. A few seconds later, another blast happened in the cathedral's parking area, where an improvised explosive device was placed inside the utility box of a motorcycle.
Westmincom says in its initial report that 17 were killed, including five responding soldiers, while 57 were wounded.
February 4, 2019 - 9:52am
Five suspects in the Jolo cathedral bombings, including Kammah "Kamah" Pae, have surrendered to authorities, the Philippine National Police announces.
Director General Oscar Albayalde, PNP chief, says on DZMM TeleRadyo that the suspects were forced to surrender because of the massive operations to catch them.
He says Kamah initially surrendered to the Philippine Army, and was turned over to the PNP. The others soon followed suit and surrendered to the Special Investigation Task Group formed to probe the bombings, which killed 22 people and injured dozens more.
January 30, 2019 - 6:21pm
Four persons of interest in the Jolo cathedral bombing have surrendered to authorities today to clear their names, Westmincom says.
Two personalities caught on a CCTV camera footage who were believed to be the suspects surrendered to police to clear their identity. Alshaber Arbi, 18, a Grade 11 student of Kalingalan Caluang National High School, and Gerry Isnajil, a teacher of the same school, submitted themselves to police at 10 a.m. Wednesday, January 30.
Meanwhile, Alsimar Mohammad Albi, 24, and a minor companion went to the Sulu police provincial office at 3 p.m. Wednesday. The two said they went to a pharmacy to buy medicine for Alsimar's mother who is confined at IPHO-Sulu. It was after they bought the medicine when the blast occurred.
"The two said that they are not familiar with the identities of the suspects and their purpose of coming out is to clear their names fearing that authorities will hunt them down," Westmincom says.
January 29, 2019 - 10:33pm
The Westmincom releases the latest death toll on the Jolo cathedral blast.
As of 6:25 p.m. on Tuesday, January 29, it says they recorded 21 deaths (14 civilians, six soldiers and one Coast Guard personnel) and 100 wounded (84 civilians, 14 soldiers and two Coast Guard personnel).
The following are the names of the killed victims of the Sulu blast:
Armed Forces of the Philippines
Sergeant Mark Des P. Simbre (Inf) PA- from San Isidro, Isabela
Corporal John B. Mangawit, Jr. (Inf) PA- from Kalinga
Corporal Minard Jann P. Ocier (Inf) PA- from Barangay Managok, Malaybalay City, Bukidnon
Private First Class Alizon L. Ayoman (Inf) PA- from Kolambugan, Lanao del Norte
Private Hernan U. Bulaybulay (Inf) PA- from Pagadian City
Private Leomar P. Degumbis(Inf) PA- from Iligan City
Philippine Coast Guard
SN2 Jaypee M. Galicha PCG
Civilians
Mr. Leo Herbolario
Ms. Bibing Perpetua
Mr. Reynaldo Pescadera, Sr.
Mr. Ridzmar Mukadil
Mr. Romolo B. Reyes
Ms. Albacora Perpetua
Ms. Niseria Dela Cruz
Ms. Cecilia Sanchez
Ms. Daisy P. Delos Reyes
Ms. Dolores S. Tan
Ms. Fe Non
Ms. Juliet Jaime
Ms. Leah Angelica Reyes
Ms. Chenly Rubio
January 29, 2019 - 11:44am
France says it "utterly condemns" the bombings at the Cathedral of Our Lady of Mount Carmel in Jolo, Sulu on Sunday.
"France utterly condemns the attack against the cathedral in Jolo Island last January 27... France extends its condolences to the victims' families, as well as to the Filipino people. It stands alongside the Philippines in the fight against terrorism." #Jolo #Sulu #Philippines pic.twitter.com/DsQyHlwMZc

— France in the PH (@FrenchEmbassyPH) January 29, 2019
"France extends its condolences to the victims' families, as well as to the Filipino people. It stands alongside the Philippines in the fight against terrorism," the French Ministry for Europe and Foreign Affairs says in a statement posted on its social media accounts.
January 28, 2019 - 12:41pm
In response to the Jolo bombing, AFP Central Command—the military area command for the Visayas— is undertaking measures to prevent any form of terror attacks in the region, The Freeman reports from Cebu.
Meanwhile, Cebu City Police Office Director Royina Garma directed police to secure churches that usually draw larger crowds.