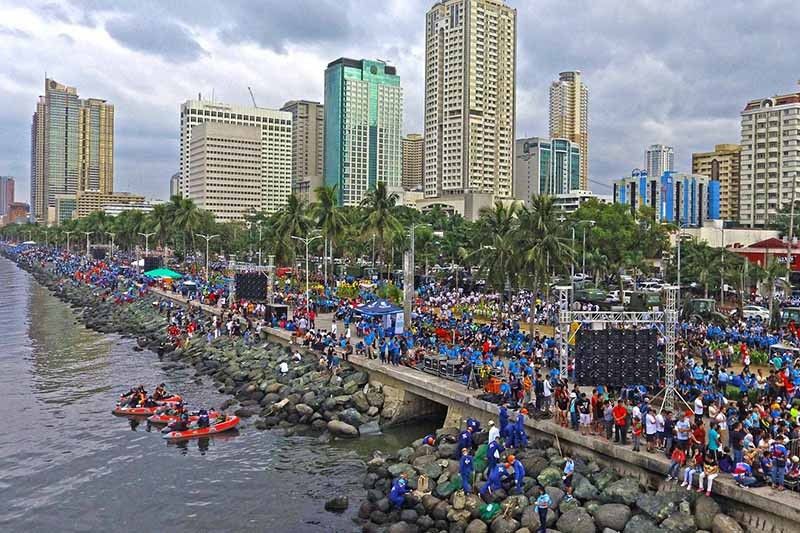 This photo shows the rehabilitation of the polluted Manila Bay, which kicked off last January 27.
The STAR/Walter Bollozos
DILG: Manila Bay rehab can't be suspended
MANILA, Philippines — The Department of the Interior and Local Government stressed that the rehabilitation of the Manila Bay cannot be postponed following the call of the lower house's Makabayan bloc to suspend the program.
The seven Makabayan lawmakers on Tuesday filed House Resolution 2452, urging the government to postpone the rehabilitation of the polluted Manila Bay, which kicked off last January 27.
They said the rehabilitation should be suspended until a "comprehensive and holistic" study of the project's socioeconomic impact on marginalized sectors has been "diligently" carried out.
But in a statement Wednesday, DILG Assistant Secretary Jonathan Malaya said the rehabilitation of Manila Bay cannot be postponed because it is in critical condition.
"Actually, the bay is in ICU (intensive care unit). We cannot afford an additional day of delay. Giving in to Makabayan will only make matters much worse," he said.
Malaya, who is also the agency's spokesperson, even accused the members of the Makabayan bloc of politicizing the issue to allegedly gain votes ahead of the mid-term elections in May.
"Instead of asking for a postponement, the Makabayan bloc should instead do their part in helping the government fight the 'Battle of Manila Bay.' The administration has exercised the political will to do what is right. Now it's our turn to do our part," he said.
Members of the Makabayan bloc include: Reps. Antonio Tinio and France Castro (Alliance of Concerned Teachers), Ariel Casilao (Anakpawis), Carlos Zarate (Bayan Muna), Arlene Brosas and Emmi de Jesus (Gabriela) and Sarah Elago (Kabataan).
DILG: Rehab won't pave way for reclamation projects
In filing the resolution, the lawmakers claimed that the rehabilitation program could be a "prelude to 43 reclamation projects covering more than 32,000 hectares in the bay under the Build, Build, Build program."
But Malaya denied the claim of the Makabayan bloc members.
"Again, this is clearly misinformation. There is no place for reclamation in the rehabilitation program. In fact, Secretary [Eduardo] Año is personally opposed to reclamation projects," he said.
The rehabilitation of the polluted waterway became the government's "next big target" after the rehabilitation of Boracay.
The planned rehabilitation of Manila Bay would be in three phases—clean-up and water quality improvement, rehabilitation, and protection and sustainability.