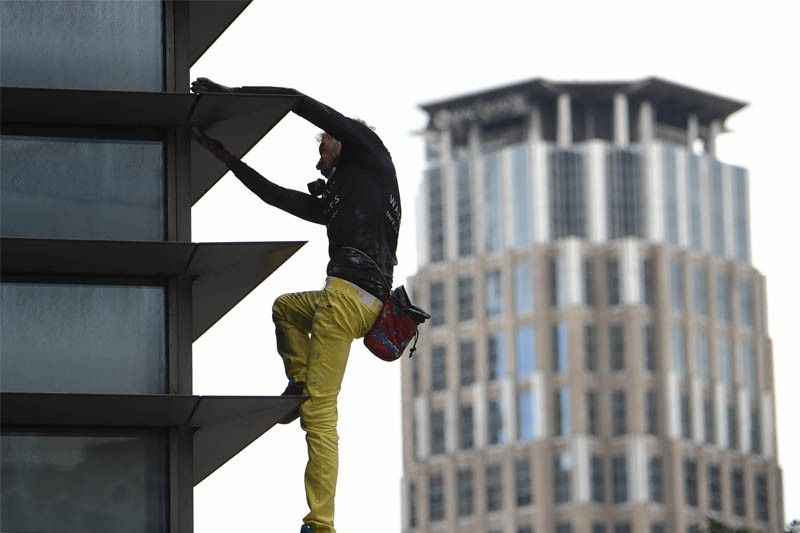 French urban free-climber Alain Robert, popularly known as the "French Spiderman", is pictured on the side of the GT Tower in Manila's financial district of Makati on January 29, 2019. The 56-year old adventurer climbed GT Tower without safety equipment, leaving watchers on the ground staring agape.
AFP/Ted Aljibe
WATCH: 'French Spiderman' Alain Robert arrested after climbing Makati building
MANILA, Philippines — Urban climber Alain Robert dubbed as the "French Spiderman" was arrested by the Makati City police on Tuesday after he climbed a building in the city.
Robert, 56, climbed the 43-story glass-walled GT International Tower on Ayala Avenue. The building is listed as the seventh tallest in Makati, according to real estate data mining firm Emporis.
The urban climber reportedly moved up the tower for about an hour before he was apprehended by authorities.
The Makati Rescue Team then assembled a caution bag to avoid any untoward incident as Robert descended the skyscraper.
Robert is now under the custody of Makati City police and will be charged with "Alarms and Scandal and other forms of Trespass."
Earlier, Makati Police chief Senior Superintendent Rogelio Simon said they checked the city ordinances applicable to the case of Robert's climb.
"Because his climb, although he did not enter the building – he climbed, it's a private property. He does not have a permit, he lacks coordination. It's also a safety threat to everyone. He can also be charged with public disturbance," Simon said in Filipino.
Why Robert chose GT Tower
Robert said he planned on climbing the Makati tower months back for it is high and has an "interesting shape." He said he conducted research via Google Earth, citing that he initially thought GT Tower was easy to climb.
"I focused on that building before leaving Bali," Robert said.
"GT looks easy to climb but there's a problem I don't think I can go all the way to the top because three meters is missing at the top," he shared, adding that the top only lacked nearly two meters when he actually climbed the building.
He said that when he was in the country 20 years ago, "there was nothing in Makati City" so he knew one day he'll be climbing a skyscraper in the Philippines.
According to Robert, while at the top, he noticed security personnel wearing blue holding guns. He said he thought they were going to shoot him.
To his defense, Robert said he was "just climbing the building."
"I am not killing anybody. This is not bank robbery," Robert said.
Robert said he has been experiencing detention after climbing buildings in several countries already.
The French climber was assisted by his legal counsel, Howard Calleja.
Despite being arrested, Robert lauded the Makati City police for handling the situation well. He said the cops only closed one lane while in other countries they were closing eight lanes causing traffic.
Why Robert climbs skyscrapers
Asked why he is continuously climbing despite threats of being detained, Robert said he feels "alive" while doing so. He added that he loves to make people happy.
"I saw thousands inside the building. I brighten their day. They were enthusiastic," Robert said.
"I am entertaining people for free in the city," he added.
Robert arrived in the country last Friday and has been attending speaking engagements.
He is known for climbing the world's tallest buildings such as the Petronas Towers in Kuala Lumpur, Malaysia and the highest skyscraper, the Burj-Khalifa in Dubai, United Arab Emirates.