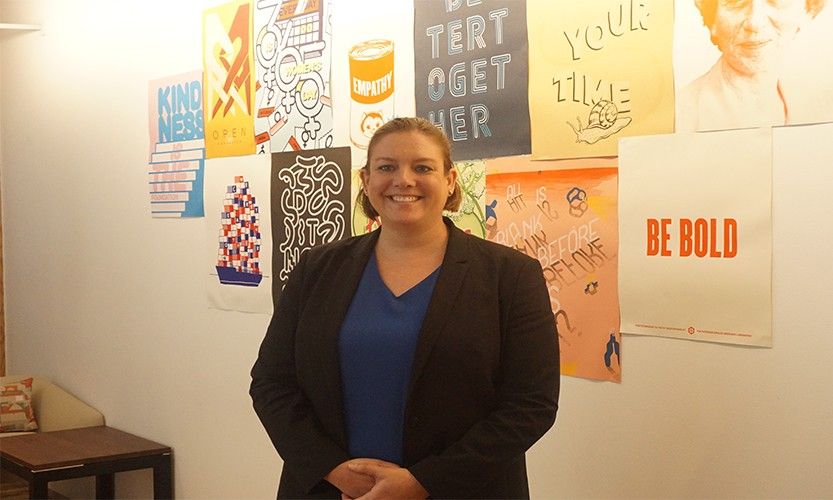 Facebook's Global Politics and Outreach Director Katie Habath says the platform is working to protect the integrity of the upcoming midterm elections
Philstar.com/Ryan Macasero
Facebook pledges to combat 'false news', fake accounts ahead of May polls
MANILA, Philippines — Global social media giant Facebook promised to fight fake accounts, "false news" and online harassment ahead of the 2019 midterm elections.
"The goal of Facebook in elections is to make it harder to interfere with elections on the platform, and easier for people to make their voices heard in the political process," Katie Harbath, director of Facebook's Global Politics and Outreach team said in a conference with Filipino reporters on Thursday morning.
Harbath was in Manila on Thursday to brief media on what they are doing to ensure that Facebook is not used as a tool to manipulate voters.
She said that the most important action they are taking right now is moving to remove as many accounts spreading propaganda and "false news" as much as possible.
"We are committing to tackling all kinds of inauthentic behavior and abuse on our platform which we know often intensify during elections — from misinformation, misrepresentation and foreign interference, to phishing, harassment and violent threats — and we have dedicated teams working on every upcoming election around the world," she said. "It's incredibly important to us as a company that we get this right."
This statement is almost a 180-degree turnaround from the position the company's founder and Chief Executive Officer Mark Zuckerberg held initially in 2016.
According to The Washington Post, Zuckerberg called it a "crazy idea," when probed by lawmakers in that year. He explained that he believed voters make decisions based on their "lived experiences."
But the Facebook chief seems to have changed over the past two years, as media organizations and civic organizations criticized the company over its engagement and reach model.
Last April, Zuckerberg apologized for the first time for not acting on fake news spreading on his platform sooner, as a US congressional probe revealed Russian operatives allegedly used Facebook to spread propaganda in favor of Donald Trump.
1.5 billion accounts taken down in mid-2018
According to Harbath, 1.5 billion fake accounts were taken down in the second and third quarters of 2018 "at the point of creation."
She said that from an original 10,000 staff working on combating "inauthentic" behavior on Facebook, the company has hired 30,000 people to work on fighting misinformation on Facebook.
In the Philippines, Harbath cited the example of Twinmark Media Enterprises' pages, the company behind Trending News Portal, a page previously identified as spreading misinformation.
"We removed 220 Facebook pages, 73 accounts and 29 Instagram accounts," she said.
READ: 300 Facebook, Instagram accounts taken down for violations

TNP Media had 4.3 million followers prior to the takedown.
"This specific investigation began after we learned that Twinmark was selling (administrative) rights to Facebook pages it had created, in order to increase distribution and generate profit, which violates our spam policy," said Nathaniel Gleicher, Facebook's head of Cybersecurity Policy said.
"This prompted our teams to take a deeper look at a broader group of pages and accounts associated with these users, ultimately uncovering a large network of pages and accounts that were engaging in coordinated inauthentic behavior, the use of fake accounts, leading people to ad farms and selling access to Facebook pages," he added.

According to a Rappler report, TNP — which was known to carry misleading content favorable to President Rodrigo Duterte — was one of Mocha Uson's preferred "news sources." The report said she shared posts from the site over 500 times in 2017, even after she was appointed assistant secretary of the Presidential Communications and Operations Office.
Fighting 'false news'
Harbath said they were working on combating false news through automated and human means.
"For example, if an account automatically starts adding hundreds of friends and liking a lot of pages immediately, that would flag us that the account is possibly being used for inauthentic purposes," she said.
In the Philippines, Facebook is working with news organizations Vera Files and Rappler to fact check posts. If flagged as false or misleading, the network then minimizes the reach of the post, according to Harbath.
When asked by reporters if Facebook had exact figures on how much politicians spend on Facebook advertisements here in the Philippines, Harbath said that she did not have the exact figures but would share them if they become available.
According to a 2017 Oxford University study, however, the presidential campaign of Davao City Mayor Rodrigo Duterte invested $200,000 or about P10 million to hire trolls to spread propaganda and target his opposition.
The president's supporters have dismissed the study, saying the findings were based on news reports. The administration PDP-Laban party said in response to the study that it "never hired nor used online trolls."
READ: Duterte camp spent $200,000 for troll army, Oxford study finds
As of 2018, there are an estimated 67 million Facebook accounts in the Philippines.
Those users spend an average of 3 hours and 57 minutes on social media, according to another report also published last year. Considering these figures, some analysts say that social media, especially Facebook, will continue to be a gamechanger in elections.
But when Harbath was asked if she believes that Facebook has an increasing role in the election, she stopped short of putting the sole responsibility of protecting democracy on one social media platform.
"I would say the internet has an increasing role," she said.
But Harbath added that company won't turn away from doing its part to protect democratic processes around the world. "We've also deepened our support for the Philippines' digital literacy efforts. There is always more to do, and we are committed to playing the part," she said.