Duterte vows more attacks on Catholic Church
December 31, 2018 | 12:00am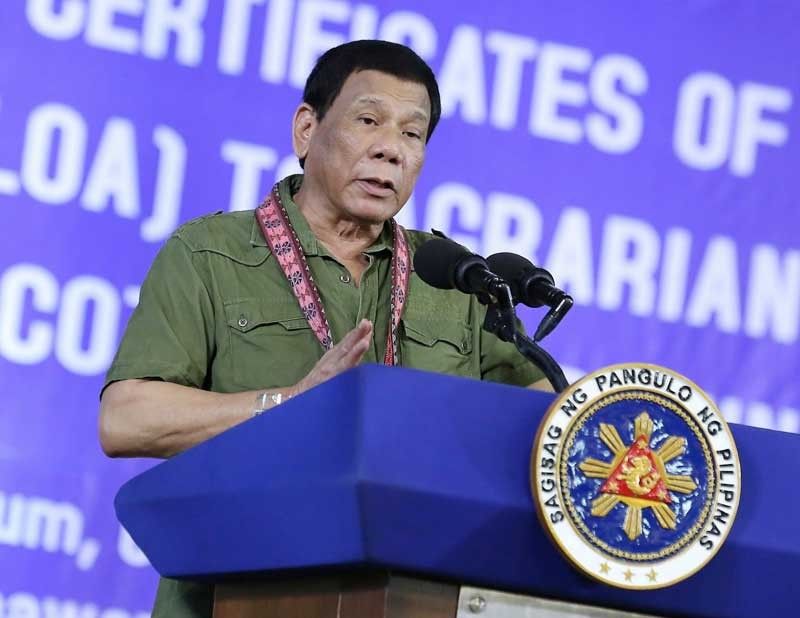 MANILA, Philippines — His rift with the Catholic Church is not likely to end anytime soon, as President Duterte over the weekend vowed to continue attacking the Philippines' predominant faith until it "corrects itself."
Duterte said the Church, which has expressed alarm over the deaths tied to the government's drug war, should go slow in criticizing him because priests have their own wrongdoings.
"Dahan-dahan lang kayo (Go slow)... (It) has to correct itself... Pag hindi, kalaban talaga nila ako (If not, I will remain its opponent)… And I will continue to attack them," Duterte said during the distribution of land ownership certificates to agrarian reform beneficiaries in Kidapawan City last Saturday.
Duterte then enumerated a litany of supposed transgressions by members of the Catholic clergy. He said a 30-year-old priest in Davao City died of AIDS last week but declined to elaborate. He also cited a report about a priest who allegedly beat up a minor who failed to feed his pet Labrador.
The President repeated his allegation that a priest prayed for his death in a mass and accused the Church of inventing heaven and hell to scare people into submission.
Duterte, who claimed to have been molested by a priest when he was a student, believes that the clergy abuses depicted in national hero Jose Rizal's novel Noli me Tangere are still present in the country.
"Do not use the platform of religion to criticize me. Just say that I am wrong," Duterte added.
Dennis Coronacion, chairman of the University of Santo Tomas political science department, expressed belief that Duterte's attacks against the Church were not meant to undermine the religious institution but to express resentment towards clergymen who criticize his policies.
"The President's verbal attacks against Church leaders are all part of his strategy of discrediting them," Coronacion told The STAR. "In general, the anti-Church rhetoric will not work since most Filipinos hold their Church leaders in high regard. This can only work with sections of the population that, just like the President, resent the Catholic Church for its imperfection."
Coronacion said Duterte would continue hurling tirades at the Church.
"Since the President's anti-Church rhetoric has become a staple of our country's politics, I'm not optimistic that this is going to disappear until he steps down in 2022," he said.
Questions doctrine of Trinity
Duterte also scored the doctrine of the Holy Trinity, which states there is one God in three divine persons – the Father, the Son and the Holy Spirit.
"There is only one God, period. You cannot divide God into three. That's silly," the President said.
He reiterated his misgivings about the Bible and the veneration of saints, whom the Catholic Church regards as models of the faith.
"Look, these documents were written, if at all, 3,000 years ago. What is their relevance to our lives today? Who wrote them? Who is St. Thomas? We do not know who he is. Perhaps it was just a name of a camel then," Duterte said.
"Magdasal ka na sa isang Diyos, magdasal ka pa dito sa mga santong y*** (You pray to God but you also have to pray to these devil saints)," he added.
Coronacion said Duterte's verbal attacks against the Church are not the result of deep religious or philosophical reflections.
"They reveal that he treats the Catholic Church more as a political actor than a religious institution deserving his respect. By viewing the Church as a political actor, the President subjects its leaders to the same verbal attacks that he has hurled at the other political actors critical of his government," he said.
Admits touching maid
While Duterte accused priests of immoral acts, he admitted to committing a lewd act when he was a teenager.
Duterte said he once confessed to a priest that he went to the room of a maid to touch her genitals.
"I lifted the blanket... I tried to touch what was inside the (panties)," the President said. "I was touching. She woke up. So I left the room."
Duterte said he went to the bathroom after the episode but returned to the room to "try to insert" his finger in the maid's genitals. He then told the priest that he returned to the bathroom, prompting the priest to ask him to say five Our Father's and five Hail Mary's as penance.
"Media? Totoo man. Lahat man ng mga bata dumaan ng… (Members of the media are here? It's true. All children went through that)," he added.
Laughable anecdote
Duterte's story about touching a maid was just a made-up "laughable anecdote" meant to dramatize the sexual abuse he experienced when he was in high school, presidential spokesman Salvador Panelo said in a statement.
"He purposely added and spliced the story with vulgarity to characterize the behavior of the priest who insisted on hearing more sins during their confessions, when there were none," he said.
Panelo also chided women's group Gabriela, which asked Duterte to resign for confessing to attempted rape.
"It is unfortunate that in its zeal to promote its advocacy on the protection of women's rights as well as in its obsession to put the President in a bad light, the women's rights group has lost the ability of discerning a reality from a rebuke on the hypocrisy of the priests who molested him and his classmates when they were high school students," he said.
Panelo said the Jesuit order paid $16 million to settle complaints of sexual abuse against Mark Falvey, the clergyman who allegedly molested Duterte.
"The President has evolved an unorthodox and mischievous method of exposing and criticizing the hypocritical practices of those men in religious cloak. While the telling of the concocted story triggers laughter from his audience, the message that the President intends to convey is not lost on his listeners," the presidential spokesman said.
Panelo said the President "will not discard his shocking and amusing out of the box utterances that have been his political signature, which has endeared him to the masses, and which he finds effective in transmitting to the nation his political and social dogmas."