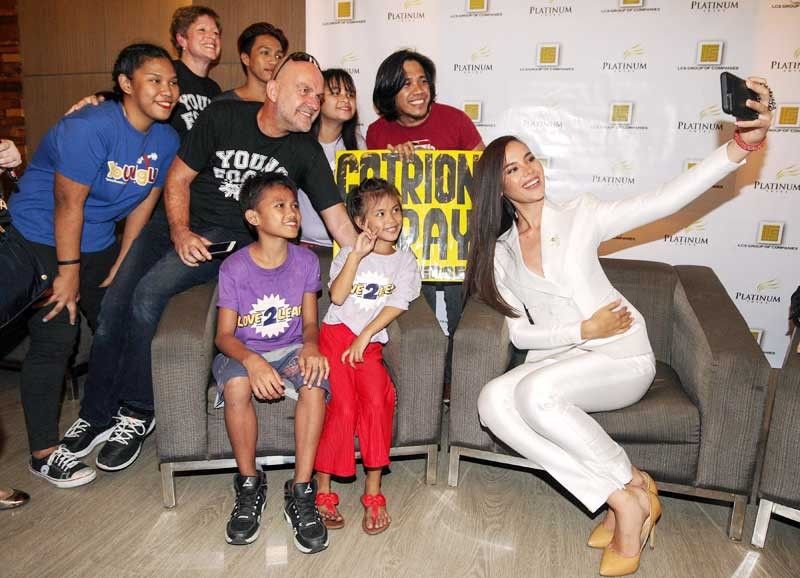 SMILE: Miss Universe 2018 Catriona Gray takes a selfie with children and staff of the Young Focus Foundation from Tondo upon her arrival from Bangkok yesterday. Gray has worked with the foundation to help children of the slums, whom she referred to when asked about the most important life lesson she learned during the recent Miss Universe pageant.
Krizjohn Rosales
Catriona Gray back in Philippines, welcomed by children
MANILA, Philippines — Miss Universe Catriona Gray arrived in Manila yesterday at past 3 p.m. on a chartered plane.
Wearing an all-white pantsuit, the 24-year-old Filipino-Australian beauty queen was welcomed by the children of Young Focus Foundation, the Tondo nonprofit for children she has been helping before she became Miss Universe.
"She was so surprised. She didn't expect us to be there," Mark Soriano of Young Focus said.
They were hoping she would visit the foundation in the future, but for now they were content to see her in person. "(She said) she will get in touch with our boss."
Media access to Catriona was tightly controlled, but she is set to give a press conference today at the Frontrow Cares: Christmas Charity for Kids with the Miss Universe Organization, which is also a gift-giving activity.
However, she gave a short message. "It's the season of gift-giving. It's Christmas," she said, adding she is looking forward to the gift-giving activity, "hopefully inspiring everyone to get into the spirit of gift-giving this Christmas."
She is reportedly only staying in the country overnight and is expected to fly to New York to start fulfilling her duties as Miss U.
In a video released by Miss Universe Organization, Catriona said: "I just want to say thank you to the Philippines, my country. You know, you guys have supported me all through this and if not for you, I wouldn't have the endurance or spirit to do what I do."
Catriona is the fourth Miss Universe from the Philippines after Gloria Diaz (1969), Margie Moran (1973) and Pia Wurtzbach (2015).
It was former Ilocos Sur governor Chavit Singson who arranged for Catriona's return to the country from Bangkok, Thailand where she was crowned last Monday. They were joined by Singson's daughter Richelle, who sat as one of the judges in the pageant. – With Rudy Santos